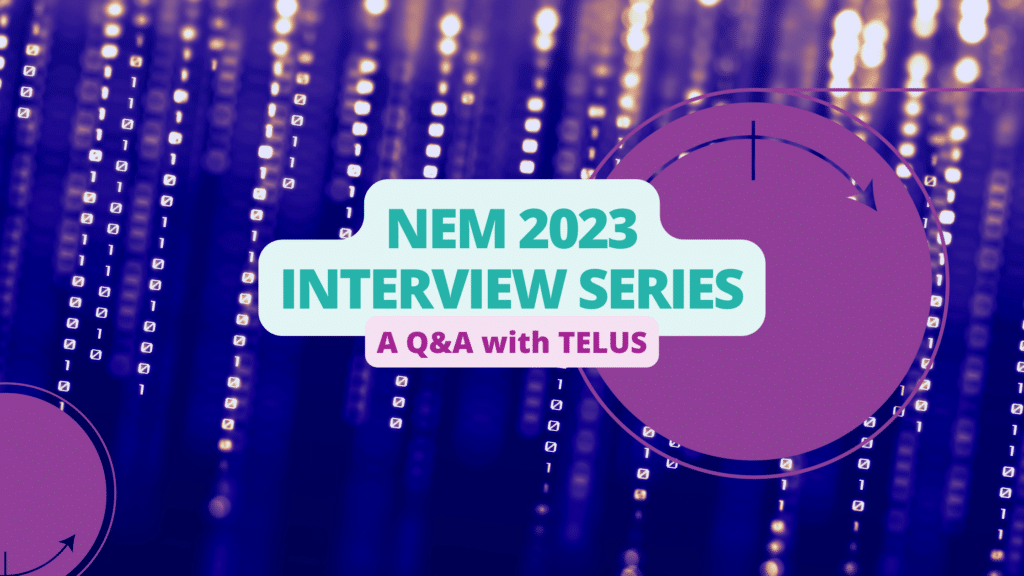 As National Engineering Month comes to a close, we are continuing to feature influential leaders within Canada's engineering sectors to gain a sense of where they see the industry heading.
Ibrahim Gedeon, Chief Technology Officer (CTO) and Tim Fell, Vice-president, Future Friendly Technology Services at TELUS share their experiences within the telecom industry, the importance of diversity in engineering and technology fields, and tips for building a successful engineering career.
Ibrahim and Tim's journeys with TELUS
Ibrahim and Tim are longstanding members of the TELUS team with very unique journeys, driven by their passion for the mission of the organization. Ibrahim holds a degree in biomedical engineering and joined TELUS in 2003. Prior to working for TELUS, he held engineering and leadership positions at Nortel and Bell Northern Research. Now as CTO, Ibrahim enjoys applying his technical expertise and knowledge of digital technology to improve outcomes for those across Canada. Ibrahim is passionate about TELUS' commitment to uplifting Canadian communities by leveraging technology for good and empowering team members to participate in purposeful acts of giving.
Tim's journey with TELUS began with one of its predecessors – Edmonton Telephones Corporation or EdTel – back in 1994. He supported the delivery of the first version of high-speed Internet in Edmonton and has since worked on a number of transformational projects for TELUS and their customers, such as introducing the first TELUS TV platform and building and launching Canada's first IP core network nationally. He now leads the team that recently introduced the next generation of Optik TV, which simplifies the way customers find, stream, and interact with their favourite content.
Both Ibrahim and Tim are proud of their team's engineering accomplishments, but they believe that their work is about more than engineering. They want to use their technical and business expertise to empower and move their community forward. As Ibrahim puts it, "engineering is not just for engineers, it's about applying science and learning a skill set to solve problems. That's the essence of what engineers do." And as Tim says, "thanks to the dedicated efforts of engineering teams, TELUS' coast-to-coast-to-coast broadband networks and technologies power the lives of tens of millions across Canada as well as so many aspects of our society and economy."
Ibrahim and Tim on the importance of lifelong learning in their work at TELUS
Both Ibrahim and Tim agreed that an engineering background provides the necessary tools to approach and solve problems. "Engineering skills make you an engineer, but the methodology is what you use to solve problems," Ibrahim said. Tim emphasized that engineering in the real world applies math and science and that using learned techniques to evaluate and solve complex problems is crucial.
When asked about the importance of lifelong learning in their work at TELUS, Ibrahim replied, "learning never stops," emphasizing the rapid pace of change in technology and the importance of staying current.
Tim agreed, stating, "there is constant innovation and change with the technology, standards, and systems that underpin our core offerings to customers." He then added that adapting to new technologies and shifts in the industry is critical, and stressed the value of learning from experiences, including failures. "We refer to the concept of 'fail fast' at TELUS – if you take a risk in the name of innovation and it doesn't work out, do it in a way that you harvest the learnings and move on quickly." 
TELUS' approach to tackling key technology challenges
As the expansion of technology continues, Ibrahim highlighted the challenges Canada is facing in terms of foundational technical elements, as vendors like Nortel are no longer available. There is also a smaller pool of resources as many international companies are looking to leverage Canadian talent as well. "The challenge of the skills gap is faced by many companies, whether they work locally or nationally," he said.
"We have a never-ending need to satisfy our clients' insatiable need for more connectivity (bandwidth and services); while new technologies offer cost reductions it is critical we approach them with a transformation lens to change how we work and take the opportunity to upskill our engineering teams. TELUS will be software-based, insight-driven with privacy and security and reliability by design."
Tim's insights on TELUS' digital transition and its focus on software engineering and development
TELUS has been actively transforming itself from a traditional telco to a technology company, especially in the areas of software engineering and development. The company is using technology more than ever to improve the customer experience and drive growth in its business. In recent years, TELUS has invested heavily in software development, including building its own technology platforms and hiring top talent in software engineering and data analytics, which Tim describes:
"Helping lead TELUS on its mission to become a software-driven organization is something that I'm really passionate about and have been hyper-focused on for the past two-to-three years. As one key example, our TV platform had historically been purchased off-the-shelf from a series of vendors – which meant limited integrations with other TELUS services, dependence on the vendor's product roadmap, challenges with differentiating our offering, and slower speed to market. With our new TV offering which just launched, we sought to seize our own destiny and truly own the product roadmap, creating a scalable software platform that was uniquely its own and could meet the requirements of the business while integrating industry-leading vendors to drive competitive differentiation. We had to essentially re-invent our operations to effectively transition to a software delivery factory. I am so proud of what our team has accomplished – creating an unparalleled user experience and a future-ready foundational platform that will predict, curate and support our customers' digital lives for years to come."
Ibrahim and Tim on building an inclusive community
Ibrahim said he is proud of how TELUS has enabled him to use his engineering expertise to serve the community, "I enjoy volunteering for organizations and our community – helping them with their technology needs. It's important to build ecosystems that benefit our communities."
Tim is focused on developing a diverse and inclusive culture within his team. In fact, he has created an Inclusivity, Diversity, Equity, Accessibility (IDEA) program within Future Friendly Technology Services which helps create more opportunities for career advancement for all, especially women who are often underrepresented in engineering fields. He said, "having more diverse perspectives, especially women in technology and leadership roles is a big priority for us, and this directly aligns with our value at TELUS of being an equitable employer that values diversity in the workplace."
The team's efforts have resulted in meaningful programs that advance diversity, equity, and inclusiveness both within and outside their organization.
Tim's advice for engineering students
Tim mentions there are different paths that students can take with an engineering degree. "It's okay if you don't know yet exactly which one you want to pursue as a specialization. You have that flexibility with your degree so take this opportunity to try out different roles to see what you're good at and what you're passionate about." He mentioned the TELUS Graduate Technology Leadership Program as a fantastic way for new grads to gain rotational exposure for up to 36 months while working with cutting-edge technologies.
He also offered the following advice to students: "your success will depend on the team around you, so take time to choose good people that you want to work with. The other thing I'd say is to always look at the broader picture of what it is you're doing. Ask yourself, how does what I'm working on fit into what my organization is trying to achieve and how can I make it better? In my experience, nothing makes a manager, vice-president, or CEO happier than when someone on their team has an idea for improvement of a technology, system, or process and can demonstrate the benefits. Being proactive is a huge win!" 
Why should prospective engineers consider joining TELUS?
Both Tim and Ibrahim encouraged professionals to consider joining the company. "We believe in investing in our engineering talent and want them to keep learning and evolving. It's a collective effort to help everyone grow and succeed," Ibrahim said.
Tim added to that by saying, "it really is an exciting time for technology professionals to join TELUS — our team is at the forefront of TELUS' large-scale digital transformation currently underway. It's a chance to join our community of innovators as we seek to improve lives through our technology solutions and foster a culture of innovation that empowers team members to solve complex problems and create remarkable outcomes for our customers. Beyond innovation, a great culture is really vital – it's what has kept me at TELUS and I'm proud of the many industry-leading programs we have put in place to support everything from engagement to learning and development to well-being for our team. It's what sets TELUS apart from the rest."
For more information about a career with TELUS, please visit their careers page.
Learn. Grow. Thrive. Together.
With bold topics, industry expertise, and diverse perspectives – National Engineering Month is Ontario's engineering event of the year. Together we can advance the engineering profession, spark an interest in the next generation of engineering professionals and celebrate the role that engineers play in our society. We hope you can be a part of #NEM2023 by attending an event. For more information about National Engineering Month Ontario events, please visit nemontario.ca.