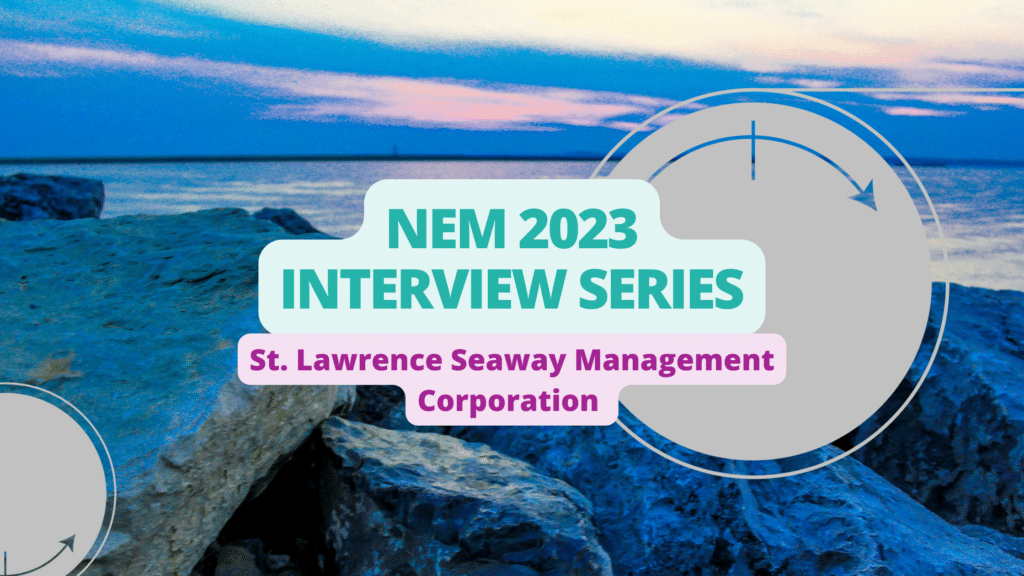 Even though National Engineering Month (NEM) has come to an end, we are continuing to feature some of the foremost leaders in engineering in Ontario about what the future holds for the profession.
We sat down with Sylvain St-Arneault, General Manager, Engineering at The St. Lawrence Seaway Management Corporation (SLSMC) to learn more about the company.
Tell me a bit about yourself & your background.
I have been with the Seaway for the last 10 years. I have a college diploma in Computer Science, as well as Bachelor's and Master's degrees in Mechanical Engineering from Polytechnique Montreal. Additionally, I hold a Professional Management Professional certification from the Project Management Institute.
Initially, I was hired as the General Manager of Engineering for the Maisonneuve Region. The SLSMC comprises two regions – the Montreal / Lake Ontario section and the Welland Canal in the Niagara region of Ontario. The Head Office is located in Cornwall, Ontario. At the time of my hiring, I was responsible for civil and mechanical engineering projects, as well as maintenance planning.
In 2016, after a reorganization, in addition to my original role in corporate engineering, I was given the opportunity to lead a new group – the civil and mechanical engineering group in Niagara. Then, in 2018, the electrical engineering group was added to my team.
Since 2018, I have been responsible for the engineering project portfolio for the entire corporation. However, I am not alone in achieving this. I have a committed team of 75 employees, including managers, supervisors, engineers, drafts people, inspectors, contract leaders, and administrative staff. With all three disciplines (mechanical, civil, and electrical) reporting to me, we function like a small engineering firm.
Why is National Engineering Month important to the St. Lawrence Seaway Management Corporation and the engineering profession overall?
NEM is important to the SLSMC because it highlights the important work our engineering team does to keep Seaway infrastructure operating in good and safe working order, and to ensure that our vital waterway continues to be a key link in the North American Supply Chain.
As announced by the Canadian and U.S. governments during last year's United Nations Conference on Climate Change, the SLSMC is uniquely positioned to support marine industry partners. Our engineering team will play an important role in new initiatives, including the establishment of a Green Shipping Corridor on the St. Lawrence Seaway.
In terms of environmental initiatives, I'd also like to highlight that SLSMC operations in the Welland Canal are 100% energy self-sufficient! By harnessing the power of water in motion in the Welland Canal, the SLSMC generates its own electricity. Generators, driven by turbines, convert the potential energy of the water into mechanical energy. It's really quite impressive because this energy powers:
8 bridges
11 locks, including water control gates and valves
navigation lights
and multiple buildings and structures
The theme for NEM 2023 is lifelong learning. What does the concept of lifelong learning mean to you? Why is lifelong learning important in the work that you do?
I like the concept of lifelong learning. For me, it means being curious and having a passion for learning new ways of achieving personal and professional goals. It's also a means to gain knowledge, which helps contribute to the success of our organization. There are many ways to improve ourselves and learn every day, personally or professionally. We can learn from successful projects, but also from some of the not-so-successful ones. Learning from our failures is a way to improve ourselves and face future challenges as an organization. These experiences teach us and result in us taking steps to prevent the same mistakes from happening again.
At the SLSMC, we have many structures including bridges, locks, and canals, some of which are close to 100 years old. Engineers play a key role in helping maintain the infrastructure, all while improving efficiency. I feel this is a great example of lifelong learning. Engineers learn from the past, collaborate in the present and find ways to innovate and build on the future!
Can you tell me a little more about the St. Lawrence Seaway Management Corporation and the types of projects you work on?
The Saint Lawrence Seaway is a marine highway system that extends 3,700 kilometres from the Atlantic Ocean to the Great Lakes. Ships must climb 168 metres from sea level to Lake Erie, making it a substantial feat. The SLSMC has many infrastructures to maintain, including 37 bridges, both mobile and fixed, 13 locks, 40 kilometres of canal, and 8 kilometers of wharfs. It's a vast playground for our engineers to work on. Our mission is to pass ships through a safe, secure, and reliable waterway system in a cost-effective, efficient, and environmentally and socially responsible manner, to deliver value to the North American economy.
Regarding the economy, the Seaway supports over 320,000 jobs and $59 billion in economic activity in Canada and the US. Here, at the SLSMC, we manage around 100 engineering projects per year with an annual budget between $65 and $75 million. One important thing our engineers appreciate is that they participate in the full project cycle. From the very beginning, engineers sit with the client to understand the needs. Then, they work on detailed design, contract management, project execution, contract, construction, commissioning, and start-up. I feel this is something that really sets the SLSMC apart from other places! Not all work environments include engineers in the full project cycle. And I have to say, our engineers really love this aspect of the job.
Briefly, the type of projects we are working on includes bridge rehabilitation, such as pillar bridge deck rehabilitation, beam support rehabilitation, building rehabilitation, roof, windows, cladding, and elevators. We also work on locks, lock gates rehabilitation, and big structures. When I say big, I mean big! Just one gate can weigh one million pounds. We have an impressive installation of bubbling and heating systems at the locks to improve vessel navigation during winter time, and we have electrical projects, such as motors, brakes, and drive replacements.
Additionally, we have technology projects, like a remote control. Our locks are controlled from the Operation Control Centre (OCC) in St. Lambert, Quebec, and the OCC in St. Catharines, Ontario. An example of an exciting engineering project was the implementation of training simulators and a new HMI interface. The project was a collaborative one that helped support our operators. As you can see, at the SLSMC, engineers touch on so many different aspects!
How has the engineering profession changed over the past 5 to 10 years & how is the St. Lawrence Seaway Management Corporation capitalizing on those changes?
The market has changed over the last few years, and we saw how the pandemic accelerated this change. The Seaway remains at the forefront of solutions to help address challenges related to the supply chain and greening of transportation. This new reality represents many opportunities for engineers at the Seaway who through their daily activities support the competitiveness of the lock system by maintaining and modernizing its infrastructures as well as developing innovative technologies.
When it comes to innovation, it's one of Seaway's core values! As a testament to this innovative spirit, over the last 10 years, the SLSMC and its engineering team have executed many innovative projects. For example, the Hands-Free Mooring (HFM) project, which uses vacuum pads instead of lines to hold ships in place as they transit locks, is the world's first hands-free mooring (HFM) system for deep water locks! This system doesn't require people to tie up ships using lines, which makes the process much safer. Other countries are now looking at us and want to implement the same thing.
Are there any specific programs, initiatives, or outcomes happening at the St. Lawrence Seaway Management Corporation that you'd like to tell me about?
Earlier, we touched on the green shipping corridor. At the SLSMC, we are passionate about driving sustainability through activities such as producing hydroelectric power and modernizing Seaway equipment. In addition, we are gradually replacing gasoline-powered vehicles with electric vehicles, and we are replacing diesel-powered equipment with electrical, where possible. As a result of these efforts, the SLSMC has already successfully reduced its Green House Gas Emission levels below the targets set by the Federal Government for the year 2030. We are quite proud of that accomplishment!
What does the future of engineering look like and how does the St. Lawrence Seaway Management Corporation fit into that?
I see the future becoming more green, sustainable, and efficient. Technology and artificial intelligence will be further leveraged to fulfill our mission of passing ships safely and efficiently through the system. Because innovation and technology are part of the engineering mandate, engineers will continue to play an integral role in these exciting projects moving forward. This is why recruiting engineers is important to the SLSMC.
Our innovative projects, involvement of engineers throughout the project cycle, and collaborative team environment make the Seaway a great career choice! And, with challenges presented by factors such as climate change, we need great engineering minds to help modernize SLSMC infrastructure to ensure it remains reliable and safe for years to come. Being part of the Seaway team means making a real difference. You can feel good knowing that your contributions help essential goods flow through the system, benefitting people, communities, and the economy!
Any final thoughts?
I would like to summarize a few things and speak directly to engineers, especially young engineers who have never considered working in the maritime industry. Here are three reasons why working at the SLSMC is great.
First, the SLSMC offers a huge playground for engineers. There's nothing routine about working here! Imagine working on engineering marvels including locks, bridges, and canals. The day-to-day is always different and our engineers have the opportunity to work on legacy infrastructures and new technologies.
The second reason is our fantastic work environment. Job conditions are excellent and you get to work with amazing colleagues from interdisciplinary teams. We have three disciplines in our department, mechanical, civil, and electrical. And what really sets us apart is our ability to execute projects internally from start to finish.
The third reason is finding engineering solutions to real-world problems, such as keeping Canada's supply chain moving and contributing to global GHG reduction efforts. You can feel good knowing YOU are making a real difference.

To learn more about The St. Lawrence Seaway Management Corporation, please visit their website.