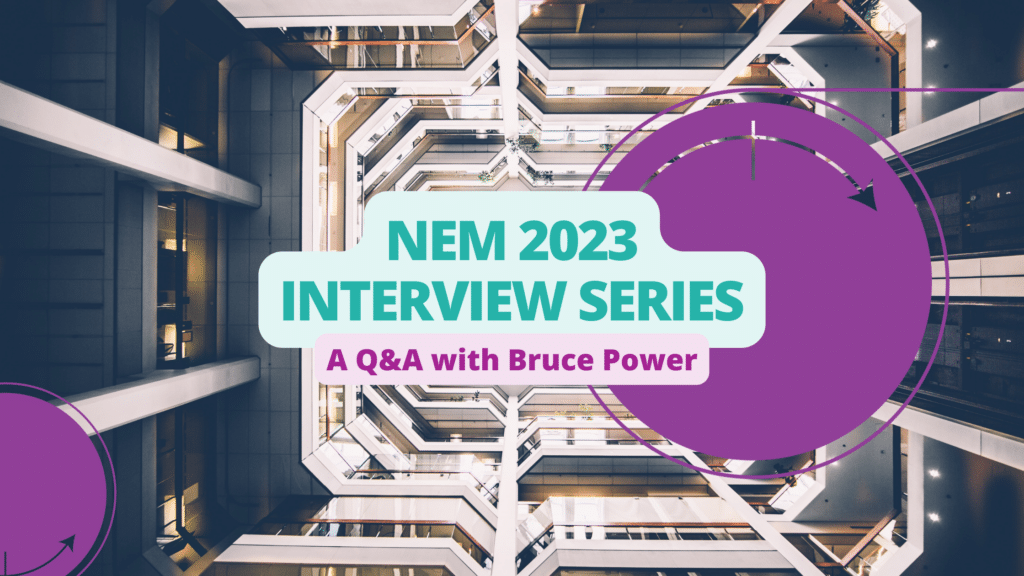 As National Engineering Month progresses, we're connecting with premier members of Ontario's engineering community to talk about where the field is headed.
What follows is a discussion with Aiman Khan, Senior Program Manager at Bruce Power about the importance of equity, diversity, and inclusion particularly, gender parity in engineering fields.
Tell me about your background.
Currently, I work at Bruce Power as a Senior Program Manager. I manage the future refurbishment and life-extension planning for four of the eight nuclear power reactors we have on-site – six of which will undergo a Major Component Replacement Project to replace reactor components and secure their operation for another 40 years.
As for my educational background, I graduated from the University of Ontario Institute of Technology, now known as Ontario Tech, with a degree in Mechanical Engineering, with a Mechatronics option. After that, I started my career in the nuclear industry, with my main focus on robotics. I began in outage maintenance services, working on projects that required automation of tooling to reduce radiation uptake for workers. I then moved on to engineering, working on multiple projects supporting outages, and eventually was brought over to MCR, which is the Major Component Replacement program. Here, I worked on the engineering for the Fuel Channel and Feeder Replacement program, which is the program I am now the Senior Program Manager.
I started as a designer on this project about eight years ago and worked my way up to Project Manager, then Program Manager, and finally, Senior Program Manager. Currently, I am enlisted in an Executive MBA program at the Massachusetts Institute of Technology and travel in and out of Canada every other week. My passions lie in advocating for nuclear power and ensuring gender parity in non-traditional roles, which are mainly STEAM and trade-related. I am a board member for Women in Nuclear Canada and also the Chapter Chair for the Bruce Chapter. I am extremely passionate about the nuclear industry and pushing the needle on gender parity.
How did you first hear about National Engineering Month (NEM)?
I first learned about National Engineering Month through my university's engineering society. I was one of the outreach members in my engineering society, and we were actively involved in hosting events on campus during this month. It's a well-known month among engineers and was also brought to our attention through HR for this interview. This is a special time of the year for engineers to celebrate advancement in the engineering field, for national engineering month. We plan various events around technical theories, which is a big part of our industry.
The theme for NEM 2023 is lifelong learning. What does the concept of lifelong learning mean for Bruce Power and why is that important?
Working in Bruce Power, or nuclear in general, means being part of a heavily regulated industry. This translates to a lot of training, and it's ingrained in the DNA of all nuclear professionals to be lifelong learners. At every stage of our work in Bruce Power, we have designated training sessions that are geared toward our specific roles. However, the company is also encouraging seeking education outside of mandatory training. As an example, I am currently pursuing an Executive MBA at the Massachusetts Institute of Technology, and Bruce Power fully supports me in attending classes and participating in the program. This demonstrates the company's commitment to investing in its employees, not just through the training mandated by regulations, but also by supporting their career and educational aspirations.
Week 4 of NEM focuses on equity, diversity & inclusion. What are some of the biggest issues with respect to EDI?
With respect to EDI in general, if we look at engineering as a whole, gender parity is a hard one to achieve. I recently visited Ontario Tech's campus in 2022, and the number of females in engineering programs is definitely improving. We need to start at the grassroots level to make progress. From a Bruce Power perspective, we are doing amazing, being 2 1/2 hours away from Toronto and still able to attract diverse talent. However, gender parity is an area that Bruce Power understands needs work, and we are making good progress on it. For example, 10 years ago, I could have named the three or so minority females in the company, but now, I've lost count. We've made significant progress in female representation and representation from different ethnic backgrounds in engineering. For instance, our department manager for Mechanical, Civil, and Reactor Design is a female, which is the first since the inception of Bruce Power. Also, there are many females in the mechanical and reactor design section under her, which is a positive change for Bruce Power.
Why is it important to have a diverse workforce? What are some of the benefits?
For me, diversity is not just about gender or ethnicity, it's also about different mindsets, education, and experience levels. It's important to have a diverse pool of individuals in the company who are always pushing the envelope. From that perspective, I think seeking individuals that are different from us is really great for avoiding groupthink. When you have people with diverse backgrounds, they will bring in different solutions that weren't clear to me or to the company, or to whoever is handling that particular problem or project. We have seen this time and time again. The team that I have is fairly diverse, from ethnic backgrounds, age perspectives, experience, educational perspectives, as well as gender. Having a diverse team has provided me with different ways of approaching a problem or a solution for operating our project. For instance, the females that we have on the project, keep everyone in line and organized from a perspective of driving for the right solution. Aside from that, I have individuals that are fresh out of university and also industry experts. The experts on our team are providing on-the-job training and mentorship to our new grads. Our new grads are also training these mentors – they're training them how to use different applications, and it's just very nice to see where I have somebody senior in my team that is teaching a new grad about the background of design and how to make certain choices when you come across a problem. He was sitting across from him and teaching him how to use Teams. I thought it was a win-win situation, and they were both learning from each other. He was teaching him about technology and how to find things quicker or work through Excel a bit faster. So, I think that's what diversity is for me. It's not just from a purely ethnic or gender perspective, but it's also different mindsets.
How do we make our workforce more diverse?
To ensure our workforce is successful, we strive to create an inclusive work environment that embraces diversity, not just in terms of appearance but also by welcoming those who challenge us. It's important that we approach these challenges professionally and remain accepting of new ideas. To achieve this, we create a comfortable team environment where everyone is encouraged to share their thoughts, regardless of their position in the team. This approach has worked well with my team, as we have an open-door policy, where team members can push back, bring in new ideas, and propose out-of-the-box solutions during meetings. The team is always accepting of different viewpoints, and we listen carefully to each other's perspectives. This approach has enabled us to attract a diverse workforce at Bruce Power, even though we are outside of the Greater Toronto Area, which is known for its multiculturalism. Having a great leader who fosters harmony and an inclusive culture within the team is crucial for creating a work environment where everyone feels comfortable and respected.
What initiatives does Bruce Power have in place with regard to EDI and how are they working toward providing a more inclusive environment?
Our DE&I initiatives are mainly led by HR but we also have champions across the organization. Our senior leaders have become champions of DE&I initiatives, and we have employee groups such as the Women's Forum, Indigenous employee group, and LGBTQ2S+ group. Through these groups, we collect information on what is working and what is not working for employees in the company. Each of these groups is championed by one of our executive leaders, which shows Bruce Power's commitment to DE&I. We have a dedicated team that looks at DE&I initiatives across the organization, and we receive feedback on what's working and what's not working in those meetings. Our senior leaders sit in on these meetings and listen to the concerns being raised, and they become the change agents in pushing for those changes. From top to bottom, we have engaged all levels to ensure that the initiatives Bruce Power is implementing are proceeding in the right direction.
Week 4 of National Engineering Month events cover the topic of equity, diversity, and inclusion in engineering. Check out the calendar to sign up for an upcoming event. To learn more about Bruce Power, please visit their website.
Learn. Grow. Thrive. Together.
With bold topics, industry expertise, and diverse perspectives – National Engineering Month is Ontario's engineering event of the year. Together we can advance the engineering profession, spark an interest in the next generation of engineering professionals and celebrate the role that engineers play in our society. We hope you can be a part of the action by attending a #NEM2023 event. For more information about National Engineering Month Ontario events, please visit nemontario.ca.