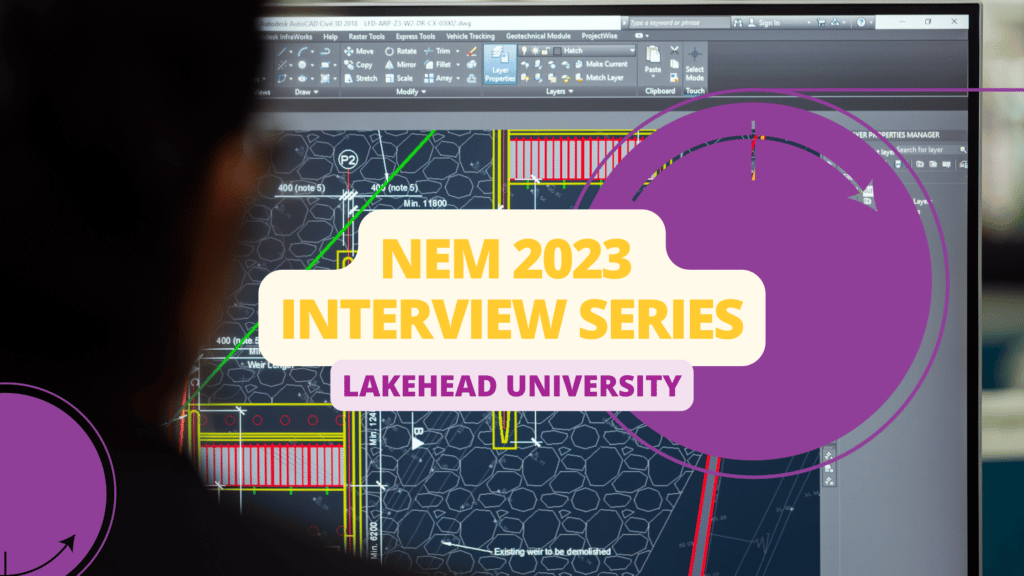 In the lead-up to National Engineering Month Ontario events (#NEM2023), we are seeking out and speaking with influential leaders within Ontario's engineering sectors to gain a sense of where they see the industry heading.
Recently we spoke with Janusz Kozinski, Dean of the Faculty of Engineering at Lakehead University. Dr. Kozinski is a recipient of the top award for professional engineers in Ontario from OSPE and has made significant contributions to engineering education in Ontario and beyond. Check out this inspiring conversation below.
Tell me a bit about yourself & your background.
I think the three things that people might tell you about me are that I am an academic globetrotter, a tradition innovator, and a pioneer of the new. As an academic, I have worked and conducted research in various countries, including Poland, Canada, the United States, France, the United Kingdom, and Germany. This has given me the opportunity to understand a variety of cultures, customs, and languages.
As a tradition innovator, I believe in respecting traditions while also innovating around them and bringing people together. I also look at myself as a pioneer of the new, as I have created new research programs and engineering schools in various universities. My inspiration for this approach came from a trip I took on a parabolic flight, which gave me a new perspective on the importance of engineering education and our responsibility to prepare the next wave of engineering students.
Why is National Engineering Month important to Lakehead University and the engineering profession overall?
Overall, I think engineers tend to be shy sometimes. That's why I love the concept of National Engineering Month. It allows us to celebrate the achievements of our profession and people. Engineers create everything that is not naturally created; look around you, most of the things you see are created by engineers. NEM is an opportunity to raise the profile of the profession, and engineering education, and to show young people that they can make a change and make the world better if they become professional engineers.
From my perspective, National Engineering Month is also an opportunity to promote the core values of what we do here at Lakehead, specifically, inclusion, diversity, equity, and accessibility. National Engineering Month provides a platform to share our excitement and passion about the profession and how it resonates with young people. We need to instill creative confidence in young people, which is important because creativity will be one of the key driving forces for employability in the future.
National Engineering Month is not only important for us here at Lakehead University, but it also gives a tremendous platform for all the engineering schools to share their great stories about their students, and their achievements and it also allows people like myself, as a Dean in different universities to be a chief storyteller. Sometimes we don't have the opportunities, but National Engineering Month is giving us that opportunity.
The theme for NEM 2023 is lifelong learning. What does the concept of lifelong learning mean to you? Why is lifelong learning important in the work that you do?
It's important to understand that engineering is not just a fixed body of knowledge, it's all about having a creative mindset that you have to develop and cultivate throughout your career. I look at myself and I've never stopped learning. I've learned a lot during my research.
You learn by doing things, by manufacturing something, or by solving something rather than just listening. At Lakehead, we took it to the next level. We developed a new concept for mid-career professionals by combining an engineering master's degree with an MBA. We created an engineering equivalent of an MBA program. MBA programs are popular in the business community and what we wanted to do is create something similar for the engineering community. We call it the Master of Integrated Engineering because the future of engineering is less about specific disciplines and more about engineers floating across a horizontal platform that includes knowledge from all those specialties fields. I strongly believe the future will be less about answering questions and more about questioning answers, which requires a different kind of education.
The future is all about employability and there is a big difference between getting a job after graduation and being employable in a variety of jobs over one's career. So getting certain skills in a particular discipline is not sufficient anymore, it's all about getting the proper mindset. Engineers will get it if we are prepared to integrate education from the humanities and social sciences. If we are able to provide our engineering students with moral, social, and cultural compasses. That's how I see the opportunity for continuing education and that's why I highly appreciate that you and your colleagues selected this particular element as the forefront of continuing education.
Can you tell me a little more about Lakehead University's Faculty of Engineering?
Last year, Lakehead's engineering program was ranked number one among all Canadian undergraduate engineering programs by Times Higher Education, among universities that focus predominantly on undergraduate education. We're proud of that recognition and of providing an extraordinary undergraduate education.
The faculty of engineering here at Lakehead is truly unique. What's wonderful about Lakehead is that we created this concept of open engineering, meaning that we need to develop programs and access for students who want to study engineering to have the opportunity to do so. The Canadian system is designed in a way that you have to decide if you want to study engineering when you're 14 years old, so we created a pre-engineering program, similar to pre-med, for those who want to study engineering but may not have the necessary credentials.
In addition to that, we decided to create the only college transfer program in Canada, meaning that students who graduate from college have the opportunity to enter the third-year program of an accredited engineering program. Lakehead is the only engineering faculty that offers this program. In addition, engineering students in their third year can apply to enter an MBA program concurrently, not sequentially, which is a fantastic opportunity for young people.
Currently, we're creating a new engineering hub in Barrie, and this will be the only fully accredited engineering program in that area. We're also creating new software engineering and mechatronics programs. This will give a tremendous population of young people the opportunity to study engineering in their area.
How has the engineering profession changed over the past 5 to 10 years & how is Lakehead University adapting to those changes?
The profession of engineering has indeed changed and is continuing to change significantly. In the past, engineering was focused on changing how we do things, but now it is also changing who we are as human beings with the development of artificial intelligence, autonomous machines, and electric vehicles. Additionally, the profession is now focused on the transition to net zero and sustainability. However, what is not changing enough is engineering education. This is a concern because while there are some excellent programs, engineering education is still focusing too much on traditional subjects such as math, physics, and chemistry during the first year of study. This can be discouraging for students who want to see how engineers change the world for the better. To address this issue, some programs are focusing on developing skills such as creativity, collaboration, critical thinking, and communication in students. Additionally, it is important to have a variety of approaches in engineering education to cater to different students' needs and stimulate vitality in the system.
Are there any specific programs, initiatives, or outcomes happening at Lakehead University that you'd like to tell me about?
Perhaps just two of them. I did mention the new engineering hub in Barrie that we are creating. What we want to do is expand from Barrie, which is in Northwestern Ontario, to Central and Southern Ontario, in order to give young people in those locations an opportunity to experience a new type of engineering education. 
Before doing so, we asked ourselves some fundamental questions and decided that this particular hub will respond to those questions. The first question was how can we create synergy between humans and engineering systems, such as AI and robotics. The second question was how can we engineer effective, affordable healthcare. The third question was how do we cyber-secure everything while maintaining proper ethics across cyber security? The fourth question was how can we provide our communities with affordable energy while stabilizing the climate. These are the four fundamental pillars of what we are doing.
Additionally, we are creating a program called "Invictus engineering" which is an engineering program specifically designed for wounded servicemen, servicewomen, and veterans transitioning from the military to civilian life. This program aims to provide them with the proper credentials to be successful in civilian life by allowing them to complete accredited engineering programs and become professional engineers. This program may take another year to implement but it resonates with the public and we already have one program, Electrical Engineering, that has been accredited. Now we are going to deliver Mechatronics, Software Engineering, and Computer Engineering. It is already there, but it's not at the critical size yet and we believe that Barrie is a great location for doing so because it is next to Borden Base, a large military base located in Simcoe County.
What does the future of engineering look like and how does Lakehead University fit into that?
Well, as I mentioned, there is no one size that fits all and we need to have a variety of options to make the system more vital and responsive to the diversity of students. The future of engineering education should be a learning continuum, offering programs on campus, online, on-demand, and just in time. To achieve this, we need to partner with other engineering schools inside and outside of Ontario to create an open system of variety for students. I am also a proponent of an "engineering passport," where students can enter one engineering school and then go to another to gain a variety of experiences and educations.
A key component of success is having people with the dream and passion to achieve it. I always tell my students that if they want to go fast, travel alone, but if they want to go far in life, travel together, emphasizing the importance of creating meaningful partnerships and collaborations. And it's important to remember that people will forget what you said and what you did, but they will never forget how you made them feel so it's important to be elegant with others and live up to another principle that I believe in, which is respect.
Learn. Grow. Thrive. Together.
With bold topics, industry expertise, and diverse perspectives – National Engineering Month is Ontario's engineering event of the year. Together we can advance the engineering profession, spark an interest in the next generation of engineering professionals and celebrate the role that engineers play in our society. We hope you can be a part of these incredible events by attending a #NEM2023 event. For more information about National Engineering Month Ontario events, please visit nemontario.ca.