How are engineering educators preparing the next generation of engineering leaders? How are academic institutions future-proofing engineering degrees to ensure the degree remains relevant, respected, and valued? If you're curious, then you might want to attend the National Engineering Month Ontario Kick-Off event on March 1. Keep reading to find out more details about this exciting event.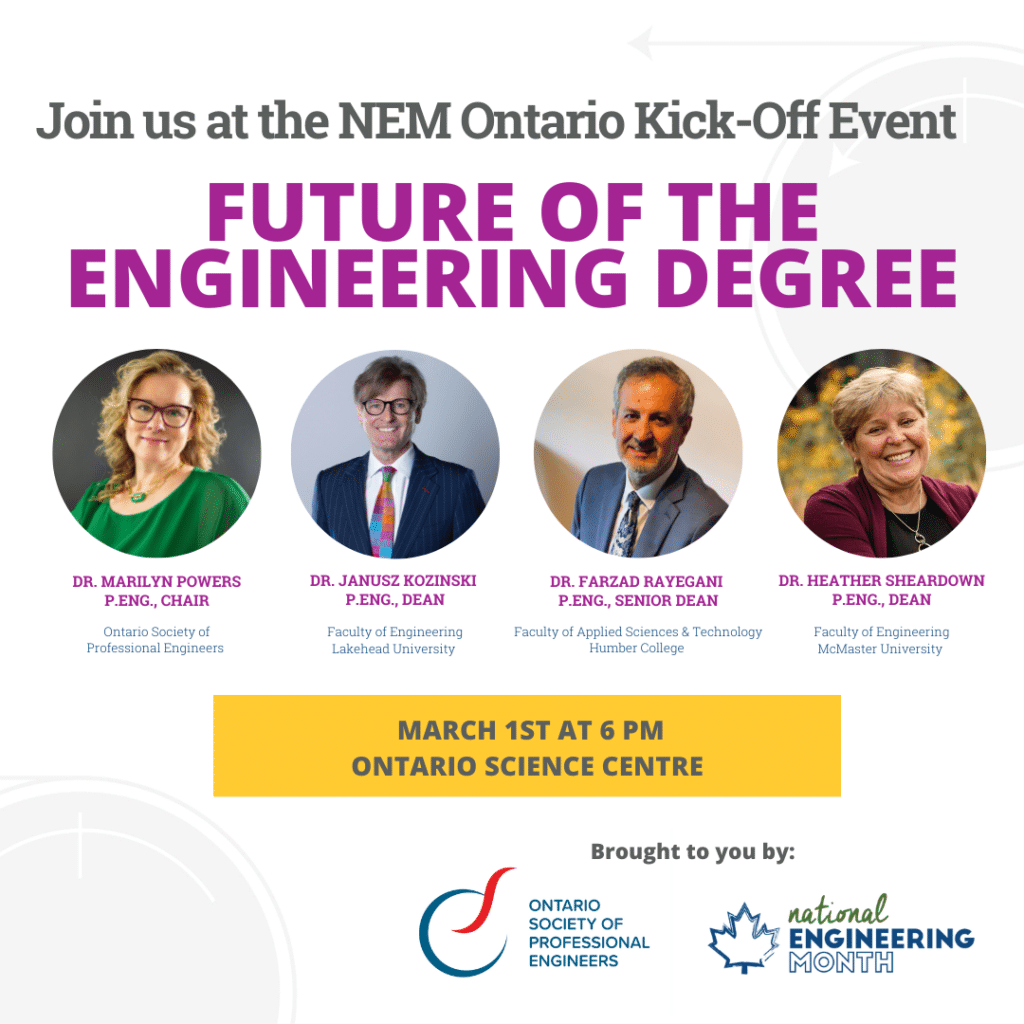 More details about the NEM Ontario Kick-Off Event
You won't want to miss this event if you're looking to stay ahead of the game in the engineering field. This event will bring together senior faculty from leading colleges and universities to discuss the future of the engineering degree. We hope you will join us in person at the Ontario Science Centre on March 01, 2023, from 6:00 PM to 9:00 PM for this exciting event. Spots are limited so register today! If you can't attend in person, there will also be a live feed of the event available on the NEM Ontario website.
How are educators future-proofing engineering education?
As technology continues to advance at a rapid pace, it's more important than ever to ensure that engineering degrees are keeping up with the industry's latest developments. The panel of expert speakers at this event will delve into the efforts being made to future-proof the field, ensuring that the engineering degree remains relevant, respected, and valued. This will give you an insight into the latest trends in the field, and how students can stay competitive in the job market.
How do we prepare the next generation of engineering leaders?
This event isn't just about the present and future of the field – it's also about the next generation of engineers. Attendees will have the opportunity to hear from educators about the steps they're taking to prepare the next generation of engineering leaders. They will be discussing how they are providing students with the skills and knowledge they need to succeed in an ever-changing world. By attending the event, you will learn about the latest teaching methods and educational practices, which will help you stay ahead of the curve and improve your own skills.
How do we encourage future generations to become Professional Engineers?
And for those looking to become Professional Engineers, the event will also cover the opportunities available for future generations to achieve this goal. From programs to networking opportunities, attendees will learn about the various paths available to them to become Professional Engineers. This is a great opportunity to learn about the requirements and steps you need to take to become a Professional Engineer and how to achieve your career goals.
Hear from leading engineering educators:
The panel of speakers for the event includes some of the top educators in the field, including Dr. Janusz Kozinski, P.Eng., Dean of Lakehead University's Faculty of Engineering, Dr. Farzad Rayegani, P.Eng., Senior Dean of Humber College's Faculty of Applied Sciences & Technology, and Dr. Heather Sheardown, P.Eng., Dean of McMaster University's Faculty of Engineering. The event will be moderated by Dr. Marilyn Powers, P.Eng., Chair of the Ontario Society of Professional Engineers. With such a distinguished panel, you can be sure that you will be getting valuable insights and expert advice.
Need more reasons to attend?
Not only is this event a great opportunity to learn from the best in the field, but it's also a chance to connect with other engineers and aspiring engineers. The event provides a platform for networking and building connections with people in the industry, which can be invaluable for your career. It's an opportunity to meet like-minded individuals, share ideas and learn from others in the field. Are you ready for the best part? This event is completely free to attend for OSPE members. If you're not an OSPE member, you can still attend (tickets are $15.00/each).
Mark your calendars for March 01, 2023, and join Ontario's engineering community at this exciting engineering event!
Learn. Grow. Thrive. Together.
With bold topics, industry expertise, and diverse perspectives – National Engineering Month is Ontario's engineering event of the year. Together we can advance the engineering profession, spark an interest in the next generation of engineering professionals and celebrate the role that engineers play in our society. We hope you can be a part of these incredible events by attending a #NEM2023 event. For more information about National Engineering Month Ontario events, please visit nemontario.ca.