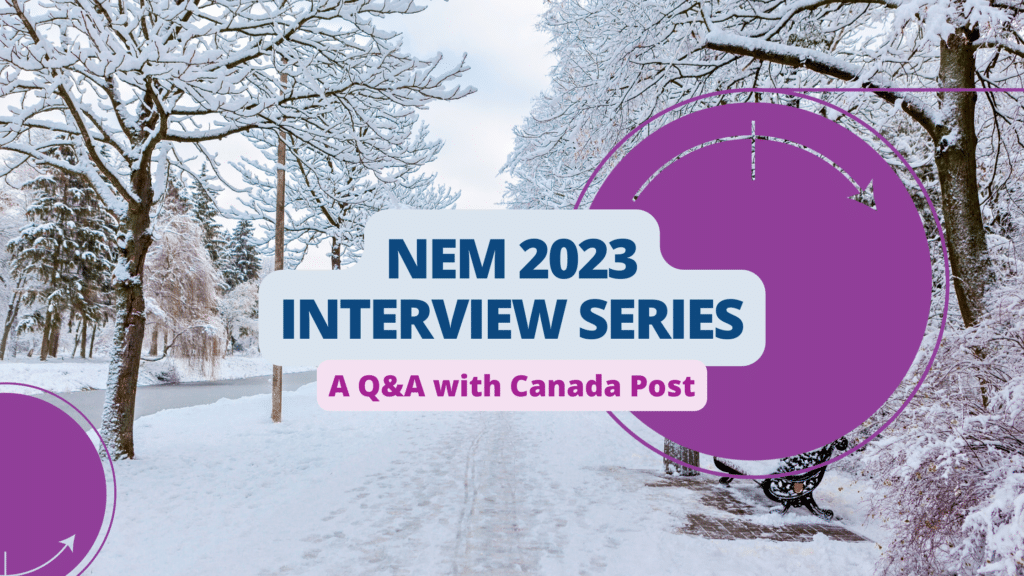 As National Engineering Month progresses, we're connecting with premier members of Ontario's engineering community.
Recently I met with Nadia Afara, Health and Safety Manager at Canada Post. She has also held process and safety engineering roles at Canada Post and in the private industry and is both a Professional Engineer and a Canadian Registered Safety Professional. We discussed why engineers should consider a career with Canada Post and how the company is prioritizing health and safety.
Tell me about your background and how you decided to become an engineer.
My family and I immigrated to Canada when I was 8 years old and the primary motivation for moving here was equity, especially for me as a woman. In my home country, there would have been many barriers for me to achieve my career goals, so my parents wanted my brother and I to have the opportunity to thrive and achieve our full potential without facing those challenges.
I pursued chemical engineering and got my bachelor's degree at McGill University and then obtained a master's in chemical engineering. One of my motivations to become an engineer was because my dad was a civil engineer and he encouraged me to pursue that career path. If I didn't have that as an example, I don't know if I would have necessarily chosen that path. At that time, there wasn't much promotion for women to become engineers, so I'm grateful that my dad inspired me. I really enjoy being an engineer, especially due to the wide range of amazing opportunities it has offered me.
I kicked off my career as a process engineer in the private industry before obtaining my professional engineering licence and going to work for Canada Post, where I started as a safety engineer. These two roles taught me a great deal about the importance of engaging and involving multifunctional stakeholders at all levels when solving problems, as well as when planning and executing projects. In addition, I had the opportunity to lead large cross-functional teams toward significantly improving Canada Post's compliance with safety regulations and standards, by implementing safety programs that met the needs of our employees. After spending six years as a safety engineer and obtaining my Canadian Registered Safety Professional certification, I joined the process engineering department for three years. From there, I took my project management skills to the next level and applied them to a more technical role. I led business case approvals, implemented inventory management software, and installed telematics devices on motorized material handling equipment (MMHE) with the goal to reduce our shipping equipment shortages, improve employee and customer experience, enhance safety, and improve MMHE utilization.
Now, I am a manager in health and safety, and my role is focused on our health and safety strategy while continuing to lead exciting projects that will continue to reduce injuries and enhance our safety culture. I am excited about the opportunity to talk more about it.
How did you first hear about National Engineering Month (NEM)?
I started hearing about NEM when I got my professional engineering licence. I would receive newsletters or promotions for events that were happening, but more recently, Canada Post has done an excellent job promoting these initiatives.
The theme for NEM 2023 is lifelong learning. What does the concept of lifelong learning mean for Canada Post and why is that important?
Lifelong learning is so important and should be valued everywhere. We all know that change is the only constant, and we live in a highly competitive world, especially in the industry we work in. To stay ahead of the game, we need to ensure that we keep up with the significant changes that Canada Post is undergoing. We strive to keep up with technological advances and find more efficient ways of doing things to remain the top parcel company. To achieve this, we have many initiatives aimed at improving efficiency and capacity, employee skills, leadership skills, and more. We even have an innovation team dedicated to testing new technologies, a Lean Six Sigma certification program, change management training, professional development seminars, and opportunities to attend conferences like the ICPA (International Conference on Postal Automation).
On the other hand, in addition to innovation, Canada Post has also increased its focus on employee experience and well-being. In all workplaces, when employees are unhappy or don't feel challenged enough, turnover rates will increase, and performance will decrease. We want to make sure that employees have all the tools they need to be safe, and well and are able to thrive in the workplace, and in their personal lives. We also strive to raise awareness of diversity and inclusion to continue to improve the overall employee experience.
Canada Post recognizes the need to evolve continuously and tackle the changes from all angles. After all, even with the best technology, high-performing employees can't thrive and achieve their full potential if they don't feel safe, challenged, happy, respected, or heard.
Week 4 of NEM focuses on equity, diversity & inclusion. Why is it important to have a diverse workforce? What are some of the benefits?
Canada Post serves all Canadians, and we live in a country that is enriched with a wide range of diversity. The only way to ensure that we can provide the services that all Canadians deserve is to have a workforce that is inclusive to all groups of people such as Indigenous Peoples, visible minorities, women, and people with disabilities.
Throughout my career, I have seen time and time again how valuable it is to open our minds and incorporate a wide range of perspectives, standpoints, and experiences from different employee backgrounds, and at all levels within the Corporation. This includes experiences within and outside the company, as well as from employees of different genders, countries, and those living with disabilities. By creating more balanced project teams and putting our minds together we can ensure that the solution considers all safety, inclusivity, and business-related factors, which in turn results in a solution that is suitable to all users. Having a diverse workforce is key to improving company performance.
A diverse workforce also helps enhance the company's reputation, attract more talent, and reduce employee turnover rates. I can speak for myself, as someone from a different country, that I feel much more at ease and at home when working in an environment that recognizes different backgrounds and incorporates them in its day-to-day work. This is one of the reasons why I enjoy working at Canada Post.
What programs does Canada Post have in place with regard to making our workforce more diverse?
Since I joined Canada Post in 2013, I have been very pleased to see how diverse and inclusive this workplace is. I have had the pleasure of working with people from different ethnic backgrounds and people living with disabilities. It's been amazing to see Canada Post continue the path of further progressing equity, diversity, and inclusion, and creating an even more welcoming environment.
Canada Post raises awareness by sharing stories about Canada's diverse culture, including Black Canadians and Indigenous Peoples. They create stamps and videos in honour of these individuals and showcase their achievements and contributions in various ways. For instance, during this year's Black History Month in February, Canada Post issued a stamp honouring Chloe Cooley, a young Black woman whose protests against her enslavement in Upper Canada in the late 1700s inspired legislation that paved the way to abolition throughout the British Empire. Last year, Canada Post issued a Truth and Reconciliation stamp – the first of an annual series – showcasing the visions of First Nations, Inuit, and Métis artists for the future of truth and reconciliation.
Canada Post formed a Joint National Equity and Diversity Committee with all bargaining agents in 2020, which developed the five-year Equity and Diversity Strategy and Action Plan. In addition to the Accessibility Strategy and Plan, these plans have set important goals to remove barriers and improve participation from employees from all these groups. Initiatives focus on improving hiring practices, upgrading buildings, and removing barriers for employees with disabilities. I am proud to share that Canada Post recently received the Accessibility Certified Gold rating from the Rick Hansen Foundation for a newly renovated building at Head Office. This is the highest level of accessibility that can be achieved.
In recent years, Canada Post has also formed the Women in Engineering group in support of Engineers Canada's 30 by 30 initiative. In other words, the goal is that by 2030, 30 percent of all newly licensed engineers will be women. As a result, I have had the pleasure of attending outstanding seminars and panels where women engineers have shared their success stories and how they overcame some of the challenges they have faced. This group also partners with schools and universities to encourage girls to pursue engineering careers.
I'd like to shift our focus to your health & safety protocols. How does Canada Post ensure that its employees are trained and educated on health and safety protocols?
Since I started in 2013, I've seen significant improvement in Canada Post's safety performance. We have implemented several safety programs, which have led to the development of many new safety trainings. The goal is to ensure that employees are assigned training that is appropriate for their job functions to ensure that they can perform their tasks safely. This includes safe lifting, electrical safety, conveyor safety, WHMIS, root cause analysis and so much more.
Over the last few years, we launched our Make it Safe, Make it Home, and Keep wellness in mind campaigns that continue to spread company-wide awareness of prevention – both from a physical and psychological safety perspective.
In addition, we have enhanced our training to tackle slips, trips, and falls, which continue to be our most common type of injury. Currently, I am leading a project that was successfully piloted last year and has the potential to reduce these types of injuries by 70 percent through experiential learning. During the pilot, nearly 900 of our employees across 26 sites practiced walking on a slippery surface with various simulated obstacles in a safe and controlled environment.
Another example is the safety and ergonomics in design training. Ergonomic injuries are our second most common type of injury. When engineers design new equipment, it is crucial that they consider all safety factors, including employees' height ranges and how employees interact with the equipment. We teach them how to assess the risks and design their projects with safety and ergonomics in mind. The key is to ensure that all considerations are taken in the initial phases so that they are accounted for in the final design, which reduces the chances of injury, rework, and increased costs.
We have also implemented several initiatives to improve driver and road safety, including conducting on-road evaluations, delivering road safety orientations, and providing collision-avoidance training for employees. We held our second annual Driver Safety Recognition Awards last year and created a best-in-class road safety standard, which we will begin deploying this year.
We have placed significant focus on mental health, reminding employees that it's just as important as their physical health. Mental health is the number one cause of short or long-term leaves in Canada. We have developed micro-learning videos that help our employees take care of their wellness and improve their active listening skills to help others who may be struggling.
Lastly, I would like to mention our positive safety interactions training, which we launched in 2021 and deployed last year. This training is crucial to shift our culture from reactive to interdependent. We equip our supervisors with the tools they need to approach employees and provide safety feedback without intimidating them. They learn how to have positive interactions, not just when observing something wrong, but most importantly when observing something right. This will help employees feel comfortable having productive conversations with their supervisor, sharing their thoughts, coming to an agreement, and leaving the conversation feeling empowered rather than defeated. The ultimate goal is for employees at all levels to feel comfortable having these conversations, which will lead to improved relationships and an interdependent safety culture.
Can you discuss any recent initiatives or programs that Canada Post has implemented to improve employee health and safety?
I would like to start with our health and safety strategy. Over the last couple of years, we partnered with a company that helps industries achieve world-class safety. They have done assessments and audits, and determined key areas for us to improve on, which led to the development of our 10-year Health and Safety Strategy. I am overseeing the implementation of this strategy, which will bring us closer to achieving a centralized health and safety management system to achieve world-class safety. The initiatives described earlier are all part of this strategy.
One exciting initiative we have recently implemented for all departments at Canada Post is the Health and Safety Improvement Plan (HSIP). For the first time, we now have corporate-wide visibility on leading Key Performance Indicators focused on injury prevention. This plan allows all directors to commit to annual goals to improve safety performance. All groups are assigned national objectives, such as undergoing Positive Safety Interactions training, participating in road safety and mental health initiatives, etc. The groups are also responsible for establishing their own local goals after assessing their own performance and determining improvement opportunities. HSIPs help us ensure that we are doing the right things to prevent injuries, rather than just keeping track of incidents after they occur.
As I mentioned, we have also made significant progress in the areas of mental health and road safety. Our five-year Mental Health Strategy is based on four key pillars: Psychological Risk Assessments, Building Capabilities, Dashboards & Metrics, and Mental Health Advisory Committees in partnership with our unions. Our national road safety strategy includes various initiatives such as SMITH(R) Collision Avoidance training, Road Safety Week, and installing telematics technology on our fleet, which enables monitoring to address behaviours that may lead to serious injuries.
Overall, we have made significant progress in our health and safety performance with a focus on prevention and continuous improvement, and we are closer than ever to achieving world-class safety. We still have quite the road ahead but I am confident that with our dynamic safety team, we will get there.
Finally, what is it like to work for Canada Post? How does Canada Post support engineers throughout their careers?
I have really enjoyed my time at Canada Post, both in safety and engineering. From day one I felt at home and very welcomed. There is a nice collaborative spirit overall at the company. I found that a lot of my learning came from working with people. People are happy to give feedback and help others.
In terms of engineers, we have a mentorship program where employees can learn from other engineers who have achieved great success. We also have a talent development program and leadership development program that allow employees to take their talents to the next level and be involved in projects where they can further develop their skills. We also have an entire department dedicated to the Lean Six Sigma program where employees can learn how to improve process efficiencies, reduce waste, and perform proper data and process analyses.
Recently, there has been more emphasis and focus on change management, so that engineers are equipped with tools to establish an effective change management plan and increase the chances of their projects succeeding. We also have professional development seminars and a talent website where employees can make their career goals visible to hiring staff.
We have improved our safety training to ensure engineers can do their jobs more safely and incorporate safety into their projects. Ergonomics in design and safety in design initiatives have been put in place to take health and safety factors into consideration from the planning phases, which leads to safer outcomes, as well as saving time and money.
Mental health has also become a huge focus. There are mental health seminars where engineers can learn how to take care of their mental health and recognize warning signs or when there is a need for self-care.
Overall, Canada Post is committed to improving the employee experience and growing the business. We have initiatives in place to help develop our employees and ensure their safety and well-being.
If you'd like to learn more about engineering careers at Canada Post, please visit their website.
Learn. Grow. Thrive. Together.
With bold topics, industry expertise, and diverse perspectives – National Engineering Month is Ontario's engineering event of the year. Together we can advance the engineering profession, spark an interest in the next generation of engineering professionals and celebrate the role that engineers play in our society. We hope you can be a part of these incredible events by attending #NEM2023. For more information about National Engineering Month Ontario events, please visit nemontario.ca.