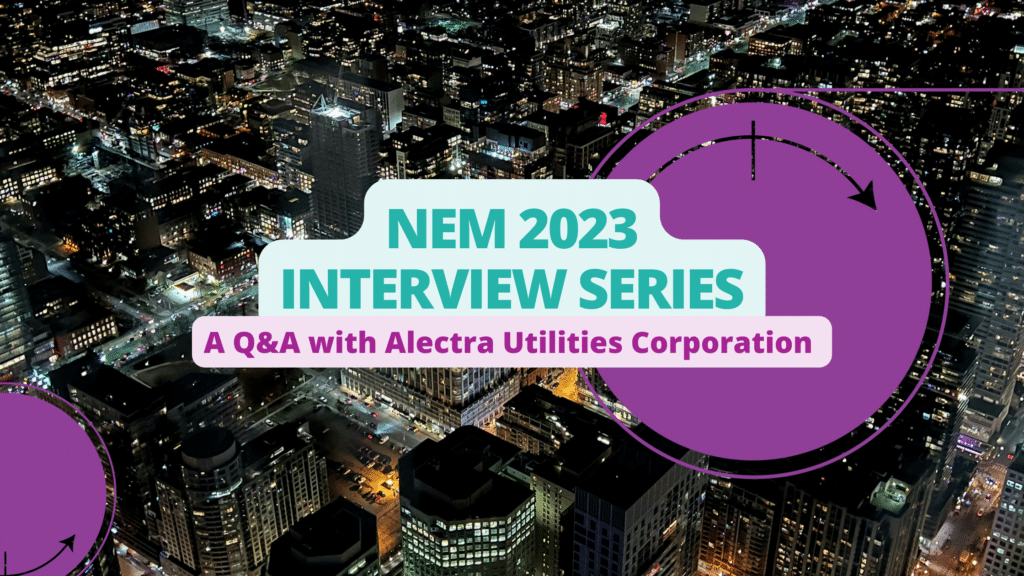 As we continue to celebrate  National Engineering Month, we're engaging with key leaders in the engineering sector in Ontario to explore the direction of the field.
Recently I met with Andrew Newitt, Manager, of Distribution Design – Transit Projects at Alectra Utilities Corporation. What follows is a discussion about his progression through the company and where he feels the industry is heading. 
Tell me a bit about yourself & your background.
I graduated from Mohawk College with a diploma in computer engineering technology, which is where I think my technical knowledge stems from. During my time at Mohawk, I did some co-op work at Waterloo North Hydro, in their Station's Department, which gave me experience in utilities.
After graduation, it was difficult for me to find a job in the computer field because there were so many people with computer skills in the market. Fortunately, I got a job designing subdivisions for a consultant, which provided me with more experience in utilities. From there, I moved on to Oakville Hydro Electricity Distribution Inc., where I worked on some large capital projects as an engineering technologist. I dabbled in several areas to keep myself engaged and eventually got promoted to Supervisor, where I managed the asset management system. At the time, asset management was a new concept in the utility industry, and I was tasked with creating a department for it. This experience led to my promotion to manager of asset management. To work closer to home, I accepted a job at Horizon Utilities, where I initially took a step back as a Supervisor, but then became the Manager of transit projects shortly after when Horizon Utilities merged with Alectra. In my current role as Manager of Transit Projects, I oversee electrical utility work on a vast provincial portfolio of projects, including the Hurontario LRT, the Hamilton LRT Go expansion, some bus rapid transits, and a few subways like the Young North Subway Extension and the Eglinton Crosstown West Extension Subway.
Fortunately, I've been successfully pursuing my limited licence with the PEO and just passed my Professional Practice Exam last month. Now, I'm waiting to receive my stamp.
Why is National Engineering Month important to Alectra and the engineering profession overall?
NEM is a showcase of the profession itself, showing people how we interact and play a role in society while celebrating all the achievements that engineers have had throughout history. I'd like to think of it as an inspiration for future engineers as well. Seeing these larger-scale events and different engineering fields coming together to celebrate is an inspiring news story for future generations to join engineering and enjoy a career in it. With Alectra, we are proud to support the engineering profession through our commitment to innovation, excellence, and customer focus.
The theme for NEM 2023 is lifelong learning. What does the concept of lifelong learning mean to you? Why is lifelong learning important in the work that you do?
It's important for me to acquire new knowledge and skills throughout my life, especially in the engineering profession. Technology is constantly evolving and I remember when I graduated from computer engineering technology, everything had already changed from what I had learned. It was shocking to realize that I was already behind in my knowledge when I went for job interviews and they were talking about something that had changed within a year of my graduation.
Therefore, lifelong learning is essential to keep up with the constantly changing technology. We need to stay on top of everything that's changing to provide the best service to the general public, ourselves, and our corporations. Learning allows me to enhance my skills and knowledge, and it enables me to provide clarity and focus on things. I wouldn't be able to direct my team appropriately without that additional information.
I spend a lot of my free time learning new technologies like cryptocurrency and artificial intelligence. At Alectra, we encourage employees to pursue lifelong learning through different training, certification programs, and continuing education to support personal and professional growth. One of the significant opportunities we offer is LinkedIn Learning, which provides access to many courses that allow individuals to learn new technology or ways to utilize existing technology better, faster, and more efficiently.
Can you tell me a little more about Alectra and the types of projects you work on?
Alectra is a Canadian utility company that provides electricity services to homes and businesses in Ontario. We are committed to delivering safe, reliable, and sustainable energy solutions to our customers while promoting environmental stewardship and social responsibility. With over a century of experience in the energy industry, we are proud to be a leader in innovation and customer service.
As for me, my focus is really on coaching and leading our Transit Project team. I have about 25 professionals who report to the Transit Project Department, and they help the province and municipalities complete these large-scale transit projects. I utilize my engineering background to remove obstacles and red tape from my team of professionals so that they can focus on delivering solutions to our customers. I feel that my role as an engineer is to look outside the box and find ways of removing those burdens from my professionals so that they can do the good work they are here to do.
How has the engineering profession changed over the past 5 to 10 years & how is Alectra capitalizing on those changes?
It has changed a lot and it continues to change every year. There are many new technologies, as I mentioned, such as AI, green energy initiatives, etc. There are also new customer expectations that are driving innovation and transformation, not only in our industry but in many others as well. We are approaching these changes by coming up with new technologies and solutions to serve the customers and the general public. Customers have all of these new abilities, such as access to the internet through smartphones, so applying the technology needed to bring a 100-year-old-plus industry into the future is really interesting and fun. In the last five-to-ten years, the need to force this antiquated industry into the future has been extremely prevalent, driven by the needs and wants of the general public. We really have to focus on making these changes using new technologies. We need to look at our grid and make it smart, try to find renewable energy solutions, improve customer service by looking at digital ways of doing it, and approach and show information to our customers in a brand-new way so that they can be involved more in the delivery of their electricity. 
Additionally, we need to ensure that we're sustainable and have the environmental stewardship required to support the industry.
I focus on new approaches for project management and how to collaborate better not only within the company but also with the province and municipalities. I try to get everyone in the same room to ensure that we're all working in the same direction and not against each other in these large projects. With the rapid advancement of technology, we need to ensure that we're keeping on top of it. I also believe that these advancements are only the beginning. The next five to ten years will continue to bring even more amazing stuff coming out.
Are there any specific programs, initiatives, or outcomes happening at Alectra that you'd like to tell me about?
Since the merger of five utilities, we have spent the past five-to-seven years ensuring that everything is integrated correctly. This includes processes, procedures, policies, standards, and materials. Although we are still working on many things to ensure consistency across Alectra, we have successfully merged some aspects and are moving toward optimization. 
One significant item that our team has been working on is the distribution design manual. Only one of the former legacy utilities had a standard process for electric design, whether it be for rebuilding or road widening. Alectra has created this manual to ensure consistency across all regions and to provide the same customer experience in all areas. We are now focusing on optimizing our processes and procedures to increase efficiency.
What does the future of engineering look like and how does Alectra fit into that?
The future of engineering is full of opportunities, especially with changing technology, green energy initiatives, and sustainability. Artificial intelligence (AI) is just the beginning, and we can expect to see significant advancements in robotics and the integration between AI and robotics. Renewable energy is also a huge area with the potential to revolutionize the industry, particularly in terms of adding renewable energy into the grid and managing it efficiently. As a key player in shaping the future of energy and engineering, Alectra is committed to exploring new technologies and collaborating with industry partners to keep up with industry trends and provide appropriate energy solutions. Our values focus on delivering sustainable energy solutions that meet the needs of our customers and support a cleaner, greener future. We also prioritize ensuring that people have access to the grid and can sell their own electricity back into the grid.
Any final thoughts?
I remember when I was first introduced to National Engineering Month. Getting involved was really cool, and I enjoyed seeing people being interviewed and featured in articles. I wondered how they got to that point. Now, I am being interviewed for an article, which is a career goal I've had since then. Thank you for this opportunity to showcase the engineering work my team and I do at Alectra. It's fantastic to show it off to the engineering profession.
For more information about Alectra, please visit www.alectra.com.
Learn. Grow. Thrive. Together.
With bold topics, industry expertise, and diverse perspectives – National Engineering Month is Ontario's engineering event of the year. Together we can advance the engineering profession, spark an interest in the next generation of engineering professionals and celebrate the role that engineers play in our society. We hope you can be a part of these incredible events by attending #NEM2023. For more information about National Engineering Month Ontario events, please visit nemontario.ca.