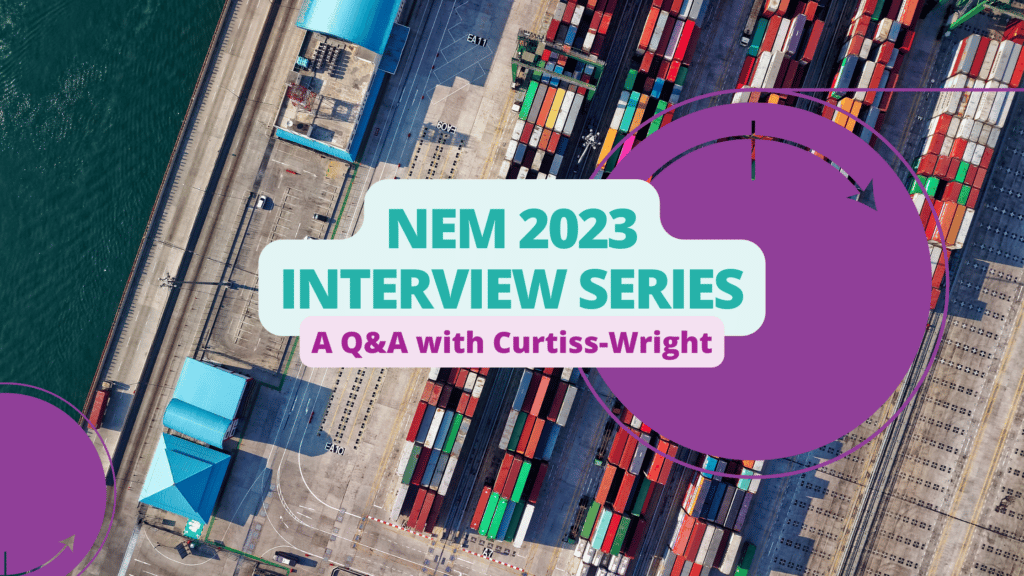 As National Engineering Month draws on, we're chatting with some of the top companies in Ontario's engineering scene to get a better understanding of what it's like to work at an engineering firm.
Recently we met with Kyle Bradash, who is a Mechanical Engineer at Curtiss-Wright (CW). Kyle started his career through a co-op program available through the University of Waterloo and has gained valuable experience through his placements at Curtiss-Wright.
Tell me about yourself and how you got into engineering.
My name is Kyle Bradash and I work as a Mechanical Engineer at Curtiss-Wright in Mississauga. I've been there for five years now. My love for engineering started at my cottage on Georgian Bay, where I spent a lot of time with my family snowmobiling, ATVing, and boating. Boats and snowmobiles require a fair amount of maintenance and mechanical attention, and that exposure is what sparked my interest in mechanics and how things work. As I got older, I realized that engineering was the right path for me as I enjoyed learning about mechanical designs through my experiences with fixing motors, transmissions, and any other equipment we were working on at the cottage, from snowblowers to hydraulic boat lifts. In high school, I took a liking to maths and sciences and took that opportunity to pursue a degree in engineering.
Why is National Engineering Month important to Curtiss-Wright and the engineering profession overall?
At Curtiss-Wright we say, "We have one simple goal, to help you succeed." For me, this statement is more than just a sales slogan. While Curtiss-Wright does help its customers succeed, they also provide the support and opportunities necessary to let its own employees succeed. Curtiss-Wright has supported me in advancing my skills and career by providing me with the training and tools required for growth and learning. Supporting young engineers like myself to become more successful is important for the future of engineering and aligns with the vision of National Engineering Month.
National Engineering Month is important to Curtiss Wright because both companies' visions are parallel in terms of supporting and inspiring the next generation of engineers. Curtiss-Wright is a strong believer in giving back to the engineering profession, as they have shown through the development of employees like myself. From full-time to co-op employees, Curtiss-Wright provides the tools employees need to succeed. In this way, Curtiss-Wright helps to raise the bar in engineering, by inspiring the new generation and continuing to better the engineers of today.
The theme for NEM 2023 is lifelong learning. What does the concept of lifelong learning mean to you? Why is lifelong learning important in the work that you do?
With the rapid growth of technology and how it affects our society, there has been a big emphasis on lifelong learning lately, especially in the engineering profession. When I think about lifelong learning I think of four areas.
Reactive learning. Sometimes our work doesn't work out the way we want it to, but we must learn from our mistakes. That's lifelong learning to me, using failures as an opportunity for learning and bettering ourselves for the next time.
Proactive learning. The profession of engineering is always advancing. Doing research and development, applying forward-thinking, improving, and finding efficiencies with new technology is all part of "lifelong learning."
Readily-available information. With the internet and all of its resources, it has never been easier to learn and share new ideas with other professionals. It is so easy to find useful information right at our fingertips, we should use it to better ourselves as engineers.
Taking a world-view. It's important for me to stay informed and educated about what's going on in society and the world beyond my immediate work. As an engineer in the defense sector, issues regarding politics to environmental topics have an influence on our work. Staying informed and relevant makes us better and more well-rounded engineers. Staying in touch with world issues is something that can be applied "lifelong."
Can you tell me a little more about Curtiss-Wright and the types of engineering projects you work on?
I work at Indal Technologies, a division of Curtiss-Wright, located in Mississauga. Curtiss-Wright is a large corporation with many business units, but at Indal Technologies we specialize in the design, manufacturing, and testing of naval equipment for shipborne and subsea use. We are a top provider of helicopter handling systems, with over 250 systems worldwide, as well as cable handling systems for subsea and on-deck applications. All of our equipment is designed in-house and held to the highest military and naval standards.
In my day-to-day work, I create concepts, and designs, analyze components for stress, reliability, and maintainability, create drawings with designers and create test plans and procedures in compliance with military and naval standards and best practices. I am the Project Engineer on a towed array cable handling system for a UK submarine. As the mechanical lead, I work with a team of four other engineers across different disciplines and coordinate our designs in accordance with the customer's requirements to provide solutions for the customer.
Q5. What was the transition like going from a co-op student to Professional Engineer?
It's been a rewarding and enjoyable experience. I believe that entering a co-op program was one of the best career decisions I have ever made, even though I didn't know it at the time. I made the decision to take co-op when I was applying to university back in 2012, which is over 10 years ago now. The good thing about my specific co-op program was that it was integrated throughout my entire engineering degree at the University of Waterloo, and resulted in six different co-op placements. These six opportunities allowed me to learn about my likes, dislikes, weaknesses, strengths, and what my career path could look like in the future. Ultimately, this experience gave me confidence when starting my full-time career because I was familiar with a working environment, I knew what I was interested in, and I was comfortable with the skills I had established.
The last co-op placement of my Engineering degree was as a Test Technician co-op at Curtiss-Wright in 2017. I enjoyed the work and work environment so much that I returned to Curtiss-Wright as a full-time Test Technician when I graduated from Engineering in 2018. I valued the practical experience I got during my time as a co-op and wanted to further develop those skills. I spent 2 years as a Test Technician before I moved into Engineering as a Mechanical Engineering Associate. In both of my roles (Technician and Mechanical Engineering Associate) I was lucky to have excellent mentors, and support from my colleagues and management to develop my career skill set.
The combination of good mentors, hands-on experience, and an expectation of high-level professionalism made the process of becoming a Professional Engineer rather seamless.I think it is very important for an aspiring Engineer to have good mentors and support as I did, and I would encourage young engineers to position themselves in a role where they have that support.
How did getting your P. Eng. benefit your career?
Getting my P. Eng benefits me in my work because it makes me hold myself accountable for the work that I do. The process of obtaining my P. Eng made me strive for higher quality in my work, then and now. And more than that, because I hold myself accountable for my work, it makes me confident in my work because I know I put in the effort.
Getting my designation has also already provided me with opportunities for new experiences, new communities, and learning. Engineering societies, sharing experiences (such as this interview), and hearing experiences/ new information from other professionals in the community are the great benefits of obtaining my P. Eng.
Lastly, I would say that being recognized as a professional is rewarding. Companies acknowledge that I hold myself to a higher set of standards and that makes me more valuable.
How has Curtiss-Wright supported you throughout your career?
I would like to offer some advice to those starting a career. If you find a workplace that will support your growth, take the opportunity because it is important to invest in your own career. I was lucky enough to have a supportive working environment that allowed me to grow and learn. As a Technician, I was given the opportunity to learn about Indal's helicopter handling systems and was able to travel to Singapore to support one of our customers. With Indal's support, I was able to learn new hands-on skills and travel the world! As a Mechanical Engineering Associate, my manager provided support for me to obtain my P.Eng. designation, which has been invaluable for my career development.
What advice would you give to someone that is just starting their career? What advice would you give to someone that is just starting out?
Entering university can be an overwhelming experience no matter the program you're going into. With the intense workload that comes with an engineering program, one piece of advice I would give someone starting out is to use the many resources available to them. Study groups, teaching assistants, and classmates are all there with you throughout the process. I found that having a good group of friends to study with made engineering less overwhelming and less stressful because we were all in the same boat together.
Another piece of advice I would give to someone starting out is to get involved in a co-op program. The experience you gain from co-op is priceless. Learning your likes and dislikes, strengths and weaknesses, and the experience of working in the workforce with different people is invaluable. Even if you can't find a paid co-op, the real value is in the experience.
Lastly, I would say it is important to always be respectful and kind. An engineering degree alone will not land you a job. The impression you make on others during your schooling and coops goes a long way in your future career. Treat others as you would want to be treated and remember that you always get more with sugar than spice!
These three pieces of advice are some lessons I have taken from my path from student to Professional Engineer, and I feel that they have helped to land me a successful and rewarding career at Curtiss-Wright.
To learn more about opportunities at Curtiss-Wright please visit their website.
Learn. Grow. Thrive. Together.
With bold topics, industry expertise, and diverse perspectives – National Engineering Month is Ontario's engineering event of the year. Together we can advance the engineering profession, spark an interest in the next generation of engineering professionals and celebrate the role that engineers play in our society. We hope you can support Ontario's engineering community by attending a #NEM2023 event. For more information about National Engineering Month Ontario events, please visit nemontario.ca.