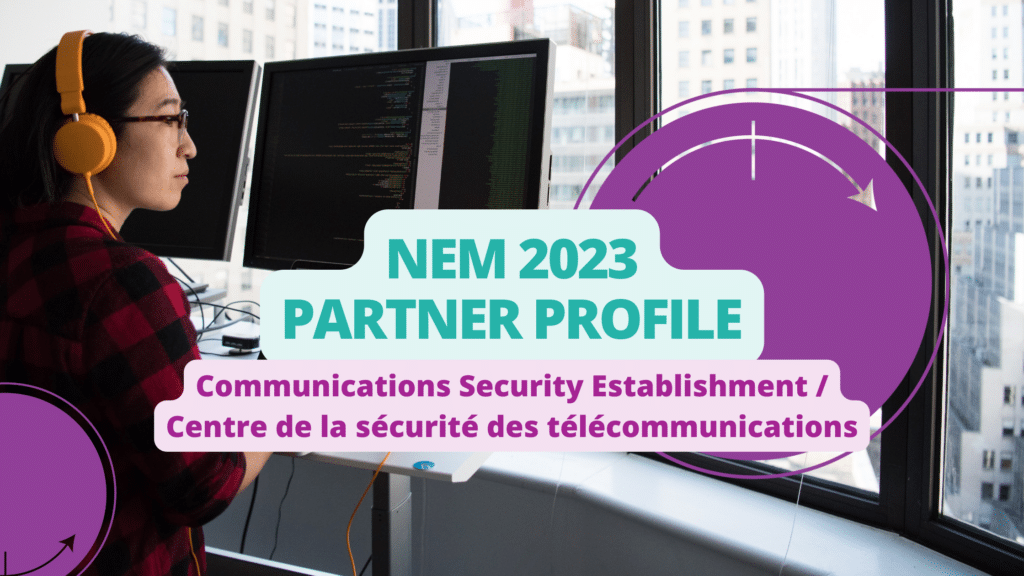 Learn more about the Communications Security Establishment
Mission
The Communications Security Establishment is Canada's agency responsible for foreign signals intelligence, cyber operations, and cyber security.
We gather foreign signals intelligence to defend Canada's national security. We keep the Government of Canada's information secure. We work with industry and academia to protect Canadians from cyber threats.
Careers
CSE supports its employees at every step of their careers. Our goal is not only to attract top individuals from across Canada but to retain that talent. We believe in fostering an environment where employees thrive by developing and empowering our people while promoting and supporting inspiring leadership. We have a range of programs and opportunities to support our employees as they progress through their careers.
Equity, diversity, and inclusion
Diversity and inclusion provide different outlooks and ideas that are essential to the challenging work we do. At CSE, we are dedicated to fostering an inclusive work environment to attract, develop and leverage the talents of our employees. We recognize the need for openness and inclusivity and have established committees and sub-committees to support our various communities such as LGBTQ2+ and women in STEM. We have also created positive space training for CSE employees and managers.
Engineer
As an engineer at CSE, you will use our state-of-the-art equipment and your own technical skills to enable CSE's foreign intelligence gathering, cyber security, and foreign cyber operations.
Your work could include:
designing and building security solutions
testing and evaluating hardware, software, and networking equipment
troubleshooting and debugging networks
providing advice and guidance
Mission
Le Centre de la sécurité des télécommunications est l'organisme canadien responsable du renseignement électromagnétique étranger, des cyberopérations et de la cybersécurité.
Nous recueillons du renseignement électromagnétique étranger pour défendre la sécurité nationale du Canada. Nous protégeons les renseignements du gouvernement du Canada. Nous travaillons avec l'industrie et le milieu universitaire pour protéger les Canadiens contre les cybermenaces.
Carrières
Le CST soutient ses employé(e)s à chaque étape de leur carrière. Notre objectif est, non seulement d'attirer les personnes les plus qualifiées de partout au pays, mais surtout d'assurer leur maintien en poste au sein du CST. Nous cherchons à créer un environnement dans lequel nos employé(e)s s'épanouissent et sont autonomes tout en promouvant et soutenant un leadership fort. Nous disposons aussi d'une gamme de programmes et de moyens pour les soutenir dans la progression de leurs carrières.
L'équité, la diversité et l'inclusion
La diversité et l'inclusion encouragent des perspectives différentes – essentielles à notre travail. Nous promouvons un environnement inclusif afin d'attirer, développer et maximiser les talents des meilleurs candidat(e)s. Nous reconnaissons le besoin d'être ouverts et inclusif. Nous avons des comités qui soutiennent notre communauté LGBTQ2+, nos femmes en STIM et autres groupes sous-représentés. Nous avons aussi créé une formation sur les espaces positifs pour nos employé(e)s et gestionnaires.
Ingenieur(e)
En tant qu'ingénieur(e) au CST, vous utiliserez notre équipement de pointe et vos propres compétences techniques pour faciliter la collecte de renseignements étrangers, la cybersécurité et les cyberopérations étrangères du CST.
Votre travail pourrait comporter les activités suivantes :
conception et élaboration de solutions de sécurité;
mise à l'essai et évaluation du matériel, des logiciels et du matériel de réseautage;
dépannage et débogage de réseaux;
prestation de conseils et d'orientation.