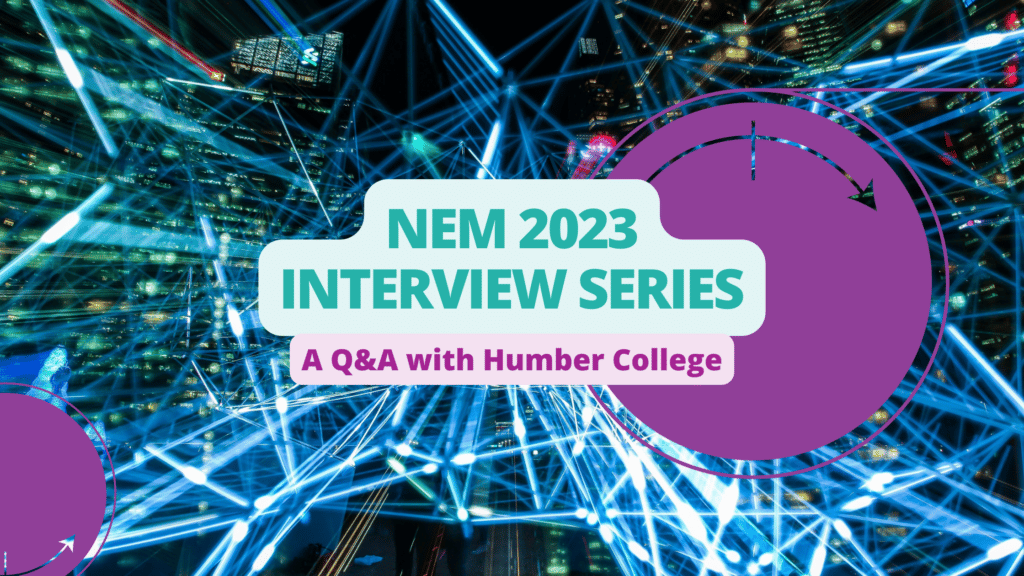 As National Engineering Month continues, we are conversing with key figures within Ontario's engineering sectors to gain insight into their vision of the industry's future trajectory.
Recently we met with Dr. Jonathan Kim, B.A.Sc, M.A.Sc., P.Eng., Associate Dean, Information and Communication Technology (ICT) at Humber College's Faculty of Applied Sciences & Technology. In this Q&A we discussed how the rapid pace of technological advancements is changing engineering careers and how Humber is at the forefront of engineering education through its innovative programs.
How do you see advancements in technology and automation affecting the field of engineering in the future?
Technology is rapidly changing, evolving, and converging to impact all engineering fields. Traditional engineering fields such as electrical and mechanical engineering remain significant and will continue to advance with technological advancements in automation, generated intelligence, and new materials, among others.
At the same time, new fields and a fusion of fields will emerge with technological advancements in areas such as cloud computing, data analytics, artificial intelligence, machine learning, automation, cybersecurity, and the Internet of Things.
Today, there are engineering jobs that didn't exist just 5 to 10 years ago. It's difficult to predict what the engineering job market will look like in the next 5 to 10 years. As a result, engineers must be adaptable and open to learning new technology in order to stay competitive and seize new opportunities.
How do you think the increasing emphasis on sustainability and environmental concerns will impact the career opportunities available for engineers in the future?
Certainly, sustainability and environmental concerns are among the biggest challenges humankind is facing today. This will lead to increased demand and opportunities for engineers specializing in areas such as renewable energy, energy efficiency, sustainability, and green energy technology, among others. There may also be new, innovative career opportunities that we're yet to discover.
All areas of engineering disciplines will be affected, requiring all engineers to be more aware and conscious of sustainability, environmental protection, policy, and ethics. Engineers must apply and include sustainable design and environmental considerations in all aspects of their work, whether designing a new car or building a new data center for cloud computing.
With these developments in mind, what are the skills and abilities needed for a successful career in engineering? 
Given the rapid development of new technologies, it's essential for engineers to have an open mind and a lifelong learning attitude to keep up with new technology and meet new opportunities and challenges.
Leadership and management skills are also crucial in decision-making and fulfilling social responsibilities. Effective communication, teamwork, people skills, and the ability to work within the principles of equity, diversity, and inclusion are all vital in today's work environment.
Additionally, digital fluency and computer proficiency are essential skills for all engineering disciplines, given the widespread application of AI and data science.
However, core engineering skills remain crucial, such as strong technical skills, problem-solving techniques, systems thinking, innovative and creative design skills, and a focus on safety and ethics. These skills and abilities differentiate engineers from other professionals.
How will the role of an engineer evolve to meet these technological and societal challenges? 
With technology increasingly impacting our society, engineers are required to play greater roles in leadership, management, policymaking, and decision-making. Effective communication skills are necessary to convey complex technological challenges and impact to a non-technical audience for better awareness and responsible business decision-making and policy formation.
Engineers will also face greater responsibilities in applying technology with consideration for ethics, safety, and social responsibility. This trend can be seen in examples such as the deployment of AI technology and cybersecurity issues. Engineers must have a broader understanding of their responsibilities and the socioeconomic and environmental impact of their profession and the technology they develop and apply.
Can you discuss any changes you have noticed in the types of projects or industries that engineers are working on?
With faster data transfer and sharing on the internet, much more data are readily available to help engineers to design and analyze. Engineers are paying more attention to the importance of data, and use more data in their decision-making, through computer simulation tools or with the advancement of data science and data analytic tools.
The application of artificial intelligence technology is another change that affects all engineering disciplines. Engineers are now required to apply AI and machine learning principles in automation, control, and tool application.
Additionally, there is an increased appreciation and ability for interdisciplinary skills. Engineering projects have always been multi-disciplinary in nature, and the new generation of engineers are trained with a greater emphasis on these components and opportunities. Engineers are now more aware of the multi-disciplinary nature of engineering projects and work effectively in collaboration with professionals from business, marketing, and policymaking.
In your opinion, what new areas of engineering research and development will become important in the future?
There are many exciting possibilities for further research and development in technology and engineering. A few examples include:
Artificial intelligence and data science, as well as cybersecurity, are already in high demand and will continue to see research and development efforts.
Autonomous vehicles and Industry 4.0 are becoming a reality due to advancements in AI, data science, and automation.
Augmented Reality (AR) and Virtual Reality (VR) technology will be further developed to allow engineers to visualize, process, and share information virtually with others.
Energy-related fields, such as renewable energy systems, new forms of sustainable energy generation, storage, and distribution systems, are important areas of research and development.
In my opinion, quantum computing will be the most exciting next game-changing technology. Major industries, including IBM, Google, Microsoft, and others, are already investing heavily in quantum computing. When it becomes more readily available, it will significantly change our understanding of computers and programming and improve the way we process and communicate data.
How is Humber responding to the changing needs of the industry and preparing students for the future? 
Humber College continues to adopt new technologies and create new programs to meet the needs of industry and provide new educational opportunities to its students. In the fall of 2021, Humber launched B.Eng. degree programs in three engineering disciplines: Information Systems Engineering, Mechatronics Engineering, and Engineering in the Built Environment.
These programs respond to the latest advancements in information and communication technology, automation, and sustainability, and offer a curriculum filled with courses such as artificial intelligence, automation, robotics, cybersecurity, data analytics, sustainable building design, energy modeling, and sustainable community design.
The three engineering programs meet the standards set by the Canadian Engineering Accreditation Board and are fully accredited.
I also want to mention that Humber's engineering degree programs stand out from traditional university engineering programs in several ways. Classes are much smaller, typically with 20-30 students instead of 200-300 students. Additionally, the curriculum is innovative and industry-relevant, with a focus on project-based learning and hands-on training. As a result, Humber engineering graduates will not only have a deep understanding of engineering systems but will also be able to design and implement them.
Are there any specific initiatives or programs you'd like to talk about today? Can you please tell me more about your Bachelor of Engineering, Information Systems program?
One of Humber's B.Eng. degrees is in Information Systems Engineering. This interdisciplinary field of study encompasses rapidly changing, evolving, and converging areas of computer systems, software engineering, data networking, embedded systems, IoT, mobile communications, cloud computing, the internet, and cybersecurity.
In Information Systems Engineering, Humber students study how these emerging technologies converge to generate, store, communicate, and use information quickly and securely.
The curriculum includes courses in artificial intelligence, virtual platform technology, wireless systems, sensor networks, computer forensics, intrusion detection and prevention, machine learning, cryptography, data analytics, and more. These courses cover industry-relevant knowledge and skills that may not be found in traditional engineering curricula.
Any final thoughts?
Technology is rapidly changing and continuously evolving, producing new and emerging fields of engineering. Engineers need to have an open mind and continue to adapt to these emerging fields. They should not limit themselves or be confined to silos of disciplines. With an open-minded approach and continuous learning, the engineering profession will embrace these emerging technologies and opportunities offered by the constantly evolving technology.
If you're interested in learning more about. Humber College's Faculty of Applied Sciences & Technology, you might want to check out the Spring Open House that is happening on Saturday, April 15th, from 10 a.m. to 2 p.m. 
Learn. Grow. Thrive. Together. 
With bold topics, industry expertise, and diverse perspectives – National Engineering Month is Ontario's engineering event of the year. Together we can advance the engineering profession, spark an interest in the next generation of engineering professionals and celebrate the role that engineers play in our society. We hope you can show your support by attending a #NEM2023 event. For more information about National Engineering Month Ontario events, please visit nemontario.ca.