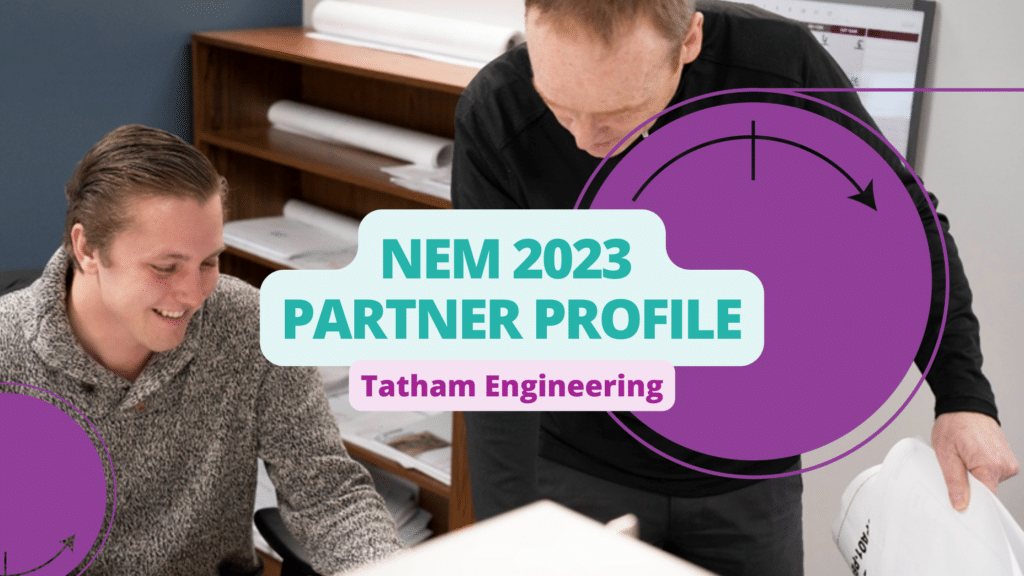 Mentorship has always been part of Tatham Engineering's approach to supporting staffs' professional development, however, a formal program introduced in recent years has highlighted this strategy as an ongoing priority.
"As an employee-owned company, we are motivated by the personal and professional development of our staff," said President Dan Hurley. "Their success is our success, and I believe a strong mentorship relationship can help early engineers define their goals and set them on the path towards achieving them."
Nearly a quarter of staff participate in the voluntary program which was introduced in February 2021 during the COVID-19 pandemic. The firm's Human Resources department takes into consideration employees' locations, interests, personalities, and experiences when making appropriate matches. Participants are encouraged to meet every 1 to 2 months (inside or outside the office), and the content of the meetings is entirely open to the needs of the mentee. Some relationships focus on exposure to different engineering disciplines and career paths, while others concentrate on soft skills development, like time management or leadership.
The success of the mentorship relationships is largely driven by the individual participants, however, the feedback at Tatham has been terrific so far. The company has found matches for every one of the nearly 40 mentees currently enrolled in the program, and staff are encouraged to enroll as both a mentee and mentor to experience the benefits of both roles.
From an employee's perspective, the program reminds mentors what it is like to be just starting out in your career.
"I signed up for the mentorship program because I recognized how much I benefited from more senior engineers investing their time in my development," said Aaron, Roeper, P.Eng., a Tatham employee for 7 years. "Being paired with an Engineering Intern reminds me of the types of questions I had when I first started and allows me to approach training new staff with more understanding."
John-Lui Marra is an EIT based out of Tatham's Barrie office. He joined the program as a new employee in 2021 to connect with people from other offices and to get to know the company's culture. He's glad he took advantage of the program when he did.
"Easily, the greatest benefit to the entire program is the reassurance that we all start at the same place," said Marra. "Everyone begins their career not even knowing what they don't know. My time in the mentorship program continues to serve as a reminder that time is the greatest teacher. "
The program is open to all staff with new pairings being made regularly.
About Tatham Engineering
Tatham Engineering is a Canadian employee-owned, consulting engineering firm that specializes in Coastal, Land Development, Municipal, Structural (Buildings and Bridges), Transportation, Water Resources, Water & Wastewater, Electrical, and Mechanical engineering, and provides specialized services in Air & Noise, Climate Resilience, and Hydrogeology. The firm was founded in Collingwood, Ontario, in 1988 and currently, employs over 175 staff with branch offices in Barrie, Orillia, Bracebridge, and Ottawa.
What staff say about working at Tatham Engineering