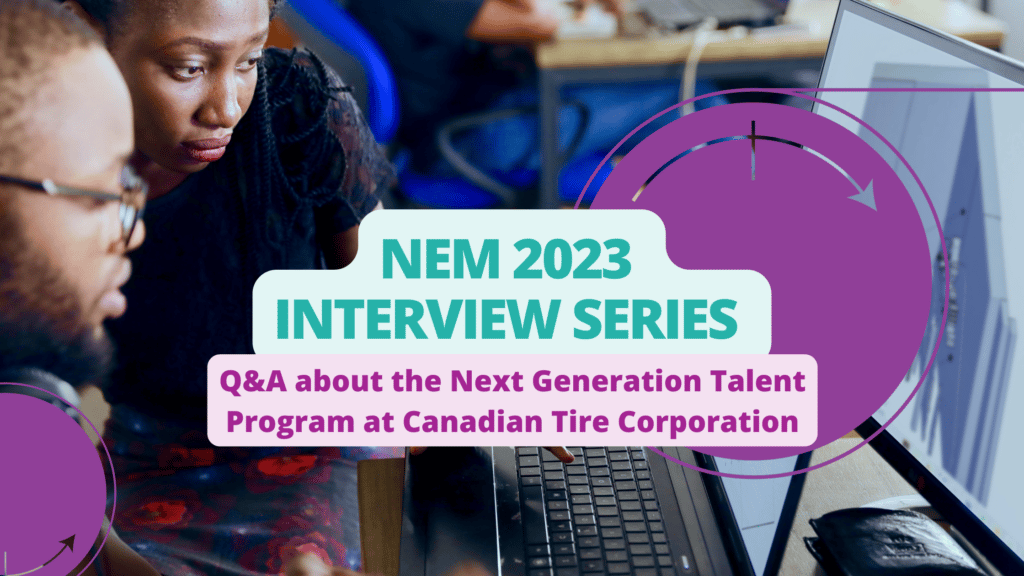 In the lead-up to National Engineering Month Ontario events, we are seeking out and speaking with influential leaders within Ontario's engineering sectors to gain a sense of where they see the industry heading.
The following Q&A is with Harpreet Jagdev, AVP, Delivery Transformation, and Megha Singal, Next Generation Talent Associate at Canadian Tire Corporation (CTC). What follows is a conversation about IT roles and functions at CTC as well as the innovative Next Generation Talent (NGT) Program. The NGT Program is a 2-year rotational program that consists of three 8-month rotations. Over the course of the NGT program, graduates are placed at the forefront of CTC's digital evolution, positioning them as our next generation of technologists. – last year this program received more than 750 applications.
Can you both tell me a bit about yourselves & your backgrounds? 
My name is Megha and I work as a Business Analyst in the Innovation Lab at CTC. I completed my Instrumentation engineering studies in India and worked in the IT industry for a couple of years after that. To gain international experience and complement my engineering background, I pursued a Master's degree in UX and Information Systems Design at the University of Toronto (UofT). I graduated in the summer of 2021 and started working at CTC as part of a technology-focused graduate program managed by Harpreet. I apply the principles of human-centered design and system-level thinking that I learned at UofT and from my past experience to inform my work style. This allows me to not only analyze things in detail, but also from a big-picture perspective, both in my work and personal life. 
My name is Harpreet and I am an Electronics and Communication Engineer from India. My first job was as a Power Line Carrier Communication System Analyst right after college. Over the years, I have held multiple roles in different industries, some related to engineering and some not. However, my engineering education has always been instrumental in applying critical thinking and problem-solving skills in any job I have held. I believe in continuous learning. This includes courses that complement my engineering background, such as project management and business education including an MBA from UofT.  I started my relationship with CTC in 2019 and joined as an employee in March 2022, where I am currently the AVP of Delivery Transformation managing the Centre of Excellence for Product Engineering. My team focuses on process excellence and ways of working, enablement, and governance, as well as the Next Generation Talent program for the technology team.
2. The theme for NEM 2023 is lifelong learning. Harpreet, what does the concept of lifelong learning mean to you? Why is lifelong learning important in the work that you do?
Lifelong learning is crucial in any profession. As they say, when we stop learning, we stop growing, especially with the rapid advancement of technology and the emergence of new businesses and industries every day. Jobs that exist today will be obsolete tomorrow and there are no courses today that can prepare us for the jobs of tomorrow. Keeping up with the changes in the world requires continuous learning and education. As you progress in your career, new challenges arise that require deeper knowledge of business and areas other than your academics. This can only be achieved through continuously seeking learning opportunities. That's why I believe it is important for individuals to keep learning throughout their careers.
3) Megha in your opinion, how does the Next Generation Talent (NGT) Program support learning?
Being part of the NGT program not only requires but also encourages you to learn new things about the business and the different technologies each team uses. Whenever I rotate or change teams, it becomes a trigger point for me to learn as much as possible about what they do and how they support the business at CTC, as each team operates differently. Over the past two rotations and in my current final rotation, I have been able to carry over the business knowledge from one rotation to the next, which has helped me to perform better. Additionally, I believe that lifelong learning is important because it's a fundamental aspect of growth. I believe that If you don't learn, you don't grow, and over the course of my career, I've realized that learning can look different, whether it's through on-the-job experience or structured courses. There's always something new to know or learn, which keeps my curious mind engaged. I am a strong supporter of lifelong learning.
4. The following question is for both of you. How does your engineering background help you be more effective in your careers/roles?
Harpreet – One of the key things you discover about yourself during an engineering qualification is your ability to prioritize and deal with competing priorities and as a result manage stress. As I entered engineering school, I felt that the level & intensity of engagement required increased exponentially in university. This helped me step up my prioritization capabilities and that has helped me throughout my career.
Other than that, the biggest piece that has stayed with me over the years is critical thinking. Engineering schools expose you to different fields of engineering, even if you specialize in a specific field as I did in electronics and communication. I learned instrumentation, electrical, computers, metallurgy, and mechanical engineering. I even used welding equipment and used a lathe machine. This exposure gives you the ability to take available tools and apply them to a business problem in a comprehensive and cohesive way. The critical thinking skill set that you develop in engineering school stays with you and I found myself continuously going back to basics and thinking about how I can apply different available tools to solve a newer problem. In that way, my engineering education has really helped me throughout my career.
Megha – My engineering experience was the same. I learned to think logically about problems and break them down into smaller components to find a solution. This critical thinking skill has been invaluable to me. The resiliency that Harpreet mentioned is also something that has stayed with me, especially when it comes to handling competing priorities. Additionally, the 360 views of each discipline I acquired as an engineer have been very helpful. Even if I specialized in instrumentation technology, I learned the basics of other subjects like mechanical and computer science. This knowledge has helped me in the workplace when working on complex projects and encountering terms I haven't studied before. With a basic foundation in engineering, I can easily do research and understand these concepts. My education in engineering combined with human-centered design principles has been especially useful. These two areas complement each other and help me think about things from both a systems perspective and an end-user perspective.
5. Harpreet, can you tell me a little more about the types of engineering projects you work on at CTC?
We have multiple facets of engineering projects happening at CTC. Starting with our own brands, which are developed in-house, developing and a lot of engineering concepts and design thinking going into it. We keep in mind how the customer would use the product and apply engineering to deliver a high-quality, durable product at a good value.
In my specific area of information technology, I spend my time focusing on the product development group. Our work includes continuous exploration of newer technologies and how to utilize them to deliver innovative, best-in-class omnichannel products that are designed with exceptional customer experience in mind. We are also redefining how we manage our data to maintain the utmost security and to provide insights and better products and services for our customers. We are working on providing a consistent experience on our websites and applications across all our brands, including CTC and Sport Chek. Additionally, we're improving our loyalty platform to provide enhanced services to our loyalty members. Finally, like most organizations, we're in the process of transforming our infrastructure to newer, more efficient cloud technology.
6. Harpreet, in your opinion, how has the engineering profession changed over the past 5 to 10 years & how is CTC capitalizing on those changes?
That's a big question. Everyone is trying to grapple with ongoing change and not just engineering. We are at a place where it is a cliche to say that it's pervasive and affects all jobs.
There is more automation than ever and machines are increasingly becoming interconnected and smarter. Businesses have no choice but to become tech-savvy while the technology function has to get a better understanding of business. This is the biggest shift in the space of engineering over the last five to ten years, and the line between business and technology has diminished. They are not two separate entities anymore. For example, back in the day, It used to be enough to just know how to fix a car, but now, engineers also need to know how to do software upgrades and think about who's using the car and their needs. Engineers are designing cars with wider and more spacious rear seats in developing worlds with more single-car households per capita.
Another example of how engineering is changing is that engineers now need to understand multiple areas, including their core competency, computers, software, and technology, and how to read and analyze data. As a result, organizations like CTC are not only training their business folks to be tech-savvy but also investing in ways of working and scaling up their delivery methodologies to become more agile. This means working with businesses to understand customer needs, seeking ongoing feedback earlier in the process, and delivering incremental value regularly, rather than delivering a product in 2 years while customer needs have changed. Organizations must be open and flexible to business changes and work closely with businesses to gain knowledge and understand these changes.
7. Are there any specific programs, initiatives, or outcomes happening at CTC that you'd like to tell me about?
Megha – There's always a need to innovate and solve new problems. There's always new technology. This was our motivation for the Canadian Tire VR Tree Decorator project. This project started as a curiosity and an urge to experiment with newer Web3 technology. What resulted was a cool product that people can use not just on their phones or laptops, but also in VR through an Oculus headset. We created a holiday-themed virtual room where people can decorate a Christmas tree, solve puzzles, and be creative. Then, they can buy the tree and ornaments they selected. Our mission was not just to experiment with Web3 technology but also to eliminate a fundamental problem with retail. The problem was that people don't really know what a finished product will look like or how it will fit into their existing environment when they buy things in-store or online. By creating this VR experience with 3D scanned ornaments and trees, we brought it into a virtual space and allowed people to see what a completed product of their creativity would look like before they buy it. This project made us the first major Canadian retailer to launch a VR-enabled e-commerce channel.
Harpreet – I'd like to briefly discuss the NGT Program in more detail. It's an exceptional program that offers three 8-month rotations to fresh graduates from undergraduate engineering programs. The program provides them the opportunity to work in our Information Technology team on a variety of projects. They have the freedom to choose their rotation path, and it's a full-time job, not a co-op or part-time position. They are employees with full access to resources for learning, including mentors and buddies. The NGT program has a strong support system in place to assist these employees throughout their journey. 
8. Harpreet, I'd love to hear your thoughts on what the future of engineering looks like and how CTC fits into that. 
We need to look at the priorities for businesses in the near future and how technology is evolving. I see three major themes emerging from the current challenges that we are trying to solve. Earlier, the use of technology was focused on efficiency, but now it's focused on the user and people. Technology is being utilized to make things easier and better for people. This shift will result in more people-centric design thinking in the field of engineering. It's all about making technology accessible, and inclusive and using it to make life better, which aligns with our brand purpose of making life in Canada better.
The second theme is sustainability. It's important for companies to think about how to do resource-intensive work efficiently, with a minimum carbon footprint. For example, many big tech companies are building carbon-neutral data centres. CTC also has a sustainability agenda in place.
The third theme is Virtual and augmented reality. While the real world has limitations and constraints, virtual worlds have endless possibilities. The future of work, shopping, healthcare, etc. is virtual reality. For example, it will be possible to see and feel a product, like an auto part, before purchasing it from an international location. Accessibility will be multiplied in the virtual world, making it accessible to everyone, regardless of physical ability. Engineers in the coming times will be focused on alleviating the barriers that are limiting virtual tech, these include minimizing the difference between real and virtual or seamless virtual, security and privacy in the virtual world, interoperability, and scalability.
If you're interested in learning more about Canadian Tire Corporation's Next Generation Talent Program, please visit their website.
Learn. Grow. Thrive. Together. 
With bold topics, industry expertise, and diverse perspectives – National Engineering Month is Ontario's engineering event of the year. Together we can advance the engineering profession, spark an interest in the next generation of engineering professionals and celebrate the role that engineers play in our society. We hope you can support Ontario's engineering community by attending a #NEM2023 event. For more information about National Engineering Month Ontario events, please visit nemontario.ca.