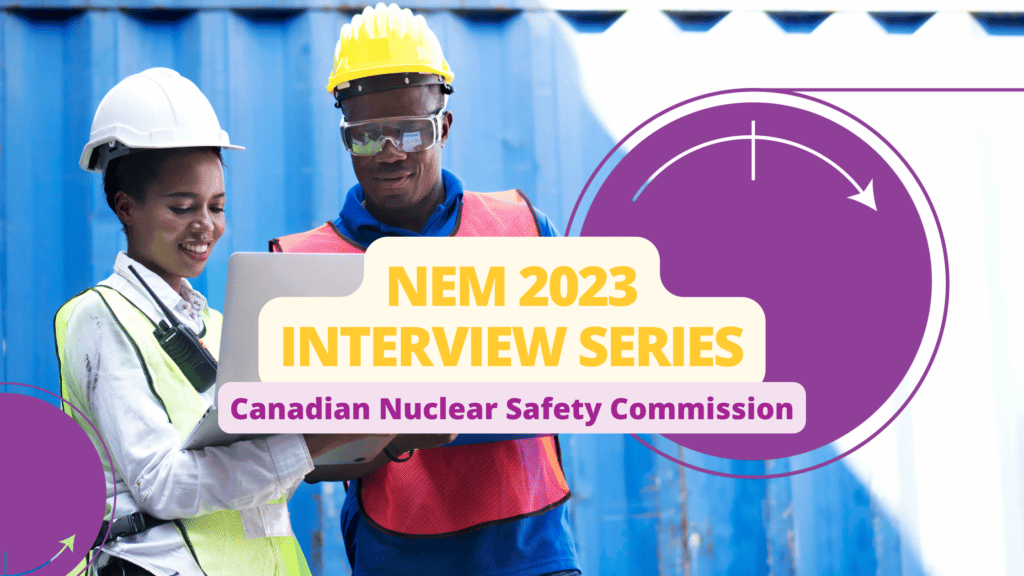 As National Engineering Month approaches, we are conversing with key figures within Ontario's engineering sectors to gain insight into their vision of the industry's future trajectory.
What follows is a Q&A with Rumina Velshi, President and CEO of the Canadian Nuclear Safety Commission CNSC.
Tell me a bit about yourself & your background.
In the 1970s I studied engineering at the University of Toronto and then joined Ontario Hydro – now Ontario Power Generation – as one of the first women to work in the nuclear energy sector in Canada.
It was an eye-opening experience as the industry hadn't really considered that there might be female nuclear energy workers and wasn't prepared – there were no change rooms for us and no safety equipment designed with us in mind. Although there's been tremendous improvement since then, a lot more needs to be done. After retiring from OPG in 2009, I joined the CNSC as a Commission member, and then, in 2018, I was appointed as President and CEO of the CNSC.
Why is National Engineering Month important to the CNSC and the engineering profession overall?
It's important to celebrate our profession and raise its profile to attract new and diverse talent to our field. What we especially need is more women in engineering. In 2020, only 20.6% of newly licensed engineers in Canada were female, a figure that hasn't changed much in 20 years. It's about potential and without the full and equal participation of women and candidates from equity-seeking groups, we risk falling short. We need to push hard against the misconception that engineering is largely for men and National Engineering Month helps with this. By raising awareness of the many rewarding career opportunities in engineering we can attract the best and brightest to our profession, which will then truly reflect the rich diversity in Canadian society. To fulfill our mandate to the best of our ability today and tomorrow, we need diverse voices bringing forward a wide range of ideas.
We also need to attract more people to engineering to help address the critical issues facing humanity today. Climate change is a big one, but so is the quality of life for people in many countries, not just those where industrialization is still in the early stages. We also see media reporting on energy security more these days. There are other equally important topics as well, such as desertification, ecosystem collapse, lack of clean drinking water, food insecurity, healthcare, cybersecurity, and more. In all of them, new people in engineering will bring forward new ideas to help to see these issues in different ways and help to find good solutions.
The theme for NEM 2023 is lifelong learning. What does the concept of lifelong learning mean to you? Why is lifelong learning important in the work that you do?
Anyone who wishes to have a fulfilling career should consider how important it is to continue learning. It keeps our knowledge and skills up to date in a constantly changing world, which leads to personal and professional growth. Learning inspires and empowers and it contributes to personal development so I feel it's an appropriate choice that NEM selected lifelong learning for its 2023 theme.
'Learn it' is one of the CNSC's Key Behavioural Competencies. Because we aim to be the world's best nuclear regulator, we ask staff to commit to professional growth and personal leadership. 'Learn it' at the CNSC means showing flexibility and openness in the face of change, maintaining and developing technical and professional expertise, and having the courage to question the status quo and seek new ways of doing things.
Can you tell me a little more about the CNSC and the types of engineering projects you work on?
The CNSC regulates the use of nuclear energy and materials to protect the health, safety, and security of Canadians and the environment. This includes uranium mining, nuclear power plants, research reactors, medical isotopes, transport of nuclear material, waste disposal, and more. We have more than 800 professionals on staff, some of whom hold a degree in engineering, all of whom are very highly skilled, resourceful professionals completely dedicated to ensuring the safety and security of Canada and Canadians on all things nuclear.
How has the engineering profession changed over the past 5 to 10 years & how is the CNSC capitalizing on those changes?
The past offers good lessons but I think the future is a far more interesting place. Climate change is driving the emergence of new technologies across many sectors and pushing politicians to set long-range greenhouse gas emissions goals. We must encourage greater interest in the nuclear sector if we are to meet the 2050 net-zero goals they've set. The nuclear sector expects small modular reactors (SMRs) to play a big role in future energy production and the CNSC has been preparing for new nuclear builds for more than a decade — putting in place the rules, requirements, and guidelines that will ensure the safe introduction of SMRs. People thinking about going into engineering should give nuclear some serious consideration as there are likely to be plenty of opportunities while those already in the engineering field might want to ponder how advanced nuclear technologies could come to bear on what they do for a living.
Are there any specific programs, initiatives, or outcomes happening at the CNSC that you'd like to tell me about?
Greater diversity will better equip the CNSC to achieve regulatory excellence and deliver on its mandate. Our WISTEM Initiative helps to promote a more balanced participation of women in STEM careers at the CNSC and in broader nuclear and scientific communities. Under this program, we host networking events, participate in and coordinate outreach activities, promote the CNSC–university collaborative model to encourage more women to undertake academic research in STEM, and we're developing a mentoring and coaching program for our staff.
In partnership with the Nuclear Energy Agency (NEA), we'll also be holding an International Mentoring Workshop in May to bring together Grade 9 Indigenous girls and accomplished mentors in STEM. It will weave both Indigenous and Western STEM systems to provide an empowering and inspiring experience for young Indigenous women. We hope this event could become the first in a series that will further strengthen the WISTEM pipeline in Canada.
I co-chair the International Gender Champions Impact Group on Gender Equality in Nuclear Regulatory Agencies which will collaborate throughout 2022–24 on gender surveys with the Nuclear Energy Agency's Gender Balance Task Group. These surveys will measure how equal we are in the nuclear sector to see how women are progressing compared to men. By identifying the gaps, we can develop strategies to tackle them.
There is also the DAWN Initiative – Driving the Advancement for Women in Nuclear – which I helped to establish. It's a group of Canadian leaders and influencers in the nuclear sector who are championing gender equity to empower women to establish and grow their careers within the sector by addressing specific imbalances which are about confidence, authorization, power, and succession.
Any final thoughts?
A 2022 C.D. Howe Institute report concluded that a shortage exists of professional people graduating from science, technology, engineering, and mathematics (STEM) programs in Canada. Add to that the prevailing misconception that STEM studies and careers in these fields are best suited for boys and men rather than for girls and women and we have a problem that needs correction. The Canadian educational system should do more to promote greater interest in STEM, particularly among K-12 girls, so that more of them go on to pursue studies and careers in these tremendously rewarding fields. There's such innovation all through the scientific and technical world that these really are exciting times and I think people who are about to graduate or who are just starting their careers will work with extraordinary new technologies in the decades to come.