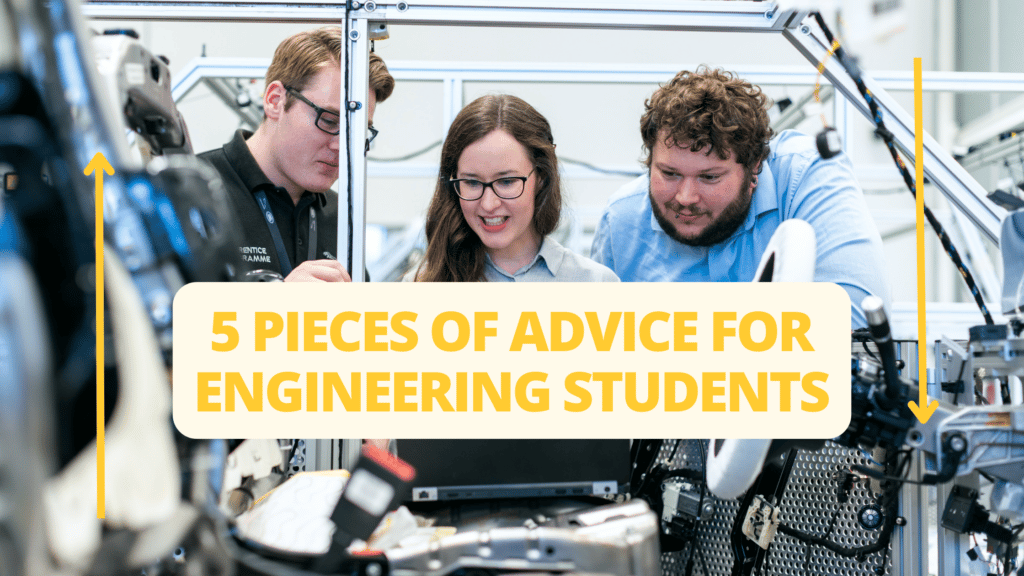 This March, National Engineering Month Ontario will be holding events for engineers across the province. During the third week of NEM Ontario events (#NEM2023), we are shining a spotlight on all the amazing engineering students across the province.
Studying to become an engineer isn't for the faint of heart
The challenges and pressures that come with studying engineering in post-secondary education and we want to offer some advice and tips to help you navigate this important and rewarding stage of your education. Pursuing a degree in engineering is a challenging, yet rewarding experience, and it can open many doors to an exciting and fulfilling career. It requires determination, hard work, and a lot of effort. But with a little bit of planning, organization, and the right mindset, you can set yourself up for success, and make the most of your post-secondary engineering studies.
5 pieces of advice for you to consider when studying engineering:
Stay organized: Engineering classes often require a lot of information to be retained and processed, so it's important to keep your notes, projects, and assignments in order. Make a schedule and set realistic deadlines for yourself. Break large projects into smaller tasks and work on them gradually. This will help you to stay on top of your work and minimize stress.
Ask for help: Engineering can be challenging, and it's okay to ask for help when you're struggling with a particular concept or problem. Don't hesitate to reach out to your professors, TAs, or classmates for assistance. They're there to help you succeed and they'll be happy to provide support.
Practice, practice, practice: Engineering is a practical field, so getting hands-on experience is crucial. Practice solving problems and working with different tools and equipment. This will help you to build confidence and better prepare you for real-world engineering challenges.
Take care of yourself: Engineering studies can be demanding, and it's important to take care of yourself both mentally and physically. Make sure to take regular breaks and take care of your physical and mental well-being. Prioritize getting enough sleep, eating well, and regularly exercising, it will help you to be more productive and focused.
Network and seek mentorship: Building a network of professionals in the engineering field can be a valuable resource when it comes to finding internships, jobs, and mentors. Reach out via social media, attending events, and participating in your school's co-op program are all great ways to network and find mentors.
Hopefully, this advice was helpful as you navigate your engineering studies. Remember to stay organized, seek help when you need it, practice your skills, take care of yourself, and build a network of support.
Always remember, you've got this!
Engineering is a challenging field, but it's also incredibly rewarding. The skills and knowledge you'll gain will be valuable and applicable in many different industries and fields. And remember, you're not alone in this journey! Don't be afraid to reach out to your professors, peers, and other mentors for support. Most universities and colleges have programs that can help guide you along the way. With the right attitude, mindset, and approach you'll be able to handle the challenges and you'll be able to succeed in your studies.
When in doubt, keep pushing forward, don't give up and you will be able to achieve your goals. And don't hesitate to ask for help whenever you need any support or advice.
Meet other engineering students at National Engineering Month events
If you want to learn more about what engineering students in Ontario are up to, be sure to attend Week 3 of National Engineering Month Ontario events. All events are free to attend and will be happening online and in person. Save your spot today. OSPE also has some great programs, supports, and initiatives for engineering students. Did you know you can actually become an OSPE member for free? By taking advantage of opportunities like these you can build your network and connections with others in the industy.
Learn. Grow. Thrive. Together.
With bold topics, industry expertise, and diverse perspectives – National Engineering Month is Ontario's engineering event of the year. Together we can advance the engineering profession, spark an interest in the next generation of engineering professionals and celebrate the role that engineers play in our society. We hope you can be a part of these incredible events by attending a #NEM2023 event. For more information about National Engineering Month Ontario events, please visit nemontario.ca.