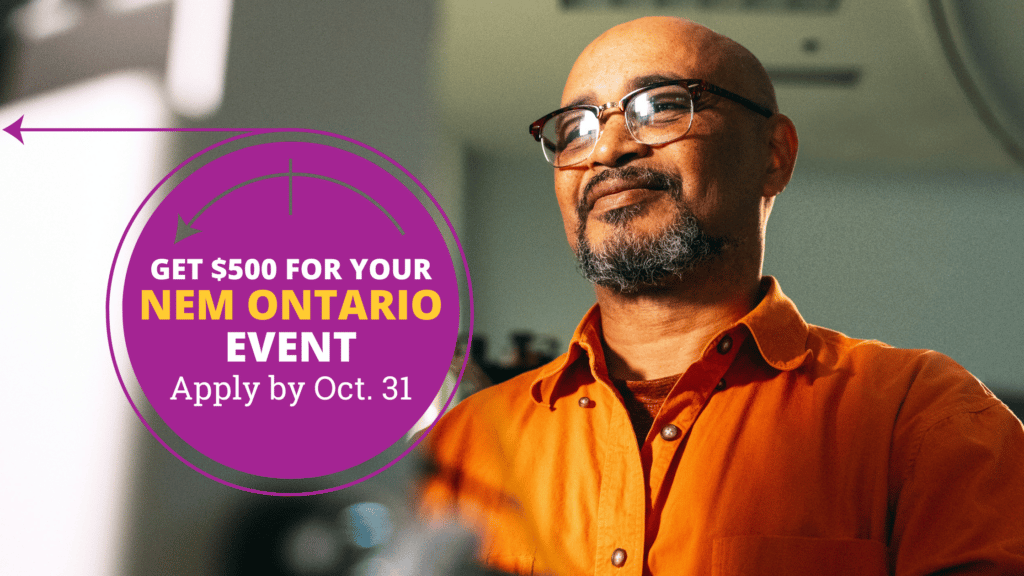 Submit your event by Oct. 31, to qualify.
By now you've probably heard that we are looking for event leaders for National Engineering Month Ontario events (#NEM2023), but did you know that you can get up to $500 in funding just to run your event?
Who can apply for funding?
Anyone that leads a NEM Ontario event designed for post-secondary students and/or working professionals in engineering fields can apply for funding. All event leaders that want to qualify for funding must submit their event applications before the October 31st deadline.
What can the funds be used for?
1. Hiring a guest speaker
There are many reasons to hire a guest speaker for your event. Guest speakers can help attract event attendees, energize and inspire a crowd, offer new perspectives, and so much more. Guest speakers can also provide opening remarks, be a panelist or moderate a discussion.
2. Marketing your event
Once you have your event finalized you'll want to spread the word to potential attendees. Even if your event is happening online, it's a good idea to have some promotional materials developed such as social media posts, paid digital ads, and/or other graphic assets.
3. Providing an honorarium
Maybe you work with some amazing volunteers that donate their time and energy toward getting your event off the ground. Whether you're working with students or professionals nothing says thank you like an honorarium. If your budget is tight, providing an honorarium to volunteers is a great way to show goodwill and appreciation for everything they do.
4. Giving SWAG & prizes to attendees
Everyone loves getting free items and your funding could be used to develop SWAG or other prize items. For example, you could offer SWAG or prizes in exchange for audience information or engagement. One way to do this is to provide a door prize for people that attend the event.
5. And any other cost you may have!
Do you have more questions?
Check out the FAQs on our website or email us at letstalk@nemontario.ca.
Learn. Grow. Thrive. Together.
Next March, we have the opportunity to create a space where engineering students and professionals can share knowledge and collaborate with their peers. It's a chance to share tools and best practices, find others facing similar challenges, and offer advice that can help others in their careers. And it all starts with you—with people like you, who are passionate about your profession, are willing to share that passion with others, and are willing to lead a National Engineering Month Ontario event to help make it happen.
For more information, please visit nemontario.ca.