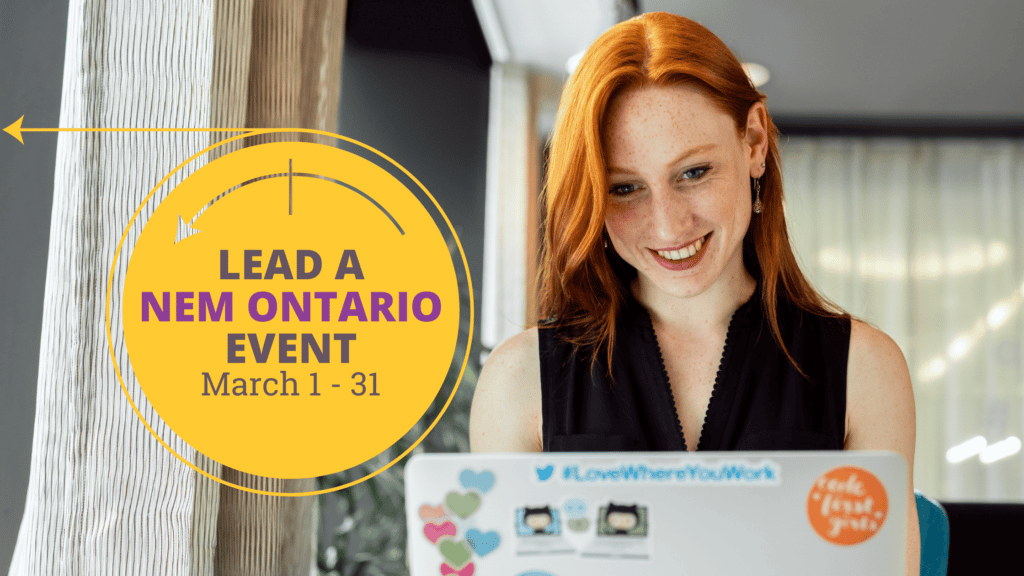 National Engineering Month Ontario is looking for event leaders.
As an engineer, you know that engineering isn't just about building things. It's also about inspiring others to build as well. That's why we're looking for passionate folks (like you), to lead an event at NEM 2023. (#NEM2023).
As an event leader, you'll get the opportunity to share your knowledge and passion with fellow engineers, while also learning from them. You'll be able to meet new people and make connections that could help you advance your career.
Our goal is simple: get post-secondary students and professionals excited about engineering by giving them the opportunity to showcase their unique perspectives and interests in our community of engineers and other stakeholders.
Check out our website to learn more about becoming a NEM Ontario event leader. If you're ready to submit your NEM 2023 event leader application – apply now!
Top 5 reasons to lead a NEM Ontario event
1. Showcase your school or company's unique engineering perspective
Using your expertise to lead an event at NEM 2023 will help you showcase the value of your company, your school, and/or research, product, or service. You can also use this opportunity to showcase your thought leadership on topics such as equity, diversity & inclusion, lifelong learning, and the future of the profession.
There are many ways to do that:
Use a case study that showcases the expertise of your company (or school)
Share research/data/statistics on topics related to engineering or innovation
Lead a skill-building workshop or session
Host a panel discussion with leaders in your area of expertise
Run a Q&A session with one of your experts
Participate in the Student Engineering Challenge (see below for details)
2. Network with other engineers
By leading an event, you will be exposed to many different people. You will meet people who can help you in your career. You will also meet people from across the province, and if you are looking for a job, this is a great way to network with potential employers. To top it all off, NEM Ontario events attract engineers from across the province, so there are many opportunities for you to build connections with other people in the field.
3. Learn about new topics
You will be exposed to different topics in engineering that you may have never heard of before. It is a great way to practice lifelong learning (specifically in engineering) and come together to share knowledge. You will meet people with different experiences and backgrounds, which is a great way to learn about what other engineers are working on in their careers.
4. Hone your presentation skills
As an engineer, it's important to have solid presentation skills. Building on your presentation skills is important for many reasons. The simple answer is that it helps us learn and grow as people.
Presentations are an opportunity for you to share your knowledge with others, which can make them more receptive to what you have to say. It also gives them an idea of how well you communicate in front of people—whether it's through verbal or nonverbal communication. If you're looking to land a job in the engineering field – or get your next promotion – having good presentation skills is essential.
5. Inspire the next generation of engineers
By leading an event at #NEM2023, you can become a role model to the next generation of engineers.
There are many ways that you can be an inspiring leader, but one of the best is by mentoring young engineers. There's nothing like having a mentor who has been through it all and succeeded at it all—and there's no better way to give back than being a mentor yourself. If you're interested in helping out your community and giving back, here are some tips for how to do so:
Mentor those who have less experience than you do
Share your experiences with them (especially the bad ones)
Give them opportunities that they wouldn't otherwise receive
Join us in advancing Ontario's engineering community.
NEM Ontario events are specifically designed for post-secondary students, professionals in engineering fields, and interdisciplinary professionals in the engineering community. Whether you lead a panel discussion, skill-building workshop, or networking event, the purpose of NEM Ontario events is to provide attendees with purposeful learning experiences that improve knowledge, skills, and competencies within a personal, civic, social, and/or employment-related perspective.
Who can lead an event?
Engineering professionals – Imagine showcasing your leadership to the largest gathering of engineering students and professionals in Ontario. Now take it a step further – envision your idea drawing people in, your presentation captivating them, and your passion inspiring them.
Post-secondary students – Hone your presentation skills, build connections within the industry and compete for a chance to win cash prizes! Students enrolled in engineering degree programs can lead an event at NEM 2023 and compete in the NEM 2023 Student Engineering Challenge. In this annual competition, students work with their local Engineering Society to compete for cash prizes of up to $3,000!
A few more important details:
NEM Ontario event leaders may apply for up to $500 in funding to cover expenses such as honoraria for experts, marketing, and development costs.
Applications are now open and will close on October 31, 2022. Even if you aren't sure what type of event you want to run, you can still submit your application and finalize the details later. Get started on your application today.
If you have more questions about NEM Ontario or becoming a NEM Ontario event leader, you can also check out some frequently asked questions on our website.
Learn. Grow. Thrive. Together.
With bold topics, industry expertise, and diverse perspectives – National Engineering Month is Ontario's engineering event of the year. Together we can advance the engineering profession, spark an interest in the next generation of engineering professionals and celebrate the role that engineers play in our society. We hope you can be a part of these incredible events by leading an event at NEM 2023. If you have any questions, please feel free to reach out to us at letstalk@nemontario.ca.