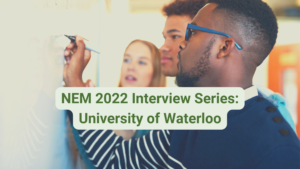 Throughout National Engineering Month, we are connecting with leaders in Ontario's engineering community to talk about the future of engineering. This week I met with Tiz Mekonnen, Director at the Indigenous and Black Engineering and Technology (IBET PhD Project)  and Assistant Professor of Chemical Engineering at the University of Waterloo. What follows is a Q&A-style discussion about the IBET PhD Project – a new consortium initiated by the university's Faculty of Engineering that has expanded to include multiple academic institutions across Canada since its inception last year.
Q: Can you provide me with an overview of the IBET PhD Project? 
We saw a need to have more Canadian Indigenous peoples (First Nations, Inuit, and Métis) and Black professors in engineering and computer science fields across Canada. To rectify this, the Faculty of Engineering at the University of Waterloo initiated the IBET PhD Project and partnered with other faculties of engineering and math across Ontario to build and support equitable environments that are reflective of Canada's population and to reconcile the under-representation of Indigenous and Black scholars in STEM fields. The support consists of four-year $30,000/annual IBET PhD Project Momentum fellowships in addition to academic mentoring to assist with creating a more diverse representation of academic researchers. The program was launched last January with 6 partners across Ontario. A year later there are 12 official partners with more joining the consortium soon. We want to make this a pan-Canadian initiative, so we hope other schools from across the country will continue to join us.
Q: Why was it important for Waterloo Engineering to initiate IBET PhD Project?  
Waterloo Engineering is a leading Engineering school in Canada and one of the top 50 faculties of engineering globally. We have a proud history as a leader of engineering education and research. We have also achieved remarkable success in being very unconventional. We forge our own path as leaders and others follow it. As such a big engineering program, we love coming up with innovative ways to look at challenges. The IBET PhD Project was a solution to address the equity & diversity concerns that we noticed. Waterloo Engineering also has a unique way of cultivating and supporting our fellows, and we support the development of an entrepreneurial mindset among students, faculty, and staff. It's these attributes that need to be maintained and strengthened as we progress into the future of engineering and technology.
Q: Why does the IBET PhD Project focus on PhD specifically vs. undergrad or master's level?  
We looked at current statistics as well as the number of Indigenous and Black faculty members at the university in STEM fields and noticed that these programs are highly underrepresented by Black and Indigenous professors. The lack of diversity at the professor level in engineering and technology is among the key factors that limit the success of attracting Indigenous and Black students to the undergraduate program, so having more diversified faculty members will attract more undergraduate and masters-level students. 
A key reason why we want to focus on the PhD level is that PhD is the closest to the professor level education requirements. We wanted to get a quick outcome. If we had started IBET at the undergraduate level, we would have to wait for students to complete undergraduate studies, plus a Master's, plus a PhD, and maybe a postdoctoral degree. We want to see more students graduating at the PhD level go on to become professors, so we thought that this level was the most appropriate way to achieve our goal.
Q: How does the mentorship aspect play into this? 
One of the pillars of this project is the mentorship program. The mentorship program is a vital component for students as getting the support of academics and professionals who have gone through the rigorous doctoral process will help them achieve their goals. Ultimately with this mentorship, we expect that our young scholars will be even more successful. 
These mentors also play a key part in building an environment of acceptance and connection. Students who receive high-quality mentorship and connections get a head start after graduation in terms of employment outcomes, and traditionally speaking, students from Indigenous and Black backgrounds have very little connection to existing professors, industry leaders, and government policymakers. Now, these students will have extra support in addition to their Academic Supervisors.  We want to provide guidance and support to our fellows throughout their PhD Project so that they succeed in their studies and form good relationships with their mentors. A strong relationship with mentors will allow for greater networking opportunities. Once students finish their PhD, they will also get access to the networking program. This program will prepare, encourage, and empower students as they embark upon becoming future professors, industry leaders, and government policymakers. 
Q: How do mentors currently work with the IBET PhD? Project fellows? 
Fellows get 1-on-1 mentorship with the mentor of their choice. By the time students finish the IBET PhD Project, they will have at least four mentors. These mentors will help students with career development and personal growth and will assist in building leaders who will have the knowledge, skills, abilities, and connections to succeed. Our objective is to equip these fellows with the tools necessary to perform to their highest capabilities. The mentors will also benefit from getting exposed to a diversified group of talented PhD candidates. Currently, most of our mentors are within academia, however, we plan to recruit more mentors within government and industry in the near future. 
Q: Is there anything else that you want to share?
Our plan is to make this initiative truly pan Canadian, so we want to encourage other engineering universities to join the consortium. If we want to improve our diversity, the future of our kids, and ultimately the Canadian population we need as many partners as possible to join us on this mission.
Visit the IBET PhD Project website for more information or join us on Monday, March 21 from 12 pm – 1 pm for a live virtual event to learn more.
National Engineering Month is Ontario's engineering event of the year.
Learn to change the future of engineering – together. Attend National Engineering Month Ontario events. With bold topics, industry expertise, and diverse perspectives, you won't want to miss it. To stay up to date on the latest news and information about #NEM2022, please visit our website.