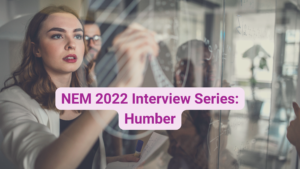 Leading up to National Engineering Month Ontario events, we are connecting with leaders in Ontario's engineering community to talk about the future of engineering. This week I met with Dr. Farzad Rayegani who is the Senior Dean at the Faculty of Applied Sciences & Technology (FAST) at Humber College. What follows is a Q&A session about the 21st Century Grand Challenges for Engineers and how engineering is a caring profession that can greatly improve the quality of life for our community, country, and humanity at large.
Q: The theme for NEM 2022 is lifelong learning. What does lifelong learning mean to you and FAST at Humber?
The ongoing pursuit of knowledge and continuous learning is critical to the engineering profession. Lifelong learning is about developing a self-leadership strategy to enhance personal competence and professional effectiveness. Personal competence is about engaging outside of your career learning space and building skill sets that bring you joy and personal satisfaction. We are all responsible for lifelong learning and building skill sets that are current and relevant to our ever-changing world. Companies and industry have a responsibility to support lifelong learning and educators are accountable to evolve learning practices and offer flexibility in the learning and delivery mode. Our hope is to instill a love of lifelong learning that will provide graduates with a growth mindset that will stay with them through their life and help them improve themselves both personally and professionally.
Q: What are the grand challenges in engineering & why are they important?
Throughout human history, engineering has driven the advance of civilization. In each of these pillars of human concern — sustainability, health, security, and the joy of living — specific grand challenges await engineering solutions. Engineers are seeking ways to put knowledge into practice to meet these grand challenges. Applying the rules of reason, the findings of science, the aesthetics of art, and the spark of creative imagination, engineers will continue the tradition of forging a better future. The world has become smaller, more inclusive, and more connected as we approach world problems. The challenges facing engineering today are not those of isolated locales, but of the planet as a whole and as one community. Meeting all these challenges must make the world not only a more technologically advanced and connected place, but also a more sustainable, safe, healthy, and joyous world. Our goal is to solve world problems and make our world a better place for all
Q: It is often said that engineers bring a caring sense to humanity by working to improve the quality of our everyday lives. How does this caring sense apply to solving real-world problems? How do engineers bring joy into our everyday lives?
For centuries, engineers have brought a caring sense to humanity while accomplishing grand and widespread development. From electricity and clean water, automobiles, airplanes, radio, and television, to antibiotics, medical imaging, computers, and the Internet. These are just some of the highlights from a century in which engineering revolutionized and improved virtually every aspect of human life. As the population grows and its needs and desires expand, the problem of sustaining civilization's continuing advancement, while still improving the quality of life, looms more immediately. Old and new threats to personal and public health demand more effective and more readily available treatments. Vulnerabilities require serious searches for new methods of protection and prevention. And products and processes that enhance the joy of living remain a top priority of engineering innovation.
Q: What is engineering's impact on sustainability?
The world is undergoing a huge wave of urban growth, and as a result, there is a need for the design, construction, and management of more efficient, sustainable built environments and a skilled workforce that can deliver it. Engineers have a responsibility to Sustainable Development: development that meets the needs of the present without compromising the ability of future generations to meet their own needs
Humber fosters a culture of sustainability by leading by example: how we operate our buildings, interact with the physical environment and communities around us, and in the way, we teach and learn about sustainability. By incorporating economic, social, and environmental sustainability across the college, we are preparing engineering graduates as career-ready citizens and for the challenges of today's world
Q: How do the various programs/initiatives at Humber fit into these grand challenges?
As Industry 4.0 brings a digital transformation that is changing the way we live and produce products, engineering graduates are needed to address a growing skills gap. Engineering educators are increasingly expected to provide more opportunities that foster and nurture system thinking and creativity in engineering students. More importantly, educators should demonstrate original and critical thinking creativeness and innovativeness in their methodologies. New technologies such as Artificial Intelligence (AI) and 3D printing, for example, will have a strong influence on many sectors of our economy. Advancements in technology such as machine learning, internet-of-things, and smart devices will also have a transformative impact on engineering.
Humber's new Bachelor of Engineering degrees in Information Systems Engineering, Mechatronics, and The Built Environment, unlock the limitless opportunities for graduates to embark on promising careers and address these grand challenges. Our team of faculty and administrators have built these degrees on a common platform that includes an innovative engineering educational framework that will graduate career-ready, global citizens.
The methodology of the engineering programs at Humber College is based on the integration of project-based learning. This blended approach encourages students to develop their problem-solving and critical system thinking skills through their involvement in real-life industrial projects.
Information systems engineering plays a very important role in our connected world and is a rapidly changing discipline that converges the Internet of Things (IoT), smart devices, cloud computing, data network, and cyber security. With Humber's engineering degree in Information Systems Engineering, graduates will be able to design innovative and advanced systems to communicate information faster and more securely.
Our Bachelor of Engineering in Mechatronics brings together the disciplines of electrical, electronic, and mechanical engineering and combines the learning of robotics, electronics, computer, systems control, and artificial intelligence.
This degree in Mechatronics with two specializations, Robotics and Embedded Systems, are on the leading edge of the changes coming with Industry 4.0. For example, Artificial intelligence (AI) is an emerging technology that is disrupting design and engineering. Humber students will learn using the latest industry-standard technology available and be able to adapt to the changes that AI will bring to the world.
Graduates of our Bachelor of Engineering – The Built Environment program will have the skills and knowledge to deliver high-impact, innovative approaches to sustainability in building design and operations.
Q: What does the future of engineering look like?
I believe engineering has a key role to play in all the challenges that we are facing in the 21st century. We are trying to emphasize that Humber engineering students will be prepared for this challenging world through project-based learning including projects that address real-world, industry, and community problems such as those listed in the United Nations Sustainable Development Goals. Each of these goals touch on an engineering element, and as engineers, we have to come up with unique solutions that fit each area's specific needs.
Humber graduates will be able to define the problems that the modern world is facing and work together to solve these problems. And through project-based learning, we emphasize building collaboration, critical thinking, creativity, and communication skills in a low-risk environment, because this is a process – a continuous process for students to learn.
We also have a 12-month mandatory engineering internship or co-op placement which gives students an opportunity to practice what they learn. And so, in terms of advancing the engineering profession, if we are using the engineering educational framework that changes how engineering students are taught and gives our students a systems-thinking approach to solving problems, they are getting the whole cycle of engineering here at the school.
Engineers are always facing new problems and with that, engineering needs to adjust to these changing conditions. Our objective as engineers is to help increase the quality of life of each human being. What can we do to improve our quality of life?
For example, you're sitting in your car longer because of traffic. If I can solve the traffic congestion – your quality of life will be improved. Traffic is the result of human behaviour, so when we as humans make a problem, we have to fix it and engineers do that. So it's absolutely key that students and professionals show resilience. During the past two years, we have realized how flexible we are and how creative we are, even in engineering education to be able to adjust, stay focused, be flexible, and – at the same time – persevere and keep going.
Lifelong learning is another key element to our success because in engineering the foundation is only four years, but you are working in this career for another 30 years, so you have to keep learning. Building that resilience in students and everyone is really what will help us keep going in the future.
Q: Any final thoughts?
I'm hoping to encourage the next generation of engineers. They have the ability to greatly improve our quality of life by taking care of our community. Our hope is to get more people to think of engineering as a caring profession. If more people view engineering that way we will see the diversity of the workforce increase – from women in engineering to different minorities – and that is a wonderful thing.
Join Humber College on International Women's Day (March 8th) for a free online event that celebrates women in engineering. RSVP today.
National Engineering Month is Ontario's engineering event of the year.
Learn to change the future of engineering – together. Attend National Engineering Month Ontario events. With bold topics, industry expertise, and diverse perspectives, you won't want to miss it. To stay up to date on the latest news and information about #NEM2022, please visit our website.