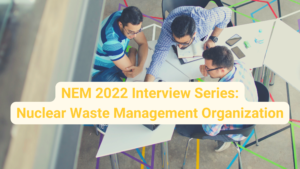 Leading up to National Engineering Month Ontario events, we are connecting with leaders in Ontario's engineering community to talk about the future of engineering. This week I met with  Chris Boyle, who is the Vice President & Chief Engineer at the Nuclear Waste Management Organization (NWMO). What follows is a Q&A about how complex, multi-generational projects can move forward through effective communication and collaboration.  
Q: I understand you've had quite the career progression. Can you tell me more about that? 
My grandfather was a self-taught mechanic and when I was a kid I worked with my family at his Marina in Eastern Ontario. My grandfather taught me about the importance of hard work, collaboration, and integrity. He also sparked my interest in how things work and ultimately inspired me to pursue mechanical engineering. I got my bachelor's degree and a master's in mechanical engineering from Queens which led me to experiences in the automotive manufacturing industry and to academic research on hip replacement design where I had an opportunity to go work in Japan through the Japan Society for the Promotion of Science. After that, I did some defense science research at the University of Toronto as a graduate researcher before joining the NWMO as a structural design engineer in 2011.
Q: Tell me a little bit about why National Engineering month is important to you? 
At NWMO we're doing a lot of interesting work and people are committed to the cause. They want to show the impact of what we can do in Canada and they believe in their work. They also believe in doing the right thing and are trying to help Canadians today and for generations to come. One of our current projects is a large national infrastructure project with a multi-generational timeline. It's the youth of today that will be leading this work in the future, so any encouragement we can provide to get more youth involved in STEM fields is really important in the long term. At NWMO we want to help, support, and raise awareness for the next generation of problem solvers and innovators and we're excited to do that through NEM.
Q: The theme for #NEM2022 is lifelong learning. What does the concept of lifelong learning mean to you and why is it important in the work that you do? 
Thinking of the multi-generational project I mentioned before, we have to be adaptable as we execute it. With the technological advances we've seen even in the 10-to-20 years, we need to be adaptable not only to technological advancements but to shifts in society as well. We need to know what people are thinking and be able to adapt to that as well as to industry developments. For example, in the nuclear space there's been a lot of announcements on small modular reactors, so potentially new nuclear reactor designs that will produce used fuel, and that's what we're responsible for. We're already working and adapting to those changes to ensure that our future repository will be able to accommodate those new fuel types, so our work requires us to embrace changing directions and advancing technologies. The mindset of lifelong learning is critical to being adaptable and encouraging innovation. Because of the project timelines and nature of the work, we continually adapt our plans to respond to these changes per international best practices and input from the public.
Q: Can you tell me more about NWMO and the type of projects that you work on? 
We have a pretty singular mission –  we're responsible for the safe and long-term management of Canada's use of nuclear fuel – so all the useful material that's coming out of the reactors to produce power. From a technical perspective, what we're proposing is a deep geologic repository where fuel, which will be roughly 5 and a half million bundles worth if the reactors run to the end of life, will be safely contained in multiple engineered barriers deep underground. Basically, we want to take the fuel and put it into specialized containers underground, surrounding it with additional materials to make sure that it's protected from the biosphere and the environment for thousands of years to come. Essentially, we want to put it back where it came from in a very controlled fashion. 
That project on the technical side will only go ahead with a willing host community and with regulatory decision-making and approvals that are backed by the science to support it. That's the key project that we're working on and we have a very talented team of scientists and engineers that are advancing the conceptual design of how it would work. This project is a combination of a nuclear and mining project because we are putting fuel underground in these containers. We also need to perform safety assessments and understand safety above all, so it's important that we conduct field investigations as well to make sure the site will be suitable. 
At the end of the day, our job is to make sure we have a safe facility and a safe design that will meet the stringent regulatory requirements to proceed. And of course, be consistent with international best practices as this idea of a deep geologic repository and barrier systems is consistent with international best practices. We recognize it as the preferred method by the International Atomic Energy Agency (IAEA). 
Most countries that have a nuclear power program are looking at this type of solution, such as Finland that's actually under construction for a facility of a very similar design. We have a collaborative working agreement with Finland, who's pretty far advanced with its facility – it's not yet operational, but they're working towards that, and are expecting to begin putting fuel underground by the mid-2020s. They've gone underground and conducted experiments with full-scale equipment, so that sharing of information and collaboration has been great, and that's just one example. 
The Swedish program recently received government approval just in the past couple of weeks. The United Kingdom, Switzerland, Japan, China, etc. are moving ahead with this practice and we're working with them to leverage international best practices. We have agreements with many of these organizations, so going back to that engineering science collaboration, it's everyone trying to solve this kind of common challenge and that means something and is really cool to be a part of. At the end of the day, this is all about safety and protecting people as well as the environment for generations to come. 
Q: Are there any other specific programs or initiatives or outcomes happening at NWMO that you want to tell me about? 
NWMO is a huge supporter of equity, diversity, and inclusion, particularly in nuclear engineering. 
Our President and CEO, Laurie Swami, is one of three women that are heading nuclear organizations in Canada and she supports diversity and empowerment in the next generation of women leaders. As an organization, we're very supportive of Women in Nuclear (WIN) and Laurie is also a co-founder of another organization called Driving the Advancement of Women in Nuclear (DAWN) which aims to remove barriers for women to establish successful careers in our sector. NWMO has big goals to accomplish and we're looking for the best and the brightest minds to help make it happen. 
Q: How has the engineering profession changed in the past five to 10 years & how is NWMO capitalizing on that? 
There are now many simultaneous real-time collaboration tools. Whether you're doing a calculation or computer models like 3D models or building information modeling reporting simulations you can do it in real-time in a centralized cloud-based server. Real-time collaboration and communicating ideas more effectively, whether it is designing things in 3D, modeling, or cloud-based computing there are a lot of powerful tools that are available today. 
Q: What does the future of engineering look like and how does NWMO fit into that? 
Engineering and the profession are playing a critical role in solving these challenges that we're seeing in society – climate change, et cetera. There are a lot of rewarding opportunities and I think engineering expertise is in high demand. Engineering provides a good base understanding and there are a lot of options for where you can go, whether it's on the technical side, the community side, or other related areas. Engineering provides a lot of opportunities and that's great news for prospective graduates. 
The way I see the future of engineering, is that there will be a heightened public awareness through online social media, and engineers and scientists need to be part of that dialogue to provide accurate project information that's explained plainly. We also need to allow communities and individual stakeholders to raise concerns and make sure that they are being addressed while also explaining the benefits of the projects. We need to make sure these benefits are communicated effectively – sometimes in plain language. Ultimately we'd like to see people from across STEM backgrounds work together to ensure that we are communicating these projects in a way that will inform the general public.
Q: What advice would you give to other young professionals? 
Continuous learning is something that I've always tried to adapt and be open to because there's always more to learn and improve on. Whether technical or not, I'm a huge believer in continuous learning and one of the aspects of that is getting feedback. Having a mentor that you can ask for feedback from is super important as understanding the areas we need to improve on will help us become better engineers and scientists. I'd recommend young professionals be proactive and engage with their supervisors and colleagues to figure out where improvement might be needed. I also recommend being open to that advice. On the technical side, there are tons of opportunities to learn and build skills, so I think there are two prongs to being proactive if you want to learn a particular technical or soft skill. NWMO is always looking for interns and new employees so we try to support this as well, and of course, I'm very grateful to have received mentorship and feedback, and networking opportunities at NWMO.
Q: Any final thoughts? 
What the organization is doing is really important for the profession and it's important for all of us as engineers and STEM professionals to be a mentor and a leader and provide inspiration to encourage young people to pursue education careers in STEM. We also need to help each other advance within the profession and make sure that we get a better-prepared generation of STEM leaders to take on the challenges of the future.  
National Engineering Month is Ontario's engineering event of the year.
Learn to change the future of engineering – together. Attend National Engineering Month Ontario events. With bold topics, industry expertise, and diverse perspectives, you won't want to miss it. To sign up for a #NEM2022 event, please visit our website.