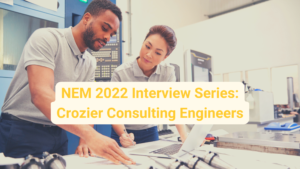 Throughout National Engineering Month, we are connecting with leaders in Ontario's engineering community to talk about the future of engineering. This week I met with Nick Mocan, who is the President of Crozier Consulting Engineers. What follows is a Q&A session about how consulting engineers are shaping the future in so many ways. 
Q: Tell me about yourself
I'm a professional engineer and president of Crozier. I joined Crozier as a student while studying water resources engineering at the University of Guelph. It's been quite the journey since I landed at the company about 18 years ago. I've been in the president's seat for about two years now and I'm having a blast. It's a lot of fun leading an engineering company and I really enjoy grooming the next generation of engineers and business leaders. 
Q: Tell me a little bit more about consulting engineering. 
We're problem solvers who develop solutions that improve the quality of life. As consulting engineers, we're the conduit between the technical solutions and society, so it's our duty to communicate solutions and educate the public. 
One tangible example is the federal government has established a target of welcoming over 400,000 new immigrants to Canada each year over the next few years – a very ambitious goal. Our role as consulting engineers is to develop sustainable solutions to meet their housing needs, meet their employment needs, and meet their recreation needs. More simply – we're working to make their Canadian dreams possible. 
Q; What are some of the projects that you might be hired to help out on? 
There's such an interesting cross-section of projects we get involved with. For example, we're currently working separately with Laurier, McMaster, and Ryerson universities to develop masterplans, upgrade infrastructure, design research facilities, and plan campus expansions at their campuses across Ontario. We're also involved with some of the world's largest logistics companies to develop, design, build, and set up operations for new or expanded distribution facilities. On the housing side, we are often called upon early in the process when developers begin conceptualizing their subdivision, mid-rise, or high-rise projects. From unique projects like golf course resorts and waterparks to subdivisions and condo buildings, all of these projects involve diverse groups of engineers and are a lot of fun to be part of.
Q: What value do consulting engineers bring to companies?  
Engineers bring credibility and practicality to the industry whether it's validity, reasonability, or safety, which is a really important one. As engineers, our duty to the public is paramount and that duty requires us to safeguard the public. From that perspective, when you're developing solutions and trying to find solutions through policy, the public can rest assured that if an engineer was behind it, public safety has been taken as the priority. That is perhaps the best value that consulting engineers bring to the table. 
Q: How do these projects shape our society and our future? 
Engineers and politicians will shape our destiny when it comes to climate change. The more engineers we have in politics, the more likely we're going to end up being able to influence outcomes with greater and sustainable success. 
Crozier is committed to sustainability and to the future wellbeing of society. We are committed to safeguarding the public and that's why we have we have advanced our own research partnerships with universities such as Laurier, Western, and Carleton, where we conduct research on stormwater management, transportation, etc. This research shapes how we practice engineering, how we build communities, and how we transport people and goods now and into the future. As engineers, we have to be at the forefront of change, so, we're collaborating with some of Canada's most prestigious institutions to conduct research and communicate it to the entire industry and society.
Q: The theme for NEM is lifelong learning. Why do you partner with NEM and how does NEM intersect with the work that you're doing? 
NEM reaches a broad engineering audience which is exciting because our mission at Crozer is to build the most non-traditional engineering consultancy in Canada. A non-traditional team is diverse, multidisciplinary, multifaceted, and forward-thinking. The sky is the limit when you take boundaries away and encourage entrepreneurialism through a non-traditional team.
Q: Any final thoughts? 
Lifelong learning in engineering is about adapting to change, embracing non-traditional, and seeking opportunities for growth both personally and professionally. Learning from one another will assist in the improvement of our industry and society's future. 
National Engineering Month is Ontario's engineering event of the year.
Learn to change the future of engineering – together. Attend National Engineering Month Ontario events. With bold topics, industry expertise, and diverse perspectives, you won't want to miss it. To stay up to date on the latest news and information about #NEM2022, please visit our website.