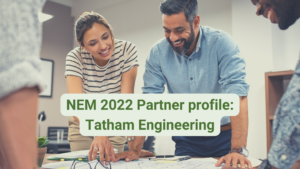 Leading up to National Engineering Month Ontario events, we are profiling leaders in Ontario's engineering community. This week we are profiling  Tatham Engineering. 
Over the past few years, Tatham Engineering has gone through a period of strong growth and development. They have expanded their service offerings to include the disciplines of Coastal, Land Development, Municipal Infrastructure, Structural (Buildings and Bridges), Transportation, Water Resources, Water & Wastewater, Electrical and Mechanical engineering.
They have hired nearly 50 staff in the past year to assist with new work they have secured and have refined their company structure and management to reflect their growth. Throughout all these changes, Tatham's top priority is to deliver high-quality engineering solutions and to develop the engineers, technicians, industry professionals, and support staff that make up their growing and diverse team.
Tatham's great staff are why this organization is investing in a series of personal and professional development initiatives that will not only improve their quality of work but also advance the skills and knowledge of their staff and assist employees in achieving their career goals.
These initiatives include:
An internal mentorship program that matches staff from diverse backgrounds to promote advanced learning and leadership training;
Engagement initiatives dedicated to building team connectivity and improving the employee experience;
And an Employee Development Plan that will strengthen the employee-manager relationship through frequent meetings, training opportunities, and consistent feedback.
Recognizing that employees that are learning and engaged are happier, more connected and produce better work, Tatham's President Dan Hurley believes that investing in programs that support employee growth will benefit the company as a whole. "My desire moving forward is to enhance the opportunities for staff to learn and improve the community feel of this company so that as we grow, we can stay connected," said Hurley.  
With their head office in Collingwood and branch offices in Barrie, Bracebridge, Orillia, and Ottawa, the staff at Tatham appreciate the company's small-town values that place its people and product before profits. "We want our staff to feel supported by their managers and understand that their growth is getting the attention it deserves," says Hurley who started with the company more than 20 years ago. "These programs will maintain open lines of communication and will give our staff every opportunity to succeed and progress in their roles."
Since becoming president in 2019, Hurley has realized the value of having great staff, which became particularly evident when the global pandemic hit, and the company thrived through the uncertainty. With hybrid and remote work settings and virtual meetings a part of the new norm, it is the company's hope that investing in these initiatives to stay connected now will inspire their staff to continue to produce the high-quality work that has garnered Tatham its loyal customer base.
hlaslkjsklfs
National Engineering Month is Ontario's engineering event of the year.
Learn to change the future of engineering – together. Attend National Engineering Month Ontario events. With bold topics, industry expertise, and diverse perspectives, you won't want to miss it. To stay up to date on the latest news and information about #NEM2022, please visit our website.