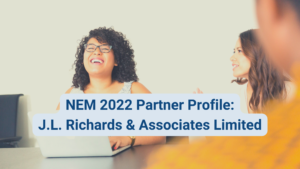 Leading up to National Engineering Month Ontario events, we are profiling leaders in Ontario's engineering community. This week we are profiling  J.L. Richards & Associates Limited. 
Founded in Ottawa in 1955, J.L. Richards & Associates Limited (JLR) is an employee-owned, multidisciplinary firm offering services in engineering, architecture, and planning. JLR is a Platinum member of Canada's Best Managed Companies with regional offices in Kingston (1971), Sudbury (1974), Timmins (2001), North Bay (2005), Hawkesbury (2012), and Guelph (2013). The firm is ideally situated to take on a wide variety of projects and deliver them on time and on budget.
JLR stands out in the industry due to its unique collaborative approach. All our offices are staffed with a diverse team of engineering, architecture, planning, and project management professionals who work as a team on every project to ensure that our clients receive quality, service, and value. We share ideas, design concepts, technical data, and costing information, and we coordinate to efficiently address any challenges that may arise over the course of a project. We offer our clients a truly integrated, holistic approach from project conception to completion.
Another important distinction that sets JLR apart is our organizational structure. We are a completely Canadian company, entirely owned and operated by our employees; approximately three-quarters of our staff are shareholders in the company. This structure empowers all of our employees to ensure exceptional quality control at every stage of our projects and allows our entire team to share in our successes.
Our record of success speaks to our enduring and steadfast commitment to quality. Clients trust our ability to complete their projects successfully, while consistently meeting their objectives. It is because of that trust that over 80% of our business comes from repeat clients and referrals. JLR's reach extends across North America and the world with projects completed in 70+ countries.
JLR has been honoured to win numerous awards from organizations including the Ontario Association of Architects, Holcim Foundation, Consulting Engineers of Ontario, Ontario Wood WORKS!, and more.
No matter the size or scope of your project, JLR has the expertise, approach, and structure necessary to realize the truly impressive projects that you envision. Visit www.jlrichards.ca for more information.
National Engineering Month is Ontario's engineering event of the year.
Learn to change the future of engineering – together. Attend National Engineering Month Ontario events. With bold topics, industry expertise, and diverse perspectives, you won't want to miss it. To stay up to date on the latest news and information about #NEM2022, please visit our website.