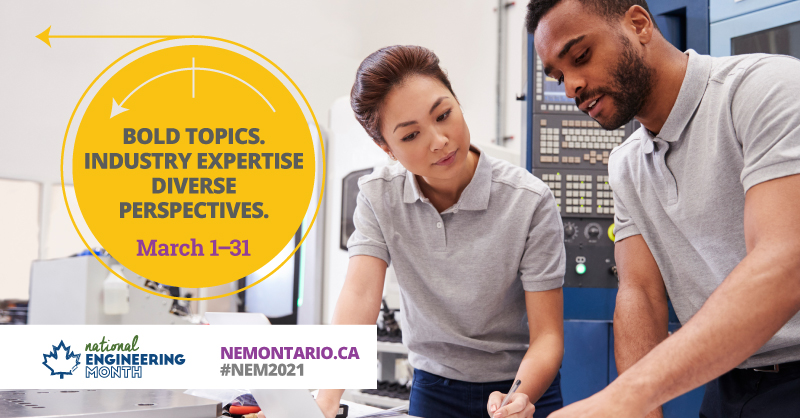 space
Can you believe that National Engineering Month is almost here? While some of us choose to hibernate in this the cold weather, NEM volunteers from across the province have been busy preparing over 70 amazing events designed to help raise awareness for the engineering profession.
With so many great events scheduled throughout March, we wanted to highlight a few of the events that NEM Ontario Founding Partners, sponsors, and the engineering community have organized. With bold topics, industry expertise and diverse perspectives – you won't want to miss it.
space
The world of engineering is changing – you can change with it.
The field of engineering & technology demands near constant acquisition of new knowledge to keep pace with the changing world. While NEM 2021 will be full of practical knowledge, it will also focus on the bigger theme of lifelong learning which is needed to succeed in the future of the industry. And that learning starts with each individual – aka – you.
Not sure what lifelong learning is? Lifelong learning is defined by the European Commission as:
"All purposeful learning activity undertaken throughout life with the aim of improving knowledge, skills and competencies within a personal, civic, social and/or employment related perspective."
space
Learn. Grow. Thrive – Together.
Each week of NEM 2021 will be curated thematically with Engineers Canada to provide a synched-up national NEM. Weekly themes include how to work within interdisciplinary teams, the importance of equity, diversity & inclusion, wicked problems, ethics & the future – among other great topic areas designed to bring the community together.
space
Event Details
All NEM 2021 Ontario events are free to attend and happening online via the NEM Ontario Zoom account. Whether you attend a panel discussion, workshop with skill building components or networking events, the goal is to have you come away with new or deepened knowledge, skills or values that will bring the engineering community together, benefit the community or contribute to employability in engineering fields.
space
Highlighted Events
There's no limit on the number of events you can attend. Show your support for the engineering community by attending as many events as you can and by sharing events with your network.
Below are a few of the events our amazing volunteers have organized. There are so many more great events, so be sure to check out the #NEM2021 event schedule to see the full line-up.
The Value of Lifelong Learning for the Engineering & Technology Community
March 1, 6:00 PM EST
Join us at National Engineering Month's kick-off event. Our moderator Steve Paikin, an acclaimed Canadian journalist, will facilitate a virtual panel discussion with OACETT, OSPE and PEO executive leadership on the importance of lifelong learning and adapting to a workforce influenced by technological innovation.
space
Panel on Women in Engineering, led by Humber College
Mar 8, 2021 06:00 PM
A panel of speakers who will share their experiences and career journeys in celebration of Women in Engineering, on International Women's Day.
space
Career Panel + Q&A, led by Seneca College
Mar 16, 2021 06:00 PM
Join Chemical Engineering professionals and interdisciplinary professionals to discuss career pathways after graduation and beyond.
space
Real-life Engineering Stories, led by Conestoga College & Grand River PEO Chapter
Mar 23, 2021 10:00 AM
A workshop for high school students considering engineering. Real-life stories about what engineers do and what it's like to be an engineering student!
space
Ocean Engineering Seminar, led by The Canadian Academy of Engineering
Mar 23, 2021 12:00 PM
Expert panelists discuss how Canada may increase economic prosperity while meeting the constraints of a global climate change mitigation strategy.
space
The Future of Lifelong Learning, led by OACETT
March 30, 6:00 PM EST
For engineering technology professionals, life-long learning, skills development and the mastery of new technologies has become an essential part of personal growth and career survival in a rapidly changing world. The Future of Lifelong Learning session will explore how and why learning is changing in the 21st Century and what trends might come next.
space
But wait – there's more.
These are only a few of the more than 70 events that are happening throughout March. To view the full event listing or to sign up for an upcoming event check out the NEM 2021 event schedule. If you are looking for events for kids ages K-12, please visit Explore Engineering.
space
The world of engineering is changing – you can change with it. Attend National Engineering Month – Ontario's engineering event of the year. See the full event schedule here.