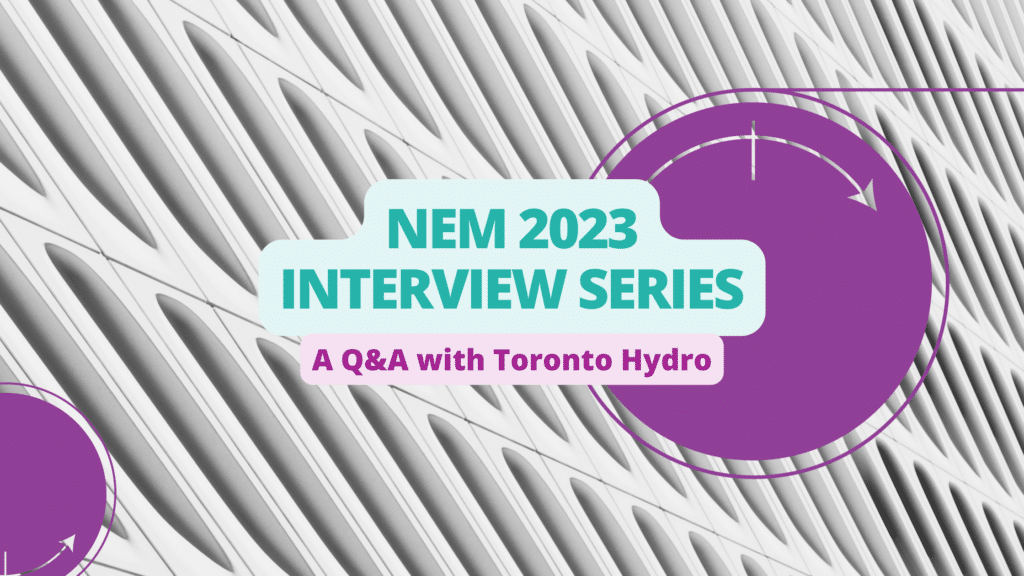 Engineering is a field that encompasses critical thinking, technical skills, problem-solving, and innovation. It is a profession that requires individuals to continuously learn and adapt to new challenges and technologies. Recently we sat down with Toronto Hydro to explore the direction of the field.
Two individuals who have excelled in engineering and advocate for lifelong learning and diversity are Jen Grado, Director of Capital Projects, and Sushma Narisetty, Director of Standards at Toronto Hydro. In this article, we will explore their backgrounds, why they believe in lifelong learning, the importance of diversity, and some of the biggest issues with respect to EDI and women in engineering.
Backgrounds of Jen and Sushma
Jen Grado discovered her passion for engineering in high school, where she found a means of understanding the world through a different lens. Jen holds Bachelor in Science of Engineering, Mechanical Engineering, and is a Rotman School of Management MBA Candidate – 2023. Jen's father, who is also an engineer, supported her in pursuing her interests, which led her to excel in her field. She said, "Engineering, from a high level, is the application of critical thinking towards problem-solving and I find the process, each and every time, highly rewarding."
Sushma Narisetty, Director of Standards, has always had a natural inclination towards math and science and she holds a Bachelor's degree in Electrical Engineering from the University of Toronto, a Master's in Electrical Power Engineering from the University of Waterloo, and an Executive MBA from Rotman School of Management.
The importance of lifelong learning
Both Jen and Sushma are strong advocates for lifelong learning. For Jen, it means understanding the changing needs of customers and the city, ensuring that Toronto Hydro's valued teams are ready to face those challenges now and in the future. She believes that the status quo will no longer suffice, and it is essential to keep upskilling and investing in education and growth during these challenging times.
Toronto Hydro embraces lifelong learning and supports its employees in multiple ways, including providing assistance for continuing education, providing on-the-job learning through secondment opportunities in various departments, and offering a multitude of formal training courses ranging from technical to leadership skills.
The theme for National Engineering Month (NEM) 2023 is lifelong learning, and Jen and Sushma believe that it is important to showcase the work done by engineers, the ways they contribute to the betterment of society, and the diversity of thought within the industry. Sushma said, "NEM is a wonderful way to celebrate the engineering community and support one another." Jen added, "The world is changing, both in terms of technology and the complexities and issues we face in life. During the pandemic, we necessarily shifted operations and processes to meet the needs of our customers. We did that by learning within our roles, and also by upskilling where needed."
Diversity is essential for growth and innovation
Diversity in engineering is essential for the industry's growth and innovation. Both Jen and Sushma believe that diversity of thought and experience is necessary to address business challenges effectively. Jen said, "It is important for every industry to have representation across genders, ethnicity, nationalities, and disciplines." She believes that diversity of experience, perspective, and thought is necessary to serve a diverse population and address challenges. She also said that "if we all think the same way, we may solve problems quickly but not be effective. With team members that bring different perspectives to the table, we can better understand our business challenges and produce solutions that are necessarily complex as the problems being addressed." Sushma added "A diverse workforce brings together different ideas and perspectives for problem-solving. Creative problem solving by combining unique ideas is required as we face unprecedented challenges and an increasing pace of change."
The importance of inclusion in today's workforce.
A diverse workforce helps to foster innovation and creativity. By bringing together people with different backgrounds and perspectives, a company can tap into a wealth of ideas that may not have been possible with a homogenous group. A study conducted by McKinsey & Company found that companies in the top quartile for ethnic and racial diversity in management were 35% more likely to have financial returns above their respective national industry medians.
It's not just about the bottom line either. A diverse workforce also contributes to a more inclusive and welcoming workplace culture. It's important that employees feel valued and respected for their unique contributions, and a diverse workplace helps to create a sense of belonging for all employees.
Jen and Sushma both emphasized the importance of creating an inclusive and diverse workplace, not just in terms of gender, but across all demographics. They explained that it's not enough to just hire diverse employees, but that companies must also actively work to create an environment where diversity is valued and celebrated.
Creating a pipeline for inclusive leadership.
One of the biggest challenges with respect to EDI in the engineering industry is the lack of representation of women and people of colour in leadership positions. This is something that both Jen and Sushma are actively working to change.
Jen mentioned that "engineering is still quite male-dominated, and although the statistics are improving, we need to ensure recruitment, technical development, and mentoring allow for the specific skills that women, and in particular women of colour, bring to the table. Like any other EDI effort, we must address more than technical knowledge to allow equal opportunity for women in engineering. Efforts toward encouraging girls and young women to consider STEM careers are prevalent. It is possible that we need to expand these efforts to incorporate various forms of learning, communicating, and problem-solving. As a society, we are just beginning to understand diversity, and by also challenging how we assess talent or competence we create a space where diversity can lead to collective success."
Sushma added, "The biggest issue with respect to EDI and women in engineering is the percentage of women in engineering, especially in leadership roles. Only when we have sufficient representation can we reap the meaningful benefits from it."
How Toronto Hydro is leading the way.
One of the ways that companies can work towards being more inclusive is by implementing programs and initiatives that support the growth and development of underrepresented groups. This includes mentorship programs, leadership development opportunities, and support for continuing education.
At Toronto Hydro, both Jen and Sushma are involved in these efforts. They are not only mentors to young engineers but are co-program champions for the New Graduate Development Program.
"I have been involved with the New Grad Program from its inception starting with leading its launch and set up five years ago. The program is designed to offer new grads opportunities to develop well-rounded skills and gain exposure to different aspects of the utility industry. It provides the opportunity to rotate through various departments and a formal training program thereby embodying the concept of lifelong learning," said Sushma.
Jen added, "I am quite passionate about leadership. There is nothing more critical to a company's success than the development of people, in my opinion. I am new to the Operations division at Toronto Hydro, and I immediately identified an opportunity to support the New Grad Program and reinforce the importance of development of talent within Operations. Welcoming our new cohort recently, I was struck by the tremendous opportunity and pressure on a new grad. Someone once told me that no one in a senior position makes it there alone, and our job is to ensure that as we develop, we lend our learnings and our time, as others have offered to us. This program gives me the opportunity to provide support and ensure the success of the organization in the hands of our talented young professionals. And perhaps learn a thing or two from them!
Engineering is a profession of lifelong learning & diversity.
As we celebrate National Engineering Month, it's important to recognize the contributions of engineers to society and to highlight the importance of diversity, equity, and inclusion in the industry. Engineers like Jen and Sushma are leading the charge in creating a more inclusive and diverse industry, and their efforts will help to create a better future for all.
The engineering industry has come a long way in terms of diversity, equity, and inclusion, but there is still much work to be done. As we continue to push for progress, it's important to recognize and celebrate the contributions of engineers from all backgrounds and demographics. Through mentorship, leadership development, and other initiatives, we can create a more inclusive and diverse industry that is better equipped to tackle the challenges of the future.

For more information about Toronto Hydro, please visit their website.
Learn. Grow. Thrive. Together.
With bold topics, industry expertise, and diverse perspectives – National Engineering Month is Ontario's engineering event of the year. Together we can advance the engineering profession, spark an interest in the next generation of engineering professionals and celebrate the role that engineers play in our society. We hope you can be a part of these incredible events by attending a #NEM2023 event. For more information about National Engineering Month Ontario events, please visit nemontario.ca.