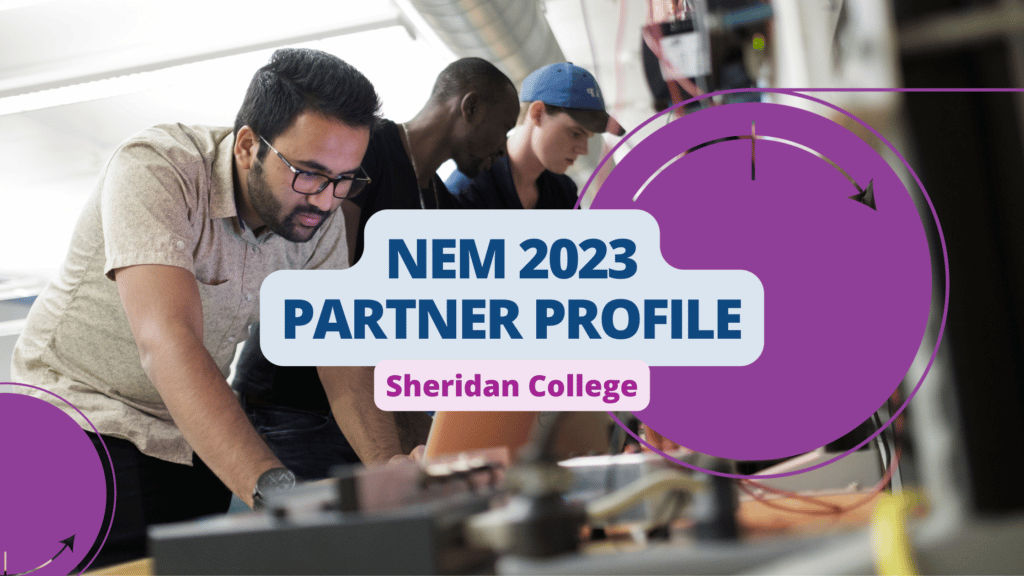 Sheridan College is a proud sponsor of National Engineering Month 2023
Every March, the engineering community across Canada celebrates National Engineering Month (NEM). Founded in 1992, NEM is Canada's largest celebration of engineering excellence. NEM is led by the Ontario Society of Professional Engineers and Engineers Canada.
Sheridan College partners with various engineering companies to provide students with industry-standard equipment and technology, giving them a competitive advantage when they enter the workforce. This year, Sheridan College is a proud sponsor of NEM 2023.
What makes Sheridan's Engineering programs so unique?
The Honours Bachelor of Engineering (Electrical Engineering) and Honours Bachelor of Engineering (Mechanical Engineering) programs have been developed based on the CDIO (Conceive, Design, Implement, and Operate) concept. Through interactive lectures, students attain the knowledge and skills required to analyze and design engineering projects. Following lectures, they spend almost 40% of their scheduled class time working in modern laboratories equipped with industry-standard technology to investigate, implement and use engineering solutions.
Both programs also include specific courses on important complementary skills such as technical communication, teamwork, leadership, project management, society and sustainability, and engineering law and ethics.
In the Electrical Engineering degree, the power and energy option prepares students for work in the electrical power generation, transmission, distribution, and utility sector. In the mechatronics stream, students gain the knowledge and skills necessary to work in the fields of embedded systems, mechatronics, robotics and automation, and instrumentation.
In the Mechanical Engineering degree, the energy stream focuses on providing environmentally and economically sustainable solutions for energy generation, distribution, and usage. In the mechatronics stream, students will learn to solve engineering problems with mechanical, electrical, computer, and control engineering and the robotics and automation skills needed by industry.
Both programs offer a four-month engineering internship after the second year, plus optional co-op work terms of up to 16 months following the third year. These experiences, combined with a comprehensive curriculum, modern laboratories, and cross-disciplinary projects, prepare career-ready graduates.
Learn more about Sheridan's engineering degrees by visiting their website.