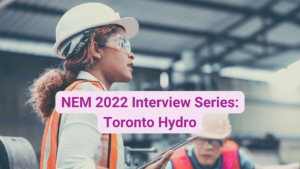 As National Engineering Month Ontario continues, we are connecting with leaders in Ontario's engineering community to talk about the future of engineering. This week I met with Elias Lyberogiannis, who is the Executive Vice-President, Planning and Chief Engineering and Modernization Officer at Toronto Hydro. What follows is a Q&A about how lifelong learning enables engineers to progress throughout their careers and how it contributes to the betterment of our society altogether. 
Q: Tell me a little bit about yourself. 
I'm a professional engineer by training. One of the big influences in my life was my father, who was also an engineer. He inspired me to go down this path. Over the last 20 years, I've spent most of my time in engineering roles within the electric utility sector and have been with Toronto Hydro for almost nine years.
Q: Why is National Engineering Month important to Toronto Hydro and the engineering profession overall? 
Toronto Hydro, at its very core, is what some people would call an engineering marvel. We provide modern electricity distribution, safely and reliably, to Canada's largest city and one of the largest cities in North America. A lot of what we do here is driven by engineering. National Engineering Month is important because it draws attention to the engineering profession, recognizes contributions made by the industry, and attracts more young people to the profession. 
Q: The theme for NEM 2022 is lifelong learning. What does the concept of lifelong learning mean to Toronto Hydro, and why is it important in the work that you do? 
For Toronto Hydro, lifelong learning is a critical concept that we look at from both narrow and broad perspectives. We encourage our staff to embrace lifelong learning because the pace of technological change is accelerating so fast nowadays. For example, Toronto Hydro is focused on automation technologies and embedding those technologies into our electricity distribution system. We're focused on ensuring our system can supply the energy that's needed for things like electric vehicles, because we know they're only going to become more prevalent in the future. We're also focused on connecting other resources to the distribution system which includes, for example, battery energy storage. When I graduated 20 years ago, these technologies were concepts and now we're making them a reality. Turning ideas into reality requires learning and, without that learning, we can't be as effective as we need to be. Individuals that invest in lifelong learning are able to provide the highest quality service because they can innovate effectively, influence others, and are able to bring more value overall.
Q: Tell me more about Toronto Hydro and the types of engineering projects you work on?
Toronto Hydro owns and operates the electricity distribution system that powers the city of Toronto and the approximately 3 million people that live there. The distribution system includes about 29,000 kilometres of powerlines and more than 150 power stations. Recently, we completed our Copeland Transformer Station, which is an innovative underground station in the city's downtown core. We also recently completed our Bulwer Battery Energy Storage System, which allows us to respond to peaks in electricity demand in the downtown area. Other projects we work on across the city include installing real-time monitoring and control equipment within existing power vaults, connecting distributed energy resources to the distribution system, and enabling electric vehicle charging in various settings. 
Q: How has the engineering profession changed over the past 5-to-10 years?
One big area that stands out for me is the advancements in computing technology. We hear about these advancements every day but, more specifically to an electric utility such as Toronto Hydro, what they've allowed us to do is embed automation into our equipment. This allows us to start building the foundation for what we see as a truly intelligent distribution grid. Computing advances have also enabled us to provide our staff with more sophisticated tools such as analytics software and specialized design software, and to cost-effectively capture rich data from the distribution system and use it for decision-making purposes. All of these advancements are exciting and they allow us to provide higher quality service to our customers. 
Q: What has the transition been like from engineer to leader?
If I was to characterize that transition from engineer to leader, I'd describe it as a set of learning moments. Speaking from experience, the transition to becoming a leader can stretch you considerably. Specifically, moving from a role where you're focused on your individual work as an engineer to being responsible for the work of an entire team can feel overwhelming at times. There's also a feeling of vulnerability because, as an engineer you take pride in knowing your job and all of its details, but when you transition to a leadership role, it's not possible to know all of the details for all of the projects your team is working on. The key is viewing these learning moments as opportunities to build new skills. Some of these leadership skills include coaching and developing a team, setting priorities and objectives for team members, communicating effectively, and learning how to have difficult conversations when needed. Developing these skills can be quite challenging and, as engineers, we don't traditionally focus on developing these skills in formal education. That's changing now, of course, as companies and schools place a greater emphasis on developing these "softer" skills. When you transition to become a leader, these skills become critical and it's important to embrace these learning moments and see them as opportunities to grow. Having that mindset helped me tremendously as I moved into progressively more senior roles.
Q: How does your engineering background help you become a more effective leader? 
Engineers are problem-solvers by trade and, regardless of what position you're in, you'll be presented with problems to solve. As I've progressed in my career, I've found that the problems become increasingly difficult and challenging as you move into more senior roles. Thankfully, at our core, engineers are taught to problem-solve and I do rely on that skill routinely. What I mean by this is the ability to define a problem or break a problem down into its components, identify and assess options to solve the problem, be creative or develop a hypothesis and conduct experiments to find a solution. All of those skills or characteristics of problem-solving have been critical to my effectiveness, especially as I've taken on senior leadership roles. 
Q: Of the engineering challenges that you've taken on, which ones have been the most important to you personally? 
For several years, I've been focused on planning investments for the distribution system — specifically, the decisions around when to replace equipment on a system, or when to renew powerlines, power stations, and the investments and logistics of making that happen. For example, if we invest too little in the system, the risk of equipment failure goes up — leading to power outages, which jeopardize people's safety and puts our environment at risk. On the flip side, if we invest too much, failure risks come down, of course, but it also means that we're not making the best use of resources such as money, people, etc., so we need to strike the right balance. When it comes to managing a distribution system, it's not easy, especially when that system includes 60,000 transformers or 180,000 poles and delivers power to almost 800,000 individual points within the city. With that in mind, the most important engineering challenge for me over the last number of years has been developing investment plans that strike the right balance between all these factors. 
Q: What does the future of engineering look like? 
As engineers, we talk about the future a lot and often, and that's through the lens of technological advancements. For example, a day when all vehicles on the road are going to be electric. A day when we're using green and renewable energy sources almost exclusively to power our homes and businesses. A time when our distribution system can self-heal automatically after a piece of equipment fails and customers don't really experience a power outage the way they do today. We talk about the future through those types of technological advancements, and engineers are going to develop these technologies, work with these technologies and, ultimately, make them mainstream. At Toronto Hydro, we're right in the middle of enabling that future. We're ensuring that green energy is brought where it's needed, enabling electric vehicles to be charged when and where they're needed, and we're building an advanced distribution system that allows for all of that to occur. At Toronto Hydro, we're right in the middle of these advancements and the future is going to be about how we can leverage technologies to be better off as a society. 
Q: Any final thoughts?  
I'm passionate about the work that engineers do, and that work doesn't necessarily receive the attention that it deserves. Shining a light on that work will not only motivate those working in the profession today but, hopefully, it will inspire future generations to join the profession and contribute to the well-being of our communities and societies overall.
National Engineering Month is Ontario's engineering event of the year.  
Learn to change the future of engineering – together. Attend National Engineering Month Ontario events. With bold topics, industry expertise, and diverse perspectives, you won't want to miss it. To sign up for a #NEM2022 event, please visit our website.