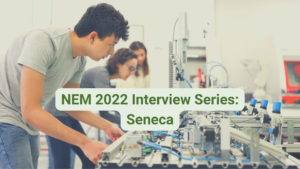 As National Engineering Month Ontario continues, we are connecting with leaders in Ontario's engineering community to talk about the future of engineering. This week I met with Kathy Dumanski, Chair of the School of Software Design and Data Science at Seneca. What follows  is a Q&A about the various opportunities that the polytechnic institution offers in terms of engineering education.
Q: Tell me a little bit about yourself and your engineering background.
I'm a mechanical engineer by training with a focus on computer-aided design and manufacturing. I also have an MBA and spent most of my career working for large Canadian corporations in various leadership roles. I then moved to the post-secondary sector about a decade ago and it's a very rewarding place to work. Post-secondary is a field that's always changing, and you're always learning which is interesting to me. I love that I can help students launch their careers. I also love working with expert faculty and dedicated staff that want to make a difference in the lives of our students.
Q: Why is National Engineering Month important to Seneca and the engineering profession overall?
The biggest thing is that National engineering Month creates a sense of community with the engineering students and the engineering profession at large. It's important for students to have that sense of belonging and be a part of a larger community. They also get to be involved in things that are bigger than themselves and the courses they're taking at school. National Engineering Month helps students get a better understanding of their profession and all the different opportunities that engineers can make a difference.
For the engineering profession, NEM is an opportunity to continue to build awareness of engineering in Canada. It's historically been a somewhat quiet profession and we really need to showcase how rewarding this career can be. It's also important to showcase the roles that engineers play in our society and highlight the great foundation that an engineering education provides as there are so many career paths available in this field.
Q: The theme for NEM 2022 events is lifelong learning. What does that concept of lifelong learning mean to you and why is lifelong learning important?
I love learning in both my personal life and in my professional life. Learning new skills, new technologies, new processes, seeing new places, and meeting new people brings energy and opportunity while driving innovation for people and organizations.
At Seneca, lifelong learning is in our DNA and we offer a multi-faceted approach to lifelong learning. For example, we have a wide variety of learning opportunities to support students throughout their careers. We have programs focused on the first undergraduate credential, a two-year diploma, a three-year advanced diploma, and honors degrees. For students who already have an undergraduate degree but are looking for more specialized career-focused training, we also offer one-year post-graduate certificates. These certificates allow students to build on the education they already have and get more work-related and sector-related skills.
We also offer flexible part-time studies through our continuing education group. More recently we've started offering microcredentials, which are shorter and focused on in demand industry skills. These microcredentials are available for both professional and personal development courses. And for employees, Seneca has a fabulous teaching and learning department that supports continuous development throughout their careers.
Q: How has the engineering profession changed over the past 5-to-10 years and how is Seneca capitalizing on those changes?
One big change in engineering education is that engineering degrees are now accessible at colleges. Ontario colleges have been delivering engineering technology programs since their inception in the 1960s. For the past 20 years, colleges have also been offering honours baccalaureate degrees, and surprisingly a lot of people still don't know that.
Seneca is proud to be offering engineering degrees and our program delivery model has some many benefits for students. These benefits include smaller class sizes, professors with industry experience and access to industry networks, experiential learning opportunities through capstone projects as well as opportunities to participate in applied research projects. Students can also gain industry experience through co-op work terms. Co-op is  a good learning experience and we're excited to bring all this together in our engineering degrees.
Q: Seneca recently launched a software engineering degree program with a focus on artificial intelligence. Can you tell me more about that program?
Seneca has  strong offerings in engineering technology programs, chemical engineering technology, automation, electronics, building science, and industrial design. Seneca has a strong reputation in information technology programming and we're building on our large portfolio of engineering technology programs.
Last fall we launched our first engineering degree. It's a Bachelor of Software Engineering with a focus on artificial intelligence (AI). The courses in the program focus on software engineering along with natural sciences, mathematics, engineering, design, and engineering science. There are also mandatory AI courses throughout the program. This program also includes two co-op work terms. After students start their third year and as they go into their final year of studies, they can choose from several professional options such as robotics, parallel programming, and computer vision. We welcomed the first cohort of students into the program in September 2021 and in January 2022 we welcomed our second intake.
Q: Are there any other specific programs, initiatives, out, or outcomes happening at Seneca that you want to tell me about?
Very early into the pandemic, Seneca embarked on a renewal process where students and employees were consulted to generate ideas to envision a post pandemic Seneca, and these ideas were grouped into three pillars – an equitable Seneca, a sustainable Seneca, and a more virtual Seneca. It's an exciting time as we take the changes that were driven by the realities of the pandemic and see how we can incorporate them into an even more enriching experience for our students and employees .
Q: What does the future of engineering look like and how does Seneca fit into that?
Technical innovation continues to accelerate, and we believe that AI will be widely used across many sectors and disciplines. Seneca is well-positioned to develop the talent that organizations need to leverage AI and all that it can contribute. It's interesting to see where AI is being used and that we now accept and take for granted. For example, call centers with chatbot apps to make that whole experience more efficient and get people answers more quickly, fraud detection services, autonomous robots, and autonomous vehicles. This continues to be a very exciting time in engineering. If you like problem-solving using science and math – it's a great career path to consider.
National Engineering Month is Ontario's engineering event of the year.
Learn to change the future of engineering – together. Attend National Engineering Month Ontario events March 1 – 31. With bold topics, industry expertise, and diverse perspectives, you won't want to miss it. To sign up for a #NEM2022 event, please visit our website.