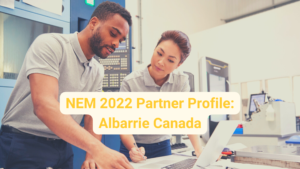 As we continue with National Engineering Month Ontario events, we are profiling leaders in Ontario's engineering community. This week we are profiling Albarrie.
Albarrie's technical team is comprised of engineers, designers, fabricators, and technical support experts who envision a world where technical industrial fabrics are the solution to environmental problems and sustainability. For over 40 years, Albarrie has worked with hundreds of civil, chemical, and mechanical engineers to innovate and deliver textile solutions that facilitate some of the most demanding processes. 
Albarrie's in-house team of engineers and scientists are dedicated to textile innovations, from transformer oil containment solutions to air filtration, acoustics, conveying, geotextiles and more. Whatever your application, civil, chemical, or mechanical, Albarrie's engineers will work with you to ensure you're meeting your design specifications. 
Albarrie has a Certificate of Authorization/ Permit to Practice Engineering from the Professional Engineers of Ontario (PEO), The Association of Professional Engineers and Geoscientists of Alberta (APEGA) and Saskatchewan (APEGS) and a member of The Association of Professional Engineers and Geoscientists of the province of British Columbia (APEGBC). In addition, Albarrie has access to peer reviews throughout North America through its professional engineering network.
National Engineering Month is Ontario's engineering event of the year.
Learn to change the future of engineering – together. Attend National Engineering Month Ontario events. With bold topics, industry expertise, and diverse perspectives, you won't want to miss it. To stay up to date on the latest news and information about #NEM2022, please visit our website.