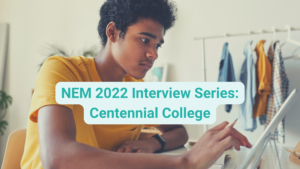 As National Engineering Month continues, we are connecting with leaders in Ontario's engineering community to talk about the future of engineering. This week I met with Patrick Kelly, who is the Dean, School of Engineering Technology and Applied Science at Centennial College. What follows is a Q&A about the different programs and opportunities available to students who choose to study at Centennial College. 
Q: Tell me about yourself & your engineering background?
I'm a proud Centennial College graduate of our electronics program from way back. I am forever grateful that my Centennial diploma opened the door to my first job. Since it was established in 1966, the college has always been committed to educating students for career success – and we've never lost sight of that goal. After graduating, I worked and continued to pursue my education, ultimately completing bachelor's, master's and doctorate degrees. My approach has been to work hard and continue learning to ensure that pathways and career opportunities remain available to me. I joined Centennial in 2001 as Chair of Information Systems and had the opportunity to work in several departments. In 2012, I was named Dean of the school. 
Q: Why would you say national engineering month is important to Centennial College and the engineering profession overall? 
For Centennial, NEM is another opportunity to promote the importance of pursuing careers in STEM fields. If you look at the research, these sectors are critical to Ontario's economy and ensuring Canada can remain competitive globally. STEM fields provide many exciting and fulfilling career paths for our graduates. 
Q: The theme for NEM is lifelong learning. What does the concept of lifelong learning mean to you and why is it important in the work that you do? 
Hard work and an ongoing commitment to learning, either through formal education or on-the-job training, are essential. Today's economy is very competitive, and lifelong learning allows you to grow both personally and professionally. Take my career path as an example: graduating with a college diploma and advancing in various positions in the companies I worked for required both a formal education and continuous professional development. Lifelong learning keeps the door open for exciting careers and personal development. 
Q: How has the engineering profession changed over the past five to 10 years, and how is Centennial addressing those changes? 
In today's economy, the one constant is change. Centennial College embraces this reality and utilizes program advisory committees (PACs) to stay ahead of the curve and ensure our programs maintain a high level of industry relevance. Our committees consist of 12 to 15 employer representatives who meet with us twice a year. By having regular conversations with industry leaders, we get a sense of where technology is heading, as well as the skills and knowledge they expect our graduates to possess. Our work with these PACs helps us ensure that we're attuned to changes in the industry. 
What we've heard through our PACs is that the technology is changing exponentially, but the general employability skills – communications, teamwork, project management and ability to multi-task – combined with sound technical skills are what employers are looking for. Our graduates have both technical and general skills and are able to apply them to improve business processes, ultimately making a positive impact on the bottom line of their employers.
Q: Can you tell me a little bit more about the engineering programs offered at Centennial?
The School of Engineering Technology and Applied Science, or SETAS, is the largest school at Centennial College with more than 5,000 enrolled students. We offer a full continuum of postsecondary programs: pre-apprenticeships, apprenticeships, two-year diplomas, three-year advanced diplomas with co-op, graduate certificates, fast-track programs, as well as our unique Bachelor of Information Technology degree program. 
My amazing team of managers, faculty and support staff put a lot of time and energy into our accreditation process for our programs, working together with Technology Accreditation Canada (TAC), which is the official accrediting body for the Ontario Association of Engineering Technicians and Technologists. This collaboration provides two important benefits to our students and grads. 
First, it serves as an additional quality control mechanism involving an external panel of industry practitioners who review every aspect of our academic programs. The auditors meet with the faculty, students, graduates, PAC members and employers, review the curriculum, tour our labs, offer suggestions for improvement, and ultimately accredit the program. Secondly, accreditation allows our students to get industry-recognized certifications that help them become certified engineering technicians or technologists, which adds to their employability. I'm proud to say that Centennial College leads the Ontario postsecondary sector in nationally accredited programs. 
Our school is divided into four departments: 
 

Applied Biological & Environmental Sciences

– These science-based programs include biotechnology, environmental technology, food science, biomedical and medical lab technician.

Advanced Manufacturing & Automation Technology

– This area includes our mechanical engineering programs, including automation and robotics, electrical and aerospace manufacturing programs.

Information Communication & Engineering Technology

– This area includes our software development, artificial intelligence, gaming, health informatics and computer networking programs. We also offer graduate certificates in

Mobile Applications Development

,

Cybersecurity

and a newer certificate in the

Internet of Things (IoT).

This department offers our four-year

Bachelor of Information Technology

program, a fantastic opportunity to earn an honours degree focused on computer networks. 

Sustainable Design & Renewable Energy

– This area houses the clean tech/renewable energy programs, which include energy systems, architectural technology, heating, refrigeration and air conditioning, construction management and our math programs, as well. 
If students are looking for postsecondary programs in engineering technology and applied science, SETAS is your first choice. We have a co-op option in all of our three-year advanced diplomas, which is a tremendous benefit to students. Provided they meet academic eligibility requirements, students can have up to three co-op work terms that allow them to apply what they're learning in college to the workplace. More importantly, students can develop their business network through their co-op experience, which can often lead to employment after graduation. 
Q: Are there any specific programs that you want to highlight or initiatives or outcomes happening that you want to tell me about today? 
We continually work with our PACs to ensure that our programs are industry relevant, but because things change so rapidly, we strive to develop new programs to meet emerging sector needs. We have a new Electrical Techniques program and we've also introduced several fast-track offerings within the electrical cluster that allow students with degrees or advanced diplomas to accelerate their learning by letting them enter the second year of a two- or three-year program to upgrade their skills in a timely manner and access the job market quicker.
We have some new offerings in our software cluster, including an advanced diploma in Artificial Intelligence, a career that's in high demand by employers!
Q: What would you say the future of engineering looks like, and how does Centennial College fit into that?
We spend a significant amount of time researching and speaking to our industry partners to get a clearer sense of future trends in technology and general employability skills. What we're hearing from our industry partners and our PACs is that change is omnipresent. Future employment in the engineering technology and applied science sectors will require increasingly advanced STEM knowledge and skills. Graduates will need to innovate to improve efficiencies in companies or across sectors of the economy to help us stay competitive.
Q: Any other final thoughts that you'd like to leave us with today?  
Our key message to elementary and high school educators is to please continue to emphasize the importance of STEM education. Students' perseverance and continued commitment to STEM courses will open the doors to exciting and rewarding careers down the line. It's also critical to ensuring Canada remains competitive globally when graduates possess the knowledge and skills to make a meaningful difference in their community, country and the world. 
National Engineering Month is Ontario's engineering event of the year.  
Learn to change the future of engineering – together. Attend National Engineering Month Ontario events. With bold topics, industry expertise, and diverse perspectives, you won't want to miss it. To sign up for a #NEM2022 event, please visit our website.