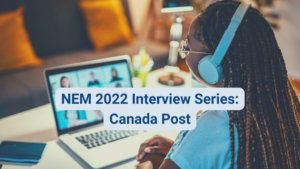 Leading up to National Engineering Month Ontario events, we are connecting with leaders in Ontario's engineering community to talk about the future of engineering. This week I met with Ian Kerr, who is the Vice President, Operations Transformation at Canada Post. What follows is a Q&A about how the pandemic has led to a rapid growth of the parcel delivery business in Canada and the technology behind it. 
Q: Tell me about yourself & your background? 
I'm from Northern Ireland. I graduated in electrical engineering, then worked for Bombardier Aerospace at their factory in Belfast before moving to Canada in 1997. We fell in love with Canada and decided to stay. I joined Canada Post in 2008, which was an exciting time. The lettermail business had begun to decline as businesses and Canadians substituted digital, and parcel business was slowly taking off.  
In 2014 we noticed a real shift in e-commerce with more Canadians shopping online. With the pandemic closing stores in 2020, e-commerce accelerated much more rapidly. We saw record growth in our parcel volumes, with a year-over-year increase of 21%. We are very proud to have been an essential service for Canadians throughout the pandemic, and the high demand emphasized the need to transform. 
Q: Speaking of the COVID-19 pandemic, what impact did it have on Canada Post?
The pandemic brought such a tremendous amount of growth, but growth like that also brings challenges. It highlighted the need for more sorting capacity, so one of my primary roles is to bring in new sorting systems and new facilities to handle the parcel growth. At the start of the pandemic, we broke ground on a new facility in the Greater Toronto Area that will service Toronto and Eastern Ontario and be able to sort one million items a day when it's fully operational.
That's one of several upgrades that we're making, including new delivery facilities. As this growth happens, we are continually looking for innovations and new solutions. The pandemic placed a tremendous demand on e-commerce logistics worldwide, which in turn has spurred a wave of innovation. In the last year we've launched a robotics program that would bring in smart handling technology, autonomous technologies, robotic handling, and vision technology. Then in the digital space, we are using data analytics to optimize the distribution, use of machines, and artificial intelligence to improve equipment and optimize processes. 
Nowadays everything behind the scenes is high-tech. To the average Canadian who picks up a single package, this technology is not visible, but with millions of items being shipped every day, the use of technology becomes critical. 
Another shift we're seeing is with our delivery fleet in Canada. We operate over 14,000 vehicles, and now we're seeing the need for green vehicles to move towards carbon neutral impact in delivery. Technology has to be smarter, and it needs to be greener.
Q: What does the concept of lifelong learning mean for Canada Post and why is it important? 
If you're in a business that hasn't changed much over the years, you're the exception. At Canada Post, we're going through continuous significant change. There are always new things happening, and when you layer on technology which is changing even faster, you must keep learning. The individual can't be stagnant because the world around you, especially if you're in the field of engineering, is constantly changing. You must keep learning not only on the technical side, but also what it means to society and what's going on economically, so you can bring that broad perspective to your work. The pace of change demands that we continually invest in our own learning. 
Q: Going back to NEM again, Week Four of NEM focuses on EDI. What are some of the biggest issues that you see with respect to EDI and women in engineering? 
When it comes to diversity with women in engineering we're dealing with a generational legacy. Our conclusion is that we've got to work at all levels, starting with the schools. That's the key to seeing change over time, and it's why I'm passionate about the 30 by 30 initiative. We're really trying to learn more about school-based programs and how we can allow our engineers in Canada Post to participate in school programs. The term "engineer" was often associated with someone in overalls with a wrench who fixed trains. We need to change that stereotypical version of a 20th century engineer. It's not an accurate depiction of an engineer today or what it will mean to be an engineer in the future. 
Q: Why would you say it's important to have a more diverse workforce, specifically more women in engineering roles? What are some of the benefits? 
At Canada Post we serve all Canadians, and we need to represent all Canadians. It's important that the diversity in our team reflects the diversity of the country we serve. There's also a need for talent, and anything that any group is doing historically or unintentionally that restricts their access to talent is ultimately foolish. There's a lot of untapped talent that isn't attracted to help solve the problems of society, businesses and the economy because they haven't been engaged. When that happens, we all lose out. We need skills and talent of all Canadians. When young women are making choices about their careers, we don't want them to self-select away from engineering because their unique talent could bring real value and could result in major breakthroughs. One of the reasons that we're very keen to work with NEM is that we want to help more potential new engineers see what a career could be like at Canada Post. We want them to know they can make a real difference to Canada Post and to the country at large. With that in mind, we've realized how important it is to help more young women decide to become engineers. We want them to know that through a career in engineering they can make a positive difference in people's lives. 
Q: What initiatives does Canada Post have in place regarding women in engineering and how are those initiatives working toward providing a more inclusive environment overall? 
We're taking a Canada-wide perspective because we employ engineers in most provinces. Last year we began our Women in Engineering group, led by some of our female engineering leaders. They are taking the 30 by 30 objectives and finding ways to apply that to Canada Post. For example, in addition to NEM, we're also working with Go Eng Girls to get into classrooms and participate in virtual events. And we're coaching a team in this year's Lego Challenge, which is all about logistics and cargo. We're also working with universities on co-op and recruitment programs that connect successful female engineers to undergraduate engineers who may be interested in a job with Canada Post. 
For employees, we have a mentoring program. Female engineers can choose an experienced leader to meet with regularly for coaching and support. We're also starting a male allyship program to help men gain an appreciation for the challenges that female engineers face. While things have improved vastly in a generation, we've still got a lot of work to do in the next generation. Our hope is that by using a multi-pronged approach, we can create change. 
Q: Any final thoughts? 
We rely much more on technology than we ever did, and Canada Post is looking to spend approximately $4 billion over the next 5 years on new technologies and infrastructure. With these technological investments, we have a need for more engineers at Canada Post. It's an exciting and endlessly fascinating place to work because of the pace and the complexity of the problems to solve. While there are no easy answers, we have a lot of fun trying to find the right ones.
National Engineering Month is Ontario's engineering event of the year.
Learn to change the future of engineering – together. Attend National Engineering Month Ontario events. With bold topics, industry expertise, and diverse perspectives, you won't want to miss it. To stay up to date on the latest news and information about #NEM2022, please visit our website.