space
Although we are sad to say another National Engineering Month has come to a close, we are happy to report that NEM 2021 was a success. We want to thank everyone that made NEM 2021 so amazing. This year we had some pretty big changes to NEM Ontario events. We centered all events around the theme of lifelong learning, we shifted the focus of events to post-secondary & professionals of all ages, and we transitioned all events to a digital-first format. We want to thank our community for embracing these changes with us. We also want to thank each and every one of our volunteers, sponsors, partners and attendees for everything they did to make NEM 2021 a success – we couldn't have done it without you!
space
The world of engineering is changing & we are changing with it.
In another year of school closures and economic shut-downs, it can feel like the world is changing at a dizzying pace. While 2021 continues to be a challenge for many people, we were happy to see the engineering & technology community come together at NEM 2021 to celebrate lifelong learning in engineering. With bold topics, industry expertise and diverse perspectives – it's no wonder that there was a lot of interest in NEM Ontario events this year. There were thousands of engineering students & professionals from across the province that came together, supported one-another and showed just how resilient they really are.
pac
spa
Learn. Grow. Thrive Together.
Stats from NEM Ontario 2021 events:
63 amazing events
9,800 visits to the NEM Ontario website
Over 4,800 event registrations
7,796,201 impressions on social media of the #NEM2021 hashtag; 2,057 posts; 19,007 engagements
48% of all NEM event organizers were first-time event leaders
11 wonderful sponsors
space
Highlighted events:
With 63 events on the latest topics in engineering & technology, NEM Ontario events had something for everyone. Below are a few of the highlighted event recordings, but full recordings of all NEM 2021 events can be found on our YouTube channel. Be sure to subscribe to see all the latest videos from NEM Ontario.
The Value of Lifelong Learning for the Engineering & Technology Community
March 1st was the NEM Ontario kick-off event. Steve Paikin, moderated a panel discussion with OACETT, OSPE and PEO executive leadership on the importance of lifelong learning and adapting to a workforce influenced by technological innovation. Watch the event recording here.
Panel on Women in Engineering
On March 8th, Humber College led a panel discussion where women in engineering shared their experiences and career journeys in celebration of International Women's Day. Watch the event recording here.
Green Building Online Conference
On March 15th, the University of Waterloo & Engineers Without Borders and PEO Waterloo discussed green building and land use keynotes from industry professionals, networking opportunities with academic and industry experts, and a student challenge. Watch the event recording here.
Ocean Engineering Seminar
On March 23, The Canadian Academy of Engineering led an expert panel discussing how Canada may increase economic prosperity while meeting the constraints of a global climate change mitigation strategy. Watch the event recording here.
The Future of Lifelong Learning
On March 30th, OACETT led a session on the Future of Lifelong Learning & explored how and why learning is changing in the 21st Century and what trends might come next. Watch the event recording here.
space
A special note to our sponsors
NEM Ontario events would not be possible without the support of our amazing sponsors. We are so thankful for everything they do to help promote, educate and employ the engineers throughout our great province and beyond. In particular, we want to thank: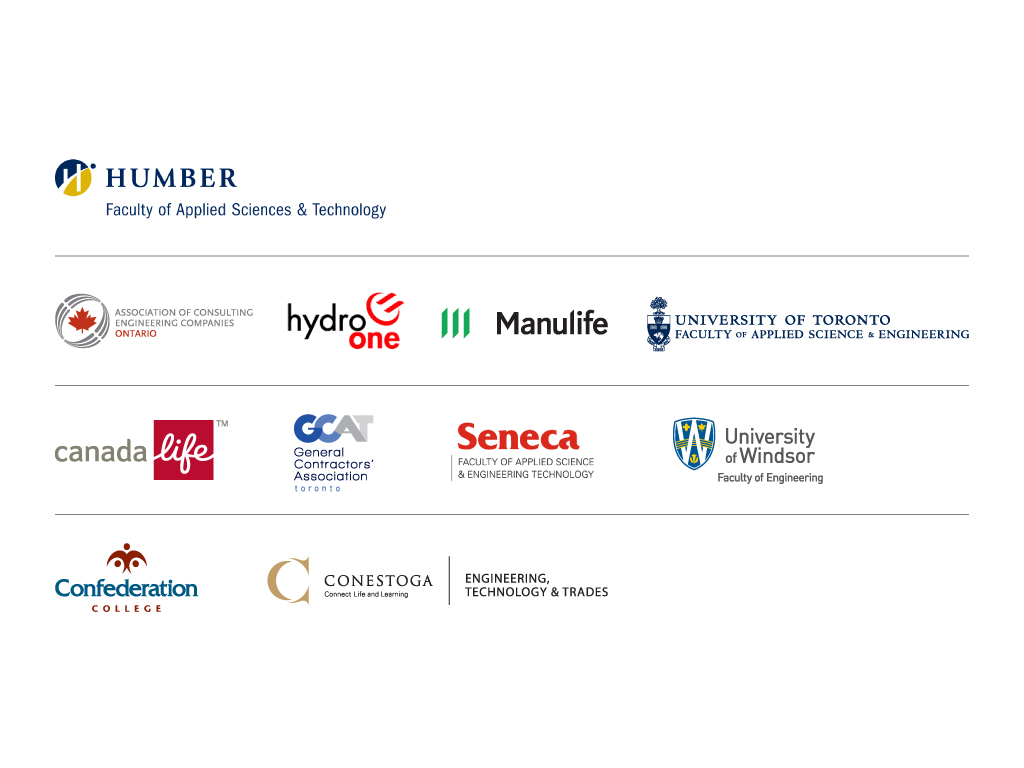 More about NEM 2021
Each week of NEM 2021 was curated thematically with Engineers Canada to provide a synched-up national NEM. Weekly themes focused on working in interdisciplinary teams, the importance of equity, diversity & inclusion, wicked problems, ethics & the future – among other great topic areas. The goal was to deepen our collective knowledge, bring the engineering community together, benefit our community and/or contribute to employability in engineering fields. All NEM 2021 events were held online and were free for anyone to attend.
Be sure to follow us across our social media channels (Facebook, Twitter, LinkedIn and YouTube) to get the latest news and information about National Engineering Month Ontario,
National Engineering Month is Canada's largest celebration of engineering. NEM Ontario events focus on bold topics, industry expertise and diverse perspectives. h