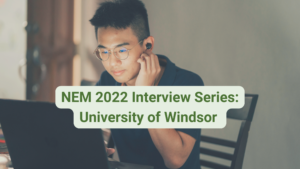 As National Engineering Month continues, we are connecting with leaders in Ontario's engineering community to talk about the future of engineering. Recently I met with Dr. Jennifer Johrendt, who is the Associate Dean of Student Affairs within the Faculty of Engineering at the University of Windsor. What follows is a Q&A about how the university supports students throughout their academic careers and provides opportunities for personal and professional growth. 
Q: I understand that you work as the Associate Dean of Student Affairs within the university's Faculty of Engineering. Can you tell me a bit about your role there? 
My position is within the Dean's office and I am primarily focused on the undergraduate student body within the faculty towards the non-academic areas. I run the first-year Engineering Office for our first-year engineering students. These students come into the program in a common program, so while they may belong to a specific discipline, they all have the same courses, so they seek their academic advising from me in the first year. Part of that is deciding what program to pursue in the second year and beyond and I'll provide academic advising as well as non-academic advising for that group of students. My focus is on our students and their experiences. When they don't know where to go for something they come to us first, which is great.
Q: The theme for NEM is lifelong learning. Why is lifelong learning important to you and the university? 
On a personal level, if you're not constantly learning and coming to know new things, then you're not going to be excited about that topic anymore. And if you're not excited, then you should consider moving on to something else. Certainly, in terms of engineering, I look back at how fast things have evolved since the industrial revolution and even as recent as the past 5-to10 years. Technology has come so far and we are so dependent on these new technologies. For example, the level of autonomous functions that are built into vehicles, it's incredible how far we've come. Engineers are problem solvers, and we want to be thoughtful in how we move things forward in a way that's going to benefit people and not hurt anybody. Life-long learning is an inherent part of who you should be as an engineer, and again, if you're not thinking that way, then maybe it's not the career path for you. In this rapidly changing society, we need engineers, and we need a lot of them. And, we want them from all different walks of life because that helps to make for better and more robust solutions to problems. We need all kinds of people in all kinds of positions, so finding where everybody belongs is the challenge. 
Q: The COVID-19 pandemic has had a major impact on the physical and mental health of our society. What challenges have your students faced as a direct result of the pandemic, and how are you supporting them? 
The biggest shift we had to make was moving all the classes online which is difficult because not everyone can learn that way. I tell my students to be proactive, which can be difficult for them especially when they feel isolated and like they're slipping into that place where it's hard to ask for help. Prior to COVID we started to open up the doors on a lot of our student counseling services to students through mental health and wellness modules and include topics such as safe communication and how to communicate effectively with people that you disagree with in a productive way. We also provide training to help students recognize when their communications are unhealthy and help them build resilience. This training is embedded into our curriculum for our first and second-year students to help them be more aware of the support available on campus and develop these essential skills.   
Q: How else does the university support students throughout their academic careers, and are there any specific programs, initiatives, or outcomes you want to tell me about today? 
Connections with alumni are quite important in terms of not only keeping them engaged with the university for traditional alumni opportunities but we regularly have alumni come back to help us in recruiting events. It's a tight-knit community here, so alumni regularly come back to talk with current students about their experiences and where they are now. This is great from a community-building perspective because students can see where their education could take them while networking for future employment opportunities. 
Q: What does the future of engineering look like? What can students, recent grads, alumni professionals do to stay relevant and thrive now and to end into the future?
With the rapid advancement of technology, we don't know what the jobs are going to be in 10 years or even five years. The COVID-19 pandemic has shifted the way we work as we've realized what we are capable of doing without being at a desk or in a lab. Being prepared for the unknown, building resiliency and flexibility, and being open to learning outside of your discipline is very important. We have to realize that we can't know everything, but there are resources that are available to help move forward. Looking toward the future, it's going to be about flexibility and just being prepared to change and adapt with how society changes and the way technology develops. 
Q: Any final thoughts? 
It's important to recognize that differences in the group make a more fulsome discussion. 
This idea of equity, diversity, and inclusion and bringing different people from different backgrounds together to do something together is important in engineering, as we are designing solutions for society. Society is made up of people from all kinds of different backgrounds, and as engineers, we need to represent these areas so we can address the robust challenges our society is facing. 
With that in mind, there's this huge effort to try and promote engineering practice and the potential career to people from all different walks of life and backgrounds, including Black, Indigenous, women, and other groups who are all underrepresented in the field of engineering. You're going to get a much more fulsome solution with all these different players contributing to the design process. 
To address this underrepresentation, Dr. Bill Van Heyst, our Dean of Engineering, recently launched a scholarship to promote EDI in engineering at the university, and these scholarships are focused on three different groups. There's an Indigenous application, a Black student application, and women and nonbinary application. These scholarships go beyond money and actually provide students with a summer research internship. What this also provides is an opportunity for students that may not have had access otherwise. Getting these additional skills and experiences helps students not only get a great education, but it allows them to develop the hands-on skills that employers are looking for. 
Internships like these also provide students with access to a community where they can see how to make a contribution, how it's unique from others, and why it's valuable. I encourage all of my students to make the most of these experiences because it is an opportunity to broaden their skills and build a community outside of their studies. 
Speaking of community, our students work together to support each other and are just such a bonded group. They know there are a lot of opportunities available to them and they feel comfortable coming to us when there's something outside of the box that they want to do. They know we will do our best to advocate and facilitate that arrangement for them because we want to support our students by providing opportunities to develop professionally and personally. 
National Engineering Month is Ontario's engineering event of the year.
Learn to change the future of engineering – together. Attend National Engineering Month Ontario events March 1 – 31. With bold topics, industry expertise, and diverse perspectives, you won't want to miss it. To sign up for a #NEM2022 event, please visit our website.