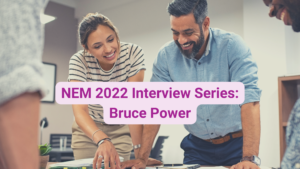 Leading up to National Engineering Month Ontario events, we are connecting with leaders in Ontario's engineering community to talk about the future of engineering. This week I met with Jennifer Edey, who is the Vice President, Operational & Project Services at Bruce Power. What follows is a Q&A session about how Bruce Power is instilling a culture of diversity & inclusion within the organization. 
Q: The theme of NEM 2022 is lifelong learning. What does the concept of lifelong learning mean to Bruce Power and why is that important?  
Bruce Power is a learning organization and lifelong learning is one of our values. That means we are committed to focusing on learning and development every single day. Training is a key aspect of every role at Bruce Power and the training you get is ongoing. Here you don't just train and do your job, you train all the way through your career through various career development opportunities. We don't believe that training is just for the job that you're in, it's also training for the next job. For us, it's about recognizing people's talent and helping them to stream into areas that they're interested in and where there are opportunities. 
For example, employees in our engineering training program are provided with rotational opportunities to go and explore different areas of interest. If we have an electrical engineer that comes in as a trainee, they will get different opportunities to do different things and they may end up in a career that's not electrical at all. Through formal education, engineers already know how to think and learn, and we have lots of opportunities in all different disciplines that they can go into and do a rotation, so they could end up in a totally different field than what they studied and with that comes training, knowledge transfer and mentorship as well. 
Q: Week 4 of NEM focuses on equity, diversity & inclusion. What are some of the biggest issues with respect to EDI?
Bruce Power as an organization is very committed to diversity, equity, and inclusion, and we show this commitment through our hiring, our talent management, our training programs, and through the actions that we take each and every day. 
As for some of the challenges, I would say that the biggest challenge is to ensure that we're continuing to foster a culture of inclusion. Diversity comes from our hiring practices and how we choose to develop that talent, but inclusion is really about fostering the culture, and that's something that you have to do every single day. It's about changing the culture of the organization, and that comes with a big challenge. It means that we have to listen to our employees and ensure they have a sense of belonging. It involves culture change and that's probably the biggest challenge because that takes a commitment from everybody, and you must be dedicated to it because change doesn't happen unless you make it happen. 
Q: Why is it important to have a diverse workforce? What are some of the benefits?  
It's absolutely critical for our business because people are our greatest resource. We employ a lot of people, and if we're not capitalizing on that biggest asset, then shame on us. A diverse workforce brings teams with diverse thoughts and perspectives. People with diverse backgrounds and experiences create more innovation, more creative ideas, and also different ways of solving the same problems. There is also lots of data that demonstrates that diverse workforces have higher productivity and are more profitable, so building a diverse workforce makes smart business sense. When you build a diverse workforce, it increases acceptance and reduces discrimination, and that's the long-term goal. It also cultivates acceptance, belonging, and understanding, and as an organization, it makes us better global citizens. We often say that Bruce Power powers the future, but it's really this diverse workforce that will allow our people to power the future. It's not just diversity, it's about having a strong focus on changing the culture to become a culture of inclusiveness. 
Q: How do we make our workforce more inclusive?  
It takes a concerted effort. It can't just be HR that wants to make it happen. It has to be a full company commitment and we all have to believe in it. It starts with talent management and we have created a framework for talent management that ensures we include diversity when we look at succession planning. 
When we look at leadership development, whether it's recruitment – because that's the feeder into the organization – or leadership training, we make sure we have a diverse group of people in the mix. We want to ensure that in every area of our organization we're taking it with an angle of diversity. We have diversity requirements in our hiring and if we don't meet those requirements, we just keep the recruiting going and cast a wider net.     
We also engage with youth in the community. We encourage students to pursue careers in STEM. We spend a lot of time on skilled trades to promote diversity in skilled trades and related fields as well as they are a large part of our workforce and provide co-op and development opportunities for high school, college, and university students as well.
Bruce Power has an Indigenous Employment Program to increase Indigenous employee presence at Bruce Power and within our supplier, contractor, and union workforces. Through the program, we partner with Indigenous communities to provide access to training and education.  In 2021, Bruce Power introduced an Indigenous Champions Program for its managers, to promote cultural awareness, advocate for increased employment opportunities for Indigenous candidates and businesses, and encourage involvement at community events and activities. 
In 2018, Bruce Power signed the Canadian Electricity Industry Leadership Accord on Gender Diversity, reinforcing our commitment to gender diversity and inclusion. Our business and employees are involved with industry groups such as DAWN (Driving Advancement of Women in Nuclear) and Women in Nuclear (WiN).
We look at diversity and inclusion from many different angles, taking different approaches from how we hire and develop talent to how we promote people as well.  Using this multi-pronged approach will help us foster the culture of inclusiveness throughout the organization.
Q: What initiatives does Bruce Power have in place with regard to EDI and how are they working toward providing a more inclusive environment?  
We've got a dedicated team of diversity, equity, and inclusiveness professionals that come from different areas of the organization that are helping us build programs to make this happen. We've also signed on to initiatives like Nuclear Against Racism, the BlackNorth Initiative, and others to demonstrate our commitment to addressing the bias and barriers that exist in communities. 
Q: Is there anything else that you want to add?  
We are very passionate about diversity & inclusion and we believe that we're going to be more successful as an organization if this remains a priority for us. It's a long-term commitment and we recognize that change doesn't happen overnight. We're very committed to making this change happen. 
National Engineering Month is Ontario's engineering event of the year.  
Learn to change the future of engineering – together. Attend National Engineering Month Ontario events. With bold topics, industry expertise, and diverse perspectives, you won't want to miss it. To sign up for a #NEM2022 event, please visit our website.