York University's Lassonde School of Engineering is shaping Renaissance engineers and scientists by challenging students to solve real-world problems in interdisciplinary teams while keeping ethical leadership and EDI top-of-mind.
"We're very strong in humanities and social justice—that's how York was formed—and it just allows us as engineers and scientists to rub shoulders very closely with that kind of passion and perspective," said Jane Goodyer, Dean of Lassonde.
This school year, York U piloted a full-year capstone course co-facilitated by professors from the Lassonde School of Engineering and School of the Arts, Media, Performance, & Design. C4: The Cross-Campus Capstone Classroom brings together third- and fourth-year students from different faculties into multidisciplinary teams focused on solving pressing, real-world challenges posed by organizations operating in both the for-profit and not-for-profit worlds. C4 partners include the Yonge Street Mission, the Al and Malka Green Artists' Health Centre, Glendon's Globally Networked Learning Project, and Panoplo Inc.— among many others.
"I chose C4 because I think problems are becoming more and more complex and it's not enough anymore to have a singular perspective," said Mechanical Engineering student Maira Zafar.
"It's exciting that the next generation is coming through feeling very morally and ethically engaged, I'd say much more than I was 30 years ago. The way young people are thinking nowadays is more about how their contributions will help society," Goodyer said.
The C4 capstone project is nearing the end of its pilot year, attracting 77 students who have 23 different majors, and belong to 7 different faculties. There are currently 11 projects running, with an additional 7 that have surplused from the computer sciences, Glendon and humanities capstone courses.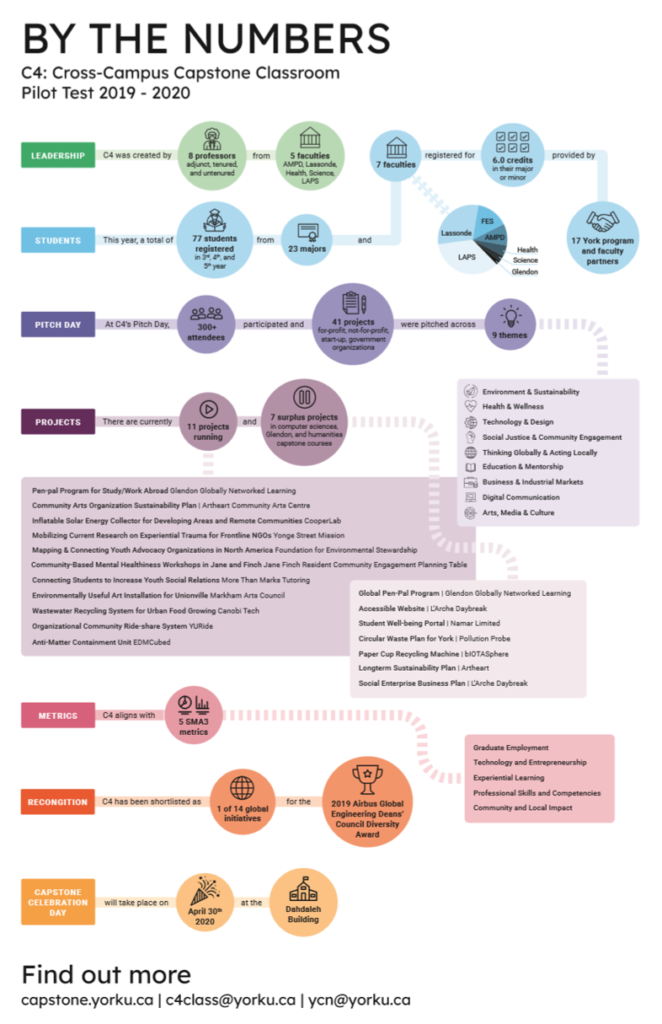 The 11 projects students in the C4 capstone are tackling are:
Pen-pal Program for Study/Work Abroad Glendon Globally Networked Learning
Community Arts Organization Sustainability Plan | Artheart Community Arts Centre
Inflatable Solar Energy Collector for Developing Areas and Remote Communities | CooperLab
Mobilizing Current Research on Experiential Trauma for Frontline NGOs | Yonge Street Mission
Mapping & Connecting Youth Advocacy Organizations in North America | Foundation for Environmental Stewardship
Community-Based Mental Healthiness Workshops in Jane and Finch | Jane Finch Resident Community Engagement Planning Table
Connecting Students to Increase Youth Social Relations | More Than Marks Tutoring
Environmentally Useful Art Installation for Unionville | Markham Arts Council
Wastewater Recycling System for Urban Food Growing | Canobi Tech
Organizational Community Ride-share System | YURide
Anti-Matter Containment Unit | EDMCube
The breadth of projects helps advance Sustainable Development Goals set out by the United Nations, says Goodyer. She notes that 2020 is the United Nations 75th anniversary and Lassonde will excitedly be part of the celebration and be commemorated in a book about sustainable engineering.
"We're very honored to be part of that, there aren't many universities in the world doing what we are."