By Andrea Hemmerich, Co-founder UP4 The Challenge
When we think about science and math, we often envision a piece of technology: gears, beakers, and models of atoms are some of the top images generated by a Google search. What is often forgotten is *why* we are creating this technology – ultimately, it is to help people.
Scientists and engineers design ways for people to communicate with one another, live more sustainably by reducing their environmental footprint, and improve health through medical interventions — to name just a few examples.
These social outcomes aren't always obvious in traditional math classes, however!
At UP4 The Challenge, we use human-centred design to show youth that STEM (science, technology, engineering, and math) has the potential to create positive social and environmental change in the world. By putting people at the centre of the design process, our program participants are encouraged to come up with creative ideas to address a user's needs, rather than focussing on a technological solution.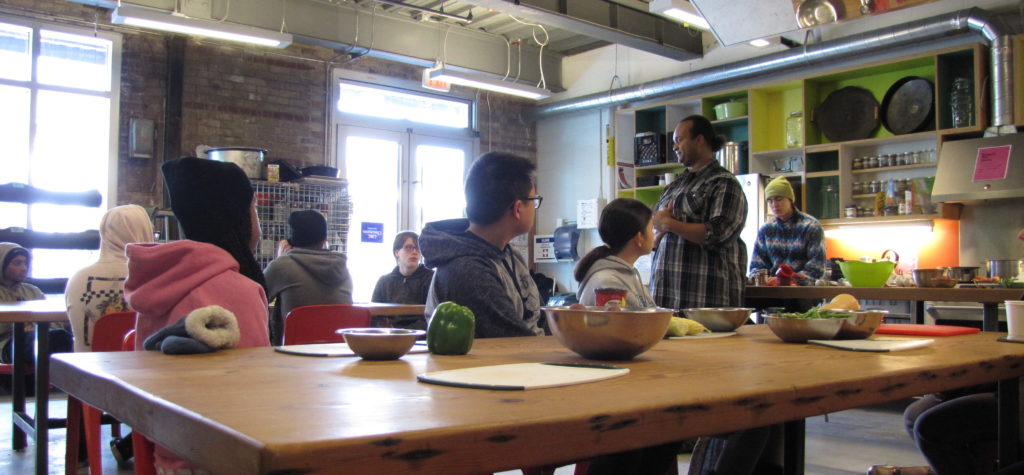 In order to do this effectively and create meaningful learning experiences, we partner with local non-profit organizationsthat work directly with people in the community. For our #NEM2019 events in Toronto we have partnered with Evergreen Brick Works on the topic of sustainable cities: our challenge to our grade 7-10 participants is to create healthy and accessible food choices for people in urban environments. At last weekend's event, a couple of the prototypes designed to get fresh fruits and vegetables to students at school included portable coolers for veggie pops and an indoor garden supported by rainwater harvesting.
After getting feedback on their ideas, reiterating their design, and then creating their prototype, UP4 The Challenge participants are encouraged to identify both the social outcomes of their solution *and* the STEM concepts that support the design. It is then easy for them to understand how science and math are used to help people and how a career in the STEM fields provides an opportunity to change the world!
Interested in participating? Join us for our FREE Sustainable Cities Design Challenge at Evergreen Brick Works this Sunday, March 24th!