The College Student Challenge is a student competition that takes place during National Engineering Month every March. Teams of up to 5 students work together with their local OACETT chapter and volunteers to host one or more public outreach events in their local community. We've asked all the College Challenge entrants to submit a report to us. Here's how students at St. Lawrence College celebrated National Engineering Month! For more College Challenge 2018 reports, click here!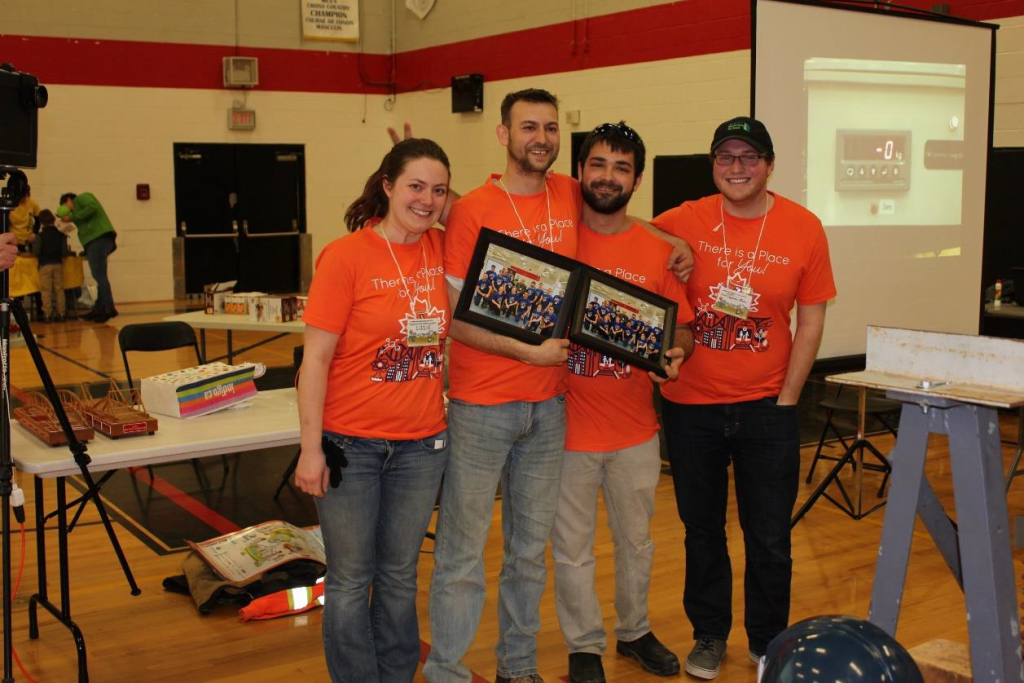 NEM 2018 at St. Lawrence College: Bridge the Engineering Gap
By: St. Lawrence College Team Two
National Engineering Month aims to promote engineering by focusing on the problem-solving, innovation and world-improving aspects of the industry. For the second year in a row, Team Two from St. Lawrence College organized an event to allow youth in the area to explore different engineering concepts through immersive activity. They partnered with Scouts Canada, an organization that promotes supportive educational experiences for all ages.
Last year, they chose to organize an event very close to their hearts- a bridge building/breaking competition. This event is a key part of the first year of the Civil Engineering Technology program at St. Lawrence College, and provides a close-up look into the design parameters, testing and results that affect the civil engineering industry. nce again, the organizers visited 15+ Scout groups to present the competition, provide materials and guidance on bridge building, and stayed in close contact with the Regional Scout Leader and individual Troop Leaders.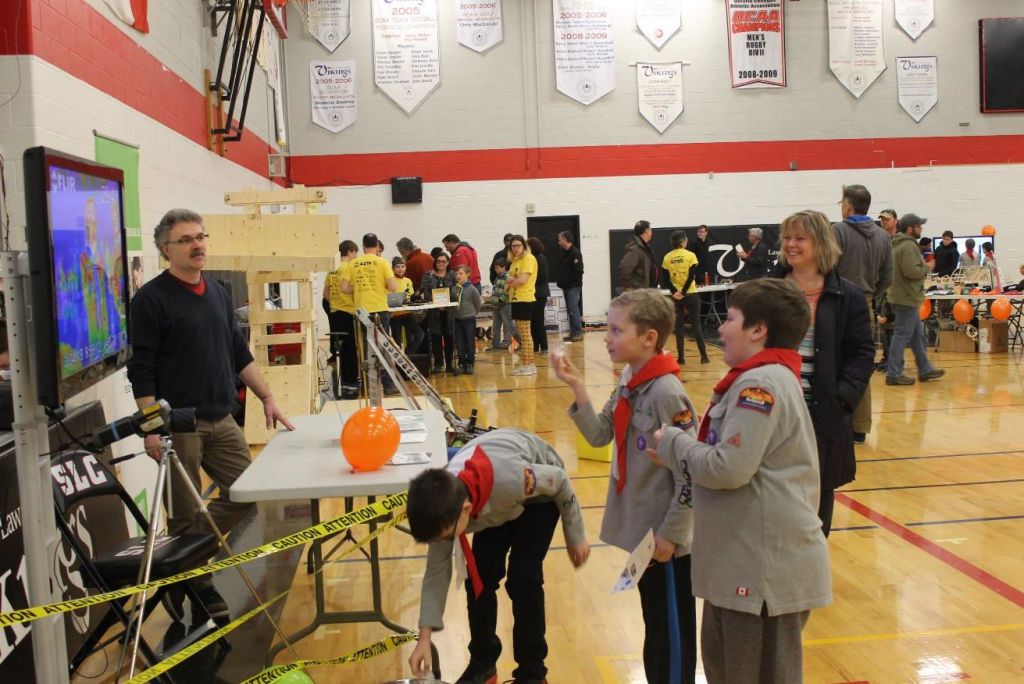 More than just bridge building!
Though the bridge breaking remained the core activity of the event, the organizers wanted to expand the event to include other engineering disciplines, allow their classmates to showcase their unique engineering passions, and reach many more people. Local companies/clubs and other college faculties were invited to showcase the different ways that engineering affects their everyday lives. The goal was to provide a broad spectrum of how engineering can affect our every day lives and make everyone feel welcome within engineering.
The organizers manage to find a lot of local companies, clubs and programs that could each provide one or more fun, hands-on activity that showcased a facet of engineering:
W.A.F.F.L.E.S Robotics brought more than one functional robot that preformed different tasks, designed, built, and controlled by their award winning high school robotics team
Bricks4Kids, a group that helps children learn to work with mechanical parts, brought devices powered by engines that preform different tasks based on gear configurations
Focus Forward brought commonly used drafting software with premade pieces for the kids to click and drag into formations (including popsicle stick bridges!) and information on the community improvement projects they've accomplished
The Energy Systems Engineering Technology faculty brought an example of an energy source that is powered only by changes in temperature, and an infrared camera so the attendees could see firsthand the heat transfers that occur in our every day lives. Some youth even tested to see if flatulence gives off heat, and it does!
The Instrumentation and Control Systems faculty brought a robot that was programmed to sort objects based on colour recognition
Civil Engineering Technology faculty provided a surveying tutorial, and allowed the students to take their own readings and calculated the elevation of the gym floor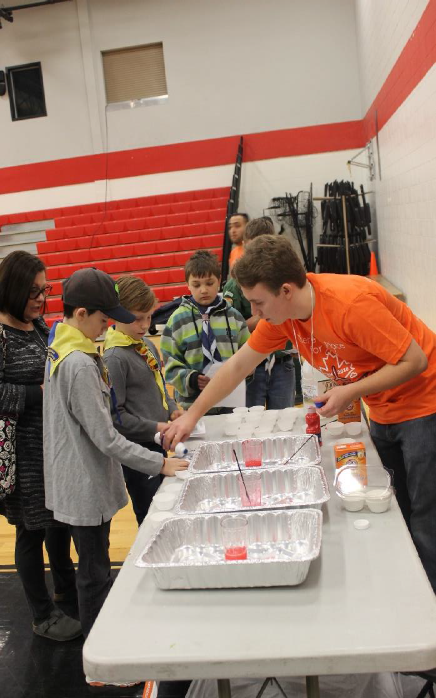 Along with the high-tech displays, the event had little experiments for the youth to try personally, like building a tower with nothing but Play-Doh and straws, using triangle shaped construction paper to hold the most cookies, a volcano experiment using vinegar and baking soda, and the roller coaster challenge.
These gave the youth a chance to approach a given task with no previous instruction and figure out how to accomplish it. A volunteer was always ready to answer questions and provide support, but the children had free rein over the direction of the activities, and the results were astounding. One group of Scouts managed to launch a marble projectile from the foam pipe roller coaster track to the cup a few feet away!
Despite the set-backs, the organizers worked day and night to ensure the accessibility and comfort of everyone who contributed to the event- food was provided for contributors and judges, chairs were readily available to the tired, and volunteers were stationed at the entrances of the school to ensure that nobody got lost on the way to the fun.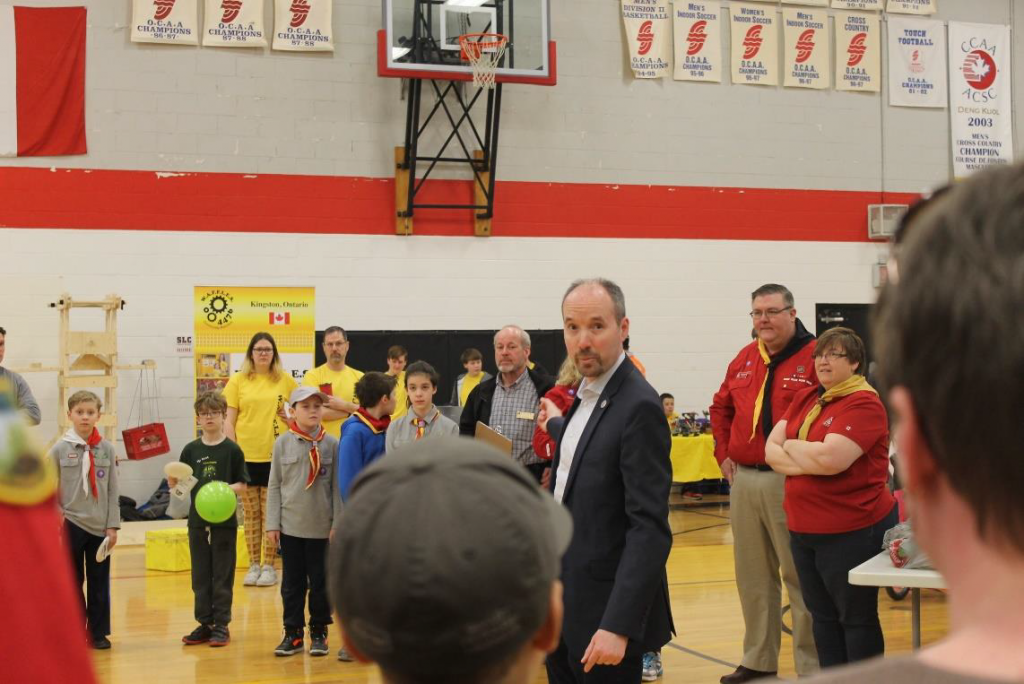 A visit from the Mayor!
Along with event contributors, the response from local representatives was overwhelming. Kingston's Mayor, Bryan Paterson, attended to give the opening statements, break a bridge, and see what the National Engineering Month event is all about, many OACETT members joined us for key moments (like cutting the N.E.M cake, such a hit last year that we had to bring it back!), the Scout Leaders stayed long after their bridges were broken to visit the different booths, and the Whig Kingston reported on the event.
The result was an event that had something educational for people of all ages- the youth broke bridges and accomplished various tasks for stamps on their Activity Passports (redeemable for prizes), and the adults learned more about engineering in their local community. The engagement level was above what the organizers could have ever dreamed of.
The most rewarding moment for all organizers was to hear an interview with one of the Scouts, who said that he wants to be an engineer when he grows up, because engineers "get to make robots and help people".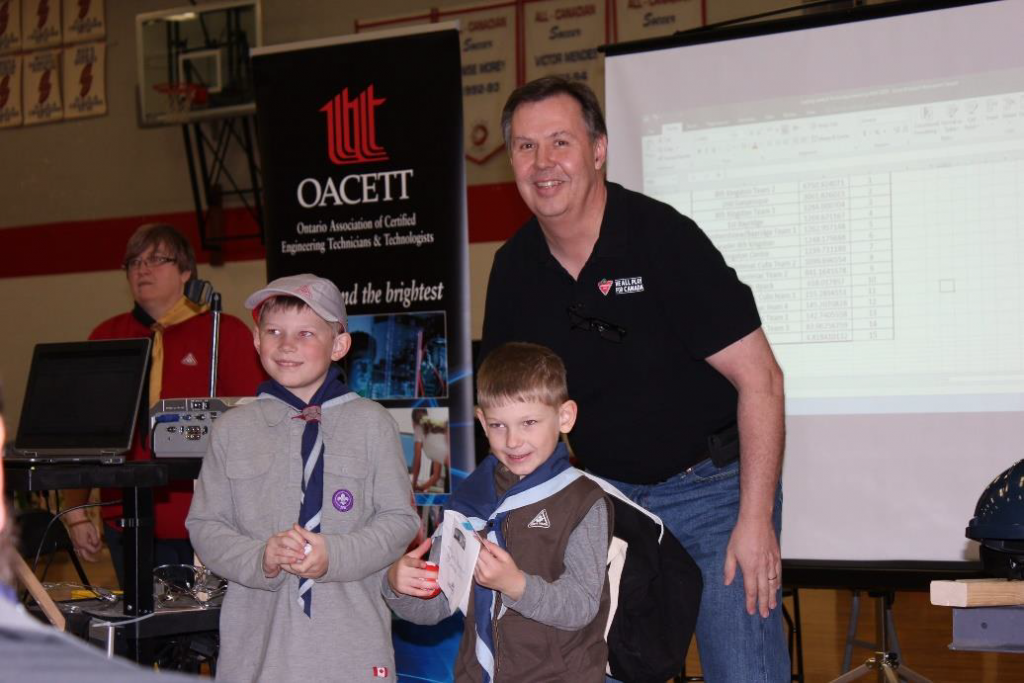 A last hurrah!
It was a bitter-sweet experience for half of the organizers- Mackenzie Charles and Michael Dias are graduating after 3 years of hard work and inspiring fellow organizers to explore every avenue possible to accomplish your goals, always keeping their passion for problem solving and quality work obvious in everything that they do. Matthew Snider and Elizabeth Doran had a special send-off present made for their fearless leaders, a picture of the entire team from last year's event. They will both work tirelessly next year to continue the legacy of engineering excitement alive.
"I have been a part of the NEM team at St. Lawrence from the start. Over the past three years I have seen the event go from a small classroom of kids designing their own zombie bases to 200 kids working together building the popsicle sticks bridges. I have had a great time at this event organized with the Scouts. This was a great year to go out with the largest attendance and some amazing side booths. I look forward to seeing what the second years can do with the event next year. Mackenzie Charles, Head Organizer of SLC Group 2, 2018"
*Unfortunately, due to the rigorous demands of his ongoing placement while co-parenting, Michael Dias was unable to provide a graduating statement, but on his behalf, we would like to say that he has grown as a leader significantly over the years we've worked with him, and he is the main reason that this year's event was so diverse in experience and activity*