The College Student Challenge is a student competition that takes place during National Engineering Month every March. Teams of up to 5 students work together with their local OACETT chapter and volunteers to host one or more public outreach events in their local community. We've asked all the College Challenge entrants to submit a report to us. Here's how students at Seneca College celebrated National Engineering Month! For more College Challenge 2018 reports, click here!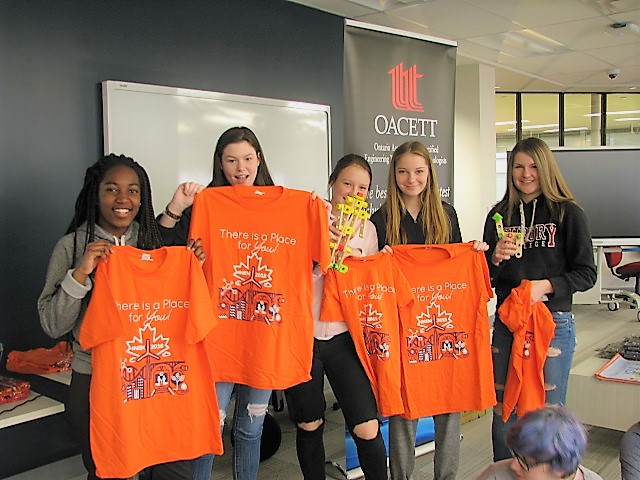 NEM 2018 at St. Lawrence College: W.I.E (Women in Engineering) Tour and Speaker Series
By: Brianna Coco
Brianna Coco hosted a Women in Engineering Tour and Speaker Series for the female students of Regiopolis Notre-Dame Catholic High School in Kingston. The events were aimed at breaking the stereotypes of women in engineering and to inform young girls of the many opportunities engineering can offer them. Held on March 28th, the day featured a presentation that spoke about the challenges women face in engineering, the different types of engineering that are offered and how women in engineering play a huge role in our daily lives.
The girls then participated in a challenge to build either a building or a robot out of blocks for a simple and informative competition. The top three winners were announced and everyone was invited to lunch and Q&A with two female, third year students from the instrumentation program at St. Lawrence College. After lunch, the girls were sent on tour of the campus which included views and information on the civil, soil, mechanical, electrical and wind turbine labs.