What's the difference between an Engineer and an Engineering Technologist?
National Engineering Month is a lot of fun, but do you see yourself being involved in engineering as a career? You may have heard of Professional Engineers: in Canada to become an Engineer it requires a 4-year university degree, plus an additional few years of experience to get a licence.
Did you know there are college diploma programs in the engineering technology field as well? Certified Engineering Technologists (C.E.T.) often work very closely with Professional Engineers, and are often on the same teams and work on the same projects. Engineering technicians and technologists work alongside engineers, scientists, and tradespeople. Each professional plays an integral role in civil, mechanical, electrical and all other disciplines of engineering.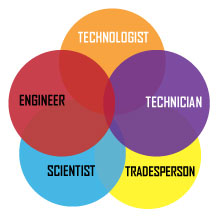 What type of jobs do Certified Engineering Technicians and Technologists do?
The Ontario Association of Certified Engineering Technicians and Technologists (OACETT) is Ontario's independent certifying body for engineering and applied science technicians and technologists and grants the designations C.Tech. (Certified Technician) and C.E.T. (Certified Engineering Technologist). These professionals are employed by consulting firms, manufacturers, industries, utilities, government, etc. in a wide range of technical and leadership roles including project management, maintenance supervision, or senior management. C.Techs often work closely with tradespeople, overseeing work done onsite.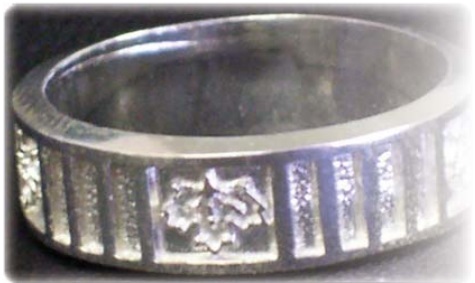 Like engineers, certified OACETT members have a stamp used to acknowledge that they accept responsibility for the integrity of their work. The OACETT stamp does not entitle the member to accept responsibility for technical expertise that is restricted to a licensed practitioner. OACETT also offers a ring that certified members can purchase as a visible symbol of certification. The equivalent ring for those who graduate from an accredited engineering degree program is called an iron ring.
The C.E.T. and C.Tech. designations are recognized by employers, governments, educational institutions and the public in Ontario and across Canada. Certification demonstrates a high standard of academic excellence, experienced in your field, and an understanding of ethics and your responsibility to the public. OACETT credentials are recognized across Canada, making it easy for members to work in other provinces.
How do you decide which career path is best for you?
OACETT members are certified in the following disciplines:
 Bio-science
 Geological
 Building
 Geomatics
 Chemical
 Industrial
 Civil
 Instrumentation
 Computer
 Mechanical
 Electrical
 Mining
 Electronics
 Resources
 Environmental
All of these fields make for exciting careers, and there's a place for you if you want to join in on shaping the world around you!
For more information on becoming certified, please visit OACETT's website: www.oacett.org
* this post has been adapted from a previous post by Zoey Gould