Innovator of the Week: Karen Chan
Written by Zoey Gould, B.ASc.
As a virtual contribution to National Engineering Month (NEM) in Ontario, we will be profiling an Engineer or Engineering Technologist each week until the end of March. We'll be focusing on highlighting diversity in the careers and individuals interviewed across Canada. Stay tuned for interviews with Cylma Foxton, a professor at Seneca College, as well as others. Last week, we profiled John Nicholson, a Professional Engineer and Entrepreneur.
A majority of these professionals are Ontario-based, and members of either The Ontario Association of Certified Engineering Technicians and Technologists (OACETT) or Professional Engineers Ontario (PEO). There will be 250+ events happening during NEM. To find your closest event, check out our events page!
~~~~~~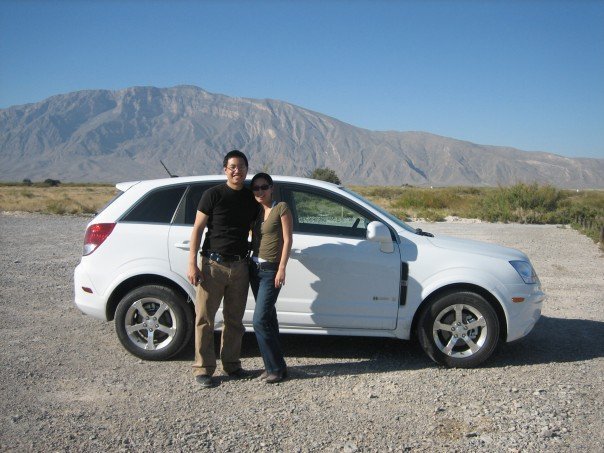 Karen and her husband Hsiu-P'ang in 2007, test-driving a Saturn VUE BAS Hybrid car. They were both Launch Engineers on this program.
"Engineering is not just about liking math and science and physics. If you like putting puzzles together, or making a cake, or building a tower, or mixing paints to create a new colour, then you can be an engineer." – Karen Chan, P. Eng
Karen Chan found her calling in process improvement, starting in manufacturing systems.  She spent a decade working in automotive manufacturing for General Motors, and she currently works at Rogers Digital Media, managing Digital Ad Systems. Karen's also a prominent figure in the Ontario engineering community, volunteering on the Board of Directors for the Ontario Society of Professional Engineers (OSPE), and for the PEO Lake Ontario Chapter.
Karen's work in automotive mainly focused on improving operations on the manufacturing plant floor for automotive. "Sometimes this meant figuring out a better way to build the car, sometimes it meant fixing an equipment problem, and sometimes it meant redesigning a part to address a customer complaint," she tells me. Although Karen graduated from mechanical engineering, her work improving operations and managing resources falls under the umbrella of industrial engineering.
"Engineering is not just the big splashy projects – engineering is also about problem solving the everyday things so that life gets better, a little bit at a time."
She uses the example of a wastewater treatment plant: engineering's not just about building the plant— it's also about making sure that that it continues to produce clean drinking water every day.
Although she wasn't originally interested in manufacturing, Karen found herself very passionate about working in the industry. "It turns out that I really love it in manufacturing – there is no better feeling than watching my car drive off the end of the line," she says. "Even now, when I see one of the cars I've worked on driving around, I feel pride knowing that I helped to make that happen."
Karen believes it's important to support and give back to the community. She does so by taking part in community events and volunteering. She's been a mentor to young and emerging engineers, having helped young engineers navigate the plant and the engineering processes at work. She's helped many students and new graduates who have questions about industry, resumes, and interviews. "I wanted to be someone that was friendly, helpful, and supportive," she says, "I've been lucky to have role models and champions, and to continuously grow my network of female engineers and engineering friends over the years, both personally and professionally."
Karen joined the PEO Lake Ontario Chapter Board of Directors in 2010, and was asked to join the Board of Directors for the Ontario Society of Professional Engineers in 2013, where she is the current Vice-Chair and President-Elect. She's also participated in two programs that encourage young women in engineering: WE MADE IT and Go Eng Girl.
Over the next few weeks, Karen's involved in several National Engineering Month events, facilitating a Girl Guide Sparks session, a UOIT Go CODE Girl event on March 28, and a PEO Lake Ontario Bridge Building event on April 4th.
"I think each engineer brings their own unique skills and abilities to engineering, problem solving, and decision-making," she notes. "Because women are 50% of the population, it makes sense to me that they are equally responsible and capable of providing engineering solutions and making engineering decisions."
"Engineering isn't some secret club, it's about using common sense to fix problems and build solutions," she says. "When a kid says 'girls don't do math' or 'only boys like robots,' it's up to us, men and women both, to say 'that's not always true, why do you think that?' It's not enough to say that the conversation has to change, we need to be ones to change it." I couldn't agree more.
Links:
WE MADE IT: http://www.wemadeit.ca/
Go Eng Girl: http://www.onwie.ca/programs/go-eng-girl
OSPE: http://www.ospe.on.ca/
UOIT Go CODE Girl event on March 28: http://blogs.ewb.ca/nemontario/events/oshawa-2015-2/
Durham Popsicle Bridge Building Competition: http://nemontario.ca/events/durham-2015-1/
Girl Guide Sparks: http://nemontario.ca/events/girl-guides-2015-2/
PEO Lake Ontario Chapter: http://www.peolakeontario.ca/home
Comments
comments